Penn State DE Adisa Isaac embraces process on return from injury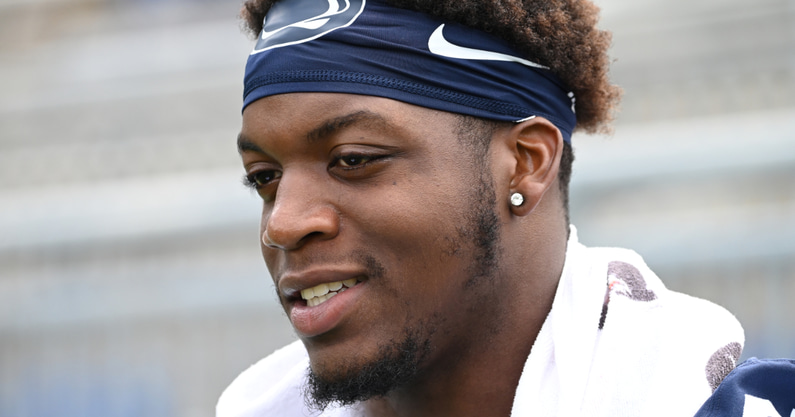 Adisa Isaac isn't getting ahead of himself. Returning from an ankle injury that kept him out the entirety of the 2021 season, the Penn State defensive end is keeping things in perspective.
He's not completely back to where he was before the injury, but strides have been made. And, possibly, more importantly, the quickly approaching season offers an opportunity for more growth.
"I feel like I won't really get to 100, but I'll be very close to it throughout the season," Isaac said. "Just gradually, natural movements and stuff are gonna come back over time."
Adisa Isaac's path back
Penn State is counting on it from Isaac this season.
A steady point of excitement for the Nittany Lion coaching staff dating back to the weeks leading into the Outback Bowl, Isaac is a needed injection of talent at defensive end. Given the departures of Arnold Ebiketie and Jesse Luketa to the NFL, the return of a presumed starter provides an instant boost to the group.
Only through the grind of a year's worth of hard work has that been possible, though. Witnessing Isaac's approach off the field, defensive line coach John Scott Jr. acknowledged the reality of the effort that went into getting him back up to speed – or as close to it as possible – ahead of the 2022 season.
"I'm proud. Adisa did a really good job with his rehab. Our training staff did a great job with him, building him up," Scott said. "It's so nice to see him back to where he was before the injury. It's a credit to our medical staff, it's a credit to Adisa for putting that work in. But, I'm super happy to see him running and moving around the way he is."
Next steps for Adisa Isaac
With the physical element simply a matter of time, Isaac's work hasn't been limited to that side of the equation.
Rather, taking in the adjustments of new Penn State defensive coordinator Manny Diaz alongside the rest of his teammates, Isaac added that his offseason has been productive to that end as well.
"I feel like I definitely took another step in the right direction and got a little more explosive," he said. "Tapping into the new playbook, it's everything. Just get more comfortable, knowing the playbook inside out. Overall, I feel like definitely took a step."
Day-by-day approach
Helping to shepherd Isaac through the process, Scott has witnessed that progress first-hand. 
Hoping to serve as a reminder of what's at stake, and the minutia of daily improvement necessary to reach bigger aspirations, that mindset has remained in place throughout preseason camp. 
"I just think you take it day-by-day," Scott said. "If your goal is to come out and get better every day, whether it's better at a step, better at a technique, if you keep that focus and not get too high, not get too low, you'll be exactly where you want to be."
With big expectations and a big impact coming into focus for Isaac, it's a place he's happy to be.
"I just stay positive. From the time I got hurt, it was kind of that same mentality of just day by day," Isaac said. "So I know, just keep that the same, don't try to switch anything, because what you're doing is working. 
"I just try to keep that same mentality and just keep day by day getting better. And then one day it will be there."