Penn State and James Franklin agree to new 10-year deal: Here's what we know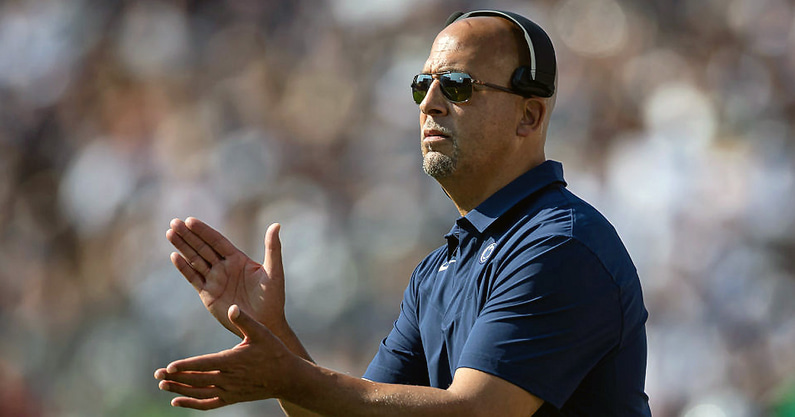 Penn State coach James Franklin has a new contract.
The school announced Tuesday an updated 10-year deal with the eighth-year leader of the Nittany Lions. It will run through 2031 and pay Franklin, 49, a guaranteed compensation of $7 million per year. The deal works out $85 million guaranteed, plus performance bonuses.
"Penn State's future is bright, and I'm honored to continue to serve as your head football coach," Franklin said in a news release. "Nine weeks ago, the administration approached me about making a long-term investment in our football program. This prompted numerous conversations outlining the resources needed to be competitive at a level that matches the expectations and history of Penn State. What's most evident from those conversations is the importance of our student-athletes' success both on and off the field.
Subscribe to On3 today for just $1 for a yearly subscription to BWI
 
"With the support of President Barron, Sandy Barbour, and the Board of Trustees we've been able to create a roadmap of the resources needed to address academic support, community outreach, Name, Image and Likeness (NIL), facility improvements, student-athlete housing, technology upgrades, recruiting, training table and more.
"This renewed commitment to our student-athletes, community and fans reinforces all the reasons I've been proud to serve as your head football coach for the last eight years and why my commitment to Penn State remains steadfast.
"Throughout this process I've kept our leadership council, recruits and staff updated on those conversations and I'm excited we've reached an agreement we can finally share with you." 
Franklin was under contract with Penn State through 2025 according to his now previous deal with the school.
Here are the answers to some frequently asked fan questions about this situation.
Subscribe to Blue White Illustrated's YouTube channel
Why now?
As noted above, Franklin was connected to Penn State for at least four more seasons unless he left or it fired him. To some, that makes doing this deal now, just two years after the last extension, insanity.
The truth, however, is that it is the way college football works in 2021. Long-term, big-money deals are the norm seemingly every couple or at most few seasons for many coaches.
Franklin has also been rumored to be a candidate for other jobs. This deal should quell that speculation for good moving forward.
What are the terms of the Penn State deal
The contract can be read here. As noted above, the annual guaranteed compensation is $7 million. There is also a $500,000 yearly retention bonus, plus escalators for performance. Franklin would also see his pay increase by $800,000 the year following a national title year and for every year after that.
How does the buyout for Penn State, James Franklin work?
Here are the details, per the contract term sheet:
If James Franklin leaves voluntarily to assume an NFL or collegiate coaching position, he would owe PSU (CY means contract year):
CY2022 – $12 million (prior to 4/1/22); $8 million (through 12/31/22)
CY2023 – $ 6,000,000
CY2024 – $ 2,000,000
CY2025 – $ 2,000,000
CY2026 – $ 1,000,000
CY2027 – $ 1,000,000
CY2028 – $ 1,000,000
CY2029 – $ 1,000,000
CY2030 – $ 1,000,000
CY2031 – $ –
If Penn State fires Franklin without cause, it would owe him his current year base/supplemental/loan salary times the number of years remaining on his contract.
Will we learn everything that Franklin got from Penn State?
Maybe, but probably not. Franklin has said repeatedly that he wants to be open, honest and transparent when having this conversation. But, the setting he's asked in never seems to be the right time or place for him to go into details. Perhaps this new deal will finally allow him to do so. It is far from a guarantee, though. And the quote above lays out some of that information in a broad sense.
Franklin will next speak with reporters on Wednesday. He'll do so after practice around 5 p.m. More details could be forthcoming then.
Penn State closes out the regular season at Michigan State on Saturday. Kickoff at Spartan Stadium in East Lansing is set for 3:30 p.m. ABC will televise the game.