Penn State athletic director Sandy Barbour named Sports Business Journal Athletic Director of the Year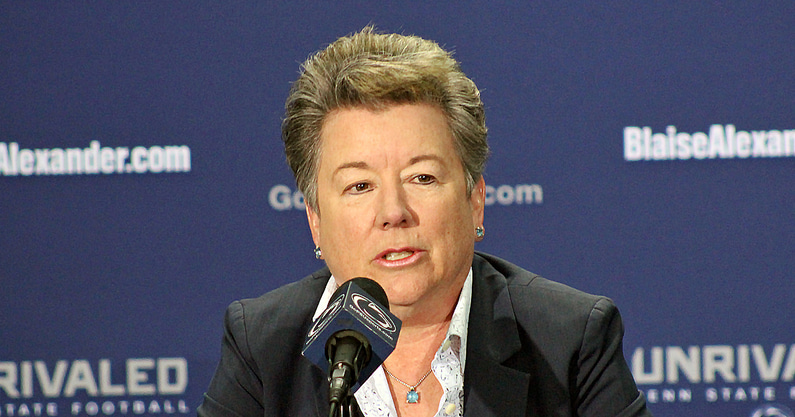 Retiring Penn State Vice President for Intercollegiate Athletics Sandy Barbour is going out on top. The leader of the Nittany Lions athletic department is the Sports Business Journal athletic director of the year.
It's the first time Barbour, 62, has won the award. She was a finalist in 2009 and 2018. This year's award, which was announced on Wednesday, recognizes performance during the 2020-2021 school year.
"This is a team award," Barbour told SBJ. "None of us do any of this alone."
Barbour, who will leave her post on July 1 when Patrick Kraft takes over at Penn State, beat out a list of finalists that included UTSA athletic director Lisa Campos, Northern Illinois AD Sean Frazier, BYU's Tom Holmone, and Arkansas's Hunter Yurachek.
In announcing the honor, SBJ wrote:
"To no one's surprise, Sandy Barbour announced her retirement in March by talking about the Nittany Lions' athletes, the community around Happy Valley and the many relationships she's made after 40-plus years as a leader in college athletics. The Nittany Lions set new department-wide standards in 2021 with $166 million in total revenue, making it the ninth-wealthiest athletic department in the country, and more than $50 million in donations."
Remembering Barbour's 2020-2021 at Penn State
Sandy Barbour arrived at Penn State in 2014 months after the university hired James Franklin to be its next head football coach.
The two worked in tandem on many projects. Barbour also accomplished much across the Nittany Lions athletic department over her tenure.
Highlights courtesy of a Penn State news release for the 2020-2021 academic calendar list numerous academic, athletic, facility, and fundraising achievements. They include but are not limited to:
Thirty-two student-athletes earned CoSIDA Academic All-America honors
Penn State won six NCAA titles since 2014. That's in addition to an NIT title, 39 conference titles (31 Big Ten), and three New Year Six bowls.
A field hockey stadium construction project, with fundraising totaling more than $7.5 million toward the addition of a press box, locker rooms, restrooms, concessions, and a club area
Barbour also oversaw the construction of the Morgan Academic Center prior to this year. Other renovations this year included updates to the men's and women's basketball facility and the Lasch Building.
The hirings of men's basketball coach Micah Shrewsberry and women's volleyball coach Katie Schumacher-Cawley also occurred during the 2020-2021 school year. Barbour also served as the chair of the NCAA's Football Oversight Committee. In addition, she sat on the NCAA Constitutional Committee. Plus, she was the co-chair of the Big Ten's Return to Competition Task Force. 
Barbour announced her retirement in March.
"I really determined and decided that not only was it the best decision for me, the right time for me, but it was probably a pretty good time for Penn State," Barbour said in April. "So, that's where my decision came from," Barbour said in April.