Class of 2023 guard Braeden Shrewsberry commits to Penn State basketball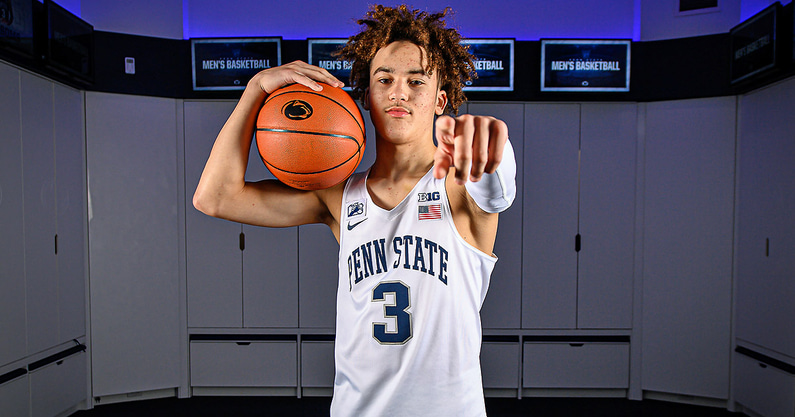 New Penn State commit Braeden Shrewsberry thinks the idea of playing college basketball for his dad one day has been talked about within his family since he was in elementary school.
Micah Shrewsberry has still never coached Braeden, his son, at any level. That's about to change.
Braeden, a guard, announced his commitment to Penn State on Wednesday. Shrewsberry is the first member of the Nittany Lions' 2023 class.
"I've never really had the opportunity and I didn't know when it would come," Braeden said of playing for his father. "This is his first head coaching job so I never knew when that would come. I always knew he would be a head coach, but I didn't know how everything would play out.
"It's crazy that I finally get the chance to do it."
Subscribe to On3 today for just $1 for a yearly subscription to BWI
Listed at 6-foot-2, 170 pounds, Shrewsberry also held offers from Xavier, George Washington and St. Joe's.
Even excluding his dad's presence on the sideline, Shrewsberry says Penn State is simply the right fit.
"Even if he wasn't the coach, I feel like I would probably still come here," Shrewsberry said. "The whole rest of the coaching staff, they've treated me like family since the day I've met them all. Just the school, the atmosphere, the fanbase, that's all something that went into my decision."
Shrewsberry will play his junior season locally with State College Area High School this winter, changing schools after his dad took the Penn State gig in March. He played his first two seasons of high school ball at West Lafayette High School. His head coach there, David Wood, called him the best player he coached in 27 years.
Wood said Shrewsberry averaged 20.9 points per game last season, shooting 39 percent from three-point range and 89 percent from the free-throw stripe.
"He's a scoring guard," Wood said. "I don't know if he's a one or a two, but he's a scoring guard. As a freshman, he was a shooter, almost exclusively a shooter. He stood outside the line.
"He showed last year that he's more than just a shooter. He's a good ball handler. He can get his own shot off the dribble and he can catch it and shoot it."
Shrewsberry should be well familiar with what he'll walk into when he puts on the Penn State uniform for the first time.
He's spent plenty of time with the Nittany Lions basketball program already, and he's been doing his dad's workouts since middle school.
"All the stuff that he's saying and preaching, he's been preaching to me," Shrewsberry said.
In many ways, Braeden is perfect for the system Micah hopes to install with Penn State. That's not an accident. Though Micah has never coached his son formally, he's still played a considerable role in his basketball development.
"Just making the right reads, playing for the team, playing together," Braeden said. "Coming off ball screens. I feel like I know what the options are. Obviously, I've played through the pick-and-roll a lot. Just shooting, spacing the floor, that's something he's really big on. That's the main part of the game, my shooting."
Shrewsberry thinks he could have waited to collect more offers later in the recruiting process, but he saw little point.
It's been clear that Penn State was the place for him for a while. He'll arrive at the beginning of his father's third season in charge of the program.
There will still be much building to do, no doubt. And Shrewsberry wants to help his dad, brick by brick.
"I feel like building this up to be a better basketball program was really something that I want to help do," Shrewsberry said.