Penn State basketball: Where to watch Nittany Lions' second-round game, updates, more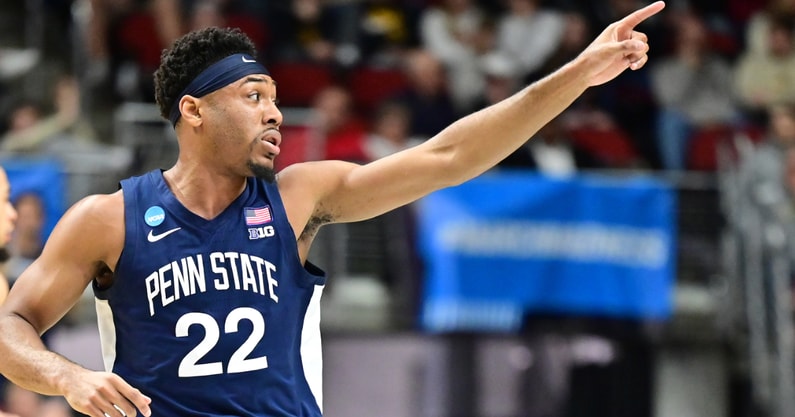 Penn State basketball is moving on. Upsetting 7-seed Texas A&M on Thursday night in dominating fashion, 76-59, the Nittany Lions will play 2-seed Texas on Saturday night in Des Moines, Iowa.
And they're expecting to have their hands full, again.
"We play a really good opponent. Texas is one of the best teams in the country on both ends of the court. Their defense causes a lot of problems with the amount of turnovers that they force," said Penn State coach Micah Shrewsberry. "Their guards are as good as any in the country. It starts with Tyrese Hunter and Marcus Carr and Timmy Allen. And when Sir'Jabari Rice comes off the bench he's just as explosive. So we will have our hands full defensively trying to slow these guys down…. but it should be a great battle and we're looking forward to playing another game."
What are the details?
Tip-off: Scheduled 7:45 p.m. EST. 
TV: CBS
Broadcast team: Brian Anderson (play-by-play), Jim Jackson (commentary), Allie LaForce (sideline)
Update: Needing a 25-minute buffer between games, Penn State and Texas are set for an 8:17 p.m. tip.
Radio: Penn State Sports Network – Steve Jones & Dick Jerardi
Live stats: NCAA stats
Blue-White Illustrated Hoops Show
Scouting the matchup
Penn State NCAA statistics, season schedule, and NET ranking
Texas NCAA statistics, season schedule, and NET ranking
Micah Shrewsberry's scout: "It's been a fight all year just being a smaller team. It takes all of us to rebound. Texas A&M sent four guys to the glass every single possession. It was a battle each and every time the shot went up," he said. "We gotta do the same thing. We got great practice. They got a lot of offensive rebounds, but they didn't capitalize on them as well. We've got to do the same thing.
"You've got to turn, box out every single possession, and do your best. And then we need guys that don't have to box out because their man is not coming. They need to come in and help us, clean up some of those rebounds. We need to have our guards have a high rebounding game tomorrow."
Rolling Penn State/Texas updates
Note: This page does not update or refresh automatically. So, please reload it often by refreshing your browser to see the latest information.
Join our in-game thread for up-to-the-minute updates and analysis in The Lions Den.
Second half updates
10:20 p.m. – Texas finishes off Penn State, 71-66, ending the Nittany Lions' season.
10:10 p.m. – Disu, again. He's been unstoppable against Penn State tonight, has a season-high 26. Wynter connects to make it a 65-60 game. Texas leads, with the ball, with 41 seconds to play.
10:05 p.m. – Disu delivers a 6-0 run for Texas on his own. Penn State calls timeout, trailing 61-58, with 2:02 to play and the ball.
10:00 p.m. – Penn State makes it a 10-0 run on a forced turnover and Seth Lundy run-out. 58-55 Penn State leads. Timeout Texas with 4:42 to play.
9:58 p.m. – An 8-0 run for Penn State delivers its first lead of the second half, 56-55.
9:49 p.m. – Pickett, not going off. Has a double-double, but this hasn't been his game. Texas leads 55-48, with the ball, at the U8 timeout.
9:38 p.m. – Out of the Texas timeout, Longhorns rip off a quick 4-0 run. Penn State ball going into the U12 timeout, trailing 47-39.
9:33 p.m. – Penn State starts to find the bottom of the basket, though newly struggling to get stops. Still, a 7-2 run makes for a 43-39 game and a Texas timeout with 13:25 to play.
9:29 p.m. – Penn State finds itself staring at its biggest deficit of the game at 11 points before a couple of buckets make it a 39-32 game.
First half updates
9:01 p.m. – Disu season high scoring is 24 points. He had 12 in the first half on 6-of-10 shooting. Penn State just 2-of-13 from deep.
8:59 p.m. – Penn State falls victim to a Texas run in the final 2:59 of the first half. Dylan Disu goes for 6 of 8 Texas points in an 8-2 run, sending the score to 31-23, Texas, at the half.
8:50 p.m. – Jalen Pickett having trouble getting going, but picks up a foul on the floor as Texas bodies him. Penn State ball out of the U4 media timeout, 23-20 Texas.
8:41 p.m. – Shooting percentages have plummeted for both teams as misses compound from the floor. Texas leads 13-11 at the U8 media timeout.
8:31 p.m. – Both teams struggling shooting from the floor between media timeouts. Even four-minute stretch, score goes to 11-6 Texas.
8:25 p.m. – Slow going early for Penn State on both ends. Three misses on three attempts from deep and a 9-4 Texas lead at the first media timeout.