Penn State basketball's identity under Micah Shrewsberry evident in recruiting approach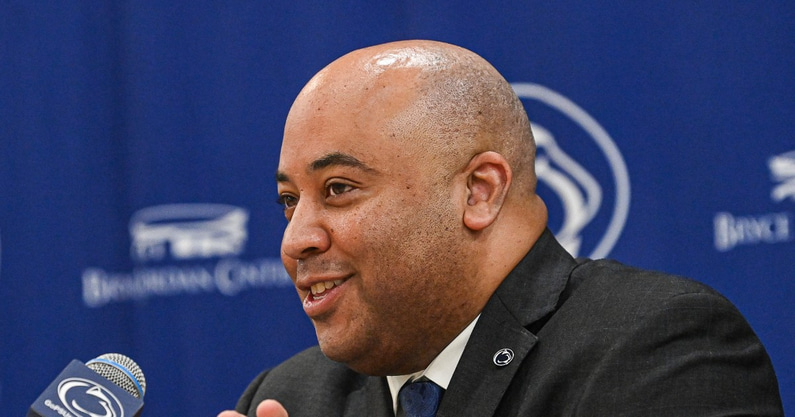 Micah Shrewsberry wants Penn State basketball to be a developmental program.
Shrewsberry said as much during a press conference on Wednesday, in which he and most of the Nittany Lion coaching staff gathered in the Bryce Jordan Center green room to talk about their five signees in the Class of 2022.
"We want to help you grow as a person and a player during your years in college," Shrewsberry said. "Our part of that, on the basketball court, is we really invest in people. Everybody's not the same, right? People on the court, they don't do the exact same things. So they shouldn't work on the exact same things. You should work on things that are specific to you."
That's an approach that clearly resonated with the five prospects who inked National Letters of Intent to play for Shrewsberry and the Nittany Lions this week.
Penn State's recruiting approach has been uniquely individualized. They break down film for players they offer, According to a handful of prospects who spoke with BWI over the last year, that is not something many coaching staffs take the time to do.
Shrewsberry and Penn State's assistants also provide a roadmap. For Kebba Njie — a top 130 prospect according to the On3 Consensus — that was a major selling point and one of the reasons he landed in Happy Valley.
"Something that stood out to me on the visit was their individual workout plans, and how they can translate it into the game," Njie told BWI shortly after his commitment this fall. "The coaches, they did a really good job of demonstrating that to me. They showed me other players who they think that I could be like, and I think that really influenced me to make my decision a lot. That was a major key part of my decision, the individual part of it.
"I know that once you get to college, there's a lot of team stuff that you do with everyone, but I want to see us working out one-on-one."
That is the essence of what Penn State can offer under Shrewsberry.
Anyone who has followed Nittany Lions basketball knows that this is not a program that traditionally recruits well. This class, ranked 50th by the On3 composite, is among the best in recent school history.
It is full of prospects who bought into Shrewsberry's idea of player development, viewing his work with the Boston Celtics in the NBA as some proof of concept.
"I would definitely say it plays a big role," signee Evan Mahaffey said. "You're able to see what he did, with him training Jaylen Brown and Jayson Tatum and multiple other players. It really shows that his stuff works, which is really cool to see. It definitely does help. He's just a really good guy overall and I know he's going to be a great coach."
Penn State Director of Recruiting Brian Snow said Penn State made no promises to prospects in this cycle.
Well, actually, there might have been one. The staff promised Njie that associate head coach Adam Fisher would jump up his desk in celebration and send him a video if he committed. They delivered on that promise.
"We didn't promise anything," Snow said. "We were just real. You gotta earn everything you're going to get, but we're going to put you in a position to get there."
This group bought into that concept. For Shrewsberry and the Nittany Lions to have success, others will need to as well.
"I think they saw our commitment in terms of making them better players," Shrewsberry said. "That's what we're going to do here. If you come here, we're going to make you a better player."