Penn State tasked with choosing height of football's winning future: Column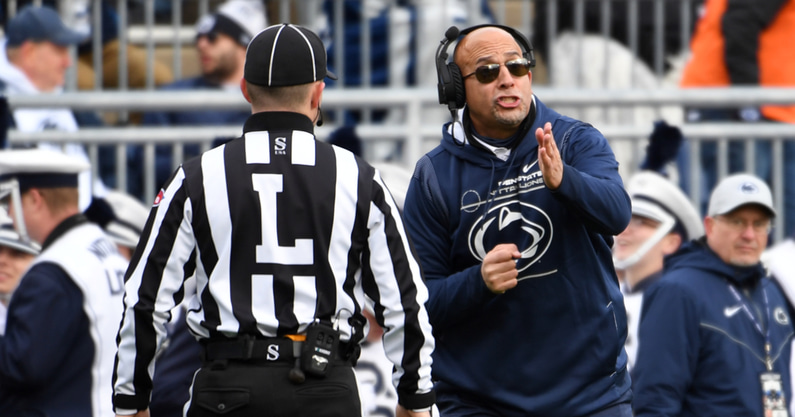 Winning is a choice in college football.
The breadth of its participant pool might not align with the straightforward simplicity of that truth. Every program employing dozens of staffers and coaches, with a team numbering 125 players, it's one of the most complex, most passionately contested competitions in any sport, 
And particularly in an age with such a limited variety of winners, the opposite might even seem true. But by the end of the day on Tuesday, Penn State is going to test the theory. Likely to approve a lengthy contract extension to head coach James Franklin, the occasion represents a much larger choice at hand, both for Franklin and football's place within the university.
Penn State, the institution, will be making the foundational decision to win.
What that means, in the broadest sense, should at this point be self-evident. Taking on an institutional attitude of investment, it is one in which the resources of time, personnel, and yes, finances, will be directed heavily toward Penn State football to ensure its success. 
Once that choice is made then, the door to other choices, all informed by that initial decision to win, will open.
"You guys have heard me talk for a long time, really since I've arrived here, about alignment and about competing 365 days a year," Franklin said. "I think that's critical for us. That has to happen."
Unsubtly, he proceeded to describe a winning culture within Penn State football as a program. That pursuit of excellence, however, was carefully excluded in the context of the institution in which the program resides.
"I know the people in that building are doing it," he said, pointing to the Lasch Building. "I know the players are doing it. And I know the coaches are doing it, but we have to compete in everything.
"College football… it is literally competitive and a fistfight 365 days a year. That's how you have to approach it."
That Franklin has insisted upon and urged deeper institutional support for the program doesn't necessarily make it true. But even a cursory examination of the programs currently dominating the game crystallizes the reality of how winning takes place in college football.
In what has become an annual survey of the infrastructure of the nation's top college football programs at 247, a few things stand out. 
Ohio State sits at the top of the conference, ranked no worse than seventh any of the past four years. The other Big Ten program to make the list has included Michigan every year. Nebraska and Michigan State appeared in 2018, and new entries for Illinois (13th) and Northwestern (8th) came this year.
Only once has Penn State football's home been included among its gauge of the nation's top 25, in 2018. Now dated at more than three years old, this is how improvements to the first floor at Lasch were characterized:
"Penn State's recent locker room update put a fresh coat of paint on outdated digs and the Nittany Lions are planning for a Beaver Stadium facelift — years from now. Holuba Hall is primarily used as football's indoor practice facility, but other teams use it as well. Penn State is in the top half of the Big Ten based on facilities, but upgrades are needed."
That was in September 2018. More projects were approved for design in May 2019.
Now November 2021, Penn State has shovels in the dirt for a nearly $50m project to address its weight room. This is in addition to completed renovations to the locker room, meeting rooms, and the player lounge area. 
But countless other major projects remain. Expanded office space, leveling the currently sloped practice fields, and work to Holuba Hall are among them.
That some of those projects were approved three years ago, but remain undone, has likely been a source of frustration. Stressing the importance of the work already completed, his comments now stand as a prescient reminder of opportunity lost.
"The renovations already completed in Lasch Building have played a critical role in helping develop our student-athletes and build one of the top football programs in the nation," Franklin said May 2, 2019, via press release. "To sustain and strengthen our successes, we need to keep investing to give our students and staff all the tools they need for us to win at the very highest level, on and off the field."
In a game that is rigged, in which no draft or financial cap can limit the maximization of any program's potential, this is the foundation to how winning takes place. 
Appeal to the broadest range of the absolute best and brightest football players, coaches, and support staff available. Do so by showcasing the absolute best of what the program has to offer in return.
By establishing that mindset, shared through the university's trustees and in the offices of the president, athletic director, and head coach, Penn State's potential for big-picture winning will be limited only by the subsequent actions taken within that framework. 
It is a battle that demands slavish devotion to the mindset of constant improvement and excellence. Only then can it truly compete consistently with the programs already doing the same.
Tuesday afternoon, Penn State will have the opportunity to make that choice.