Penn State continues Auburn prep; Tommy Stevens shines in CFL play: Newsstand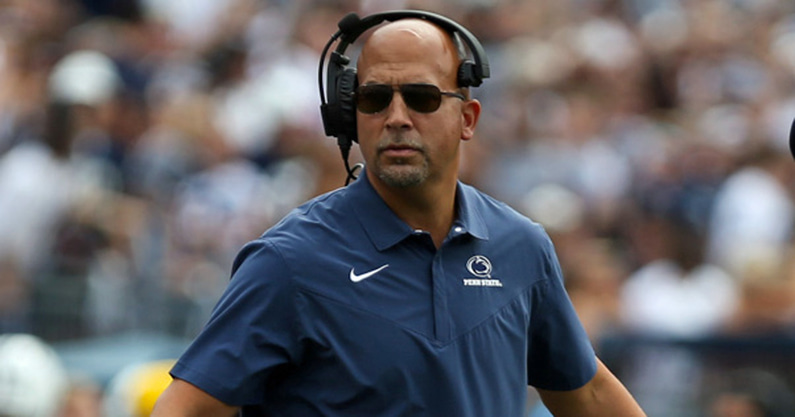 Penn State football news, notes, and updates for Sept. 13 include a look at the latest ahead of Auburn plus an update on former quarterback Tommy Stevens and more.
It's time to dive into Wednesday's top tweets and headlines about the Nittany Lions and college athletics.
Penn State tweets of the day
We start with the latest from head coach James Franklin. He spoke to reporters on Tuesday at Beaver Stadium.
There was not much new news to report. The leader of the Lions was not asked if quarterback Drew Allar will play this week. But, that could come up Wednesday night during the post-practice availability. Franklin also said that Sander Sahaydak will handle kicks of 52 yards or more moving forward. And, he talked about traveling to the SEC and Jordan-Hare Stadium.
"Obviously noise, we sometimes maybe in the past, we may transition inside or modify some practice," Franklin said.  "But we were fortunate to be outside for as many of those practices as possible. We messed around with Holuba, closing the doors and turning the heat on and trying to get prepared for that as well.  Then travel. You know, we really were working on flying into there, but that wasn't able to get done. So, flights are challenging, hotels are challenging. Our hotel is about an hour from campus. I actually think they used to stay an hour from campus as well, the home team. 
"But, we've got a plan for it. But it is a little bit different than the way we normally operate. For the most part, everything else in our routine will be similar. You know, we'll be as prepared as we possibly can be for the environment. Once again, at the end of the day, you still got to be able to go execute at the moment and at the time."
In other news, former Lion Tommy Stevens shined in the CFL over the weekend. He scored four touchdowns in the Calgary Stampeders win.
Headlines of the day
Owen Pappoe relishes a second chance against Penn State: Wilson, AL.com
James Franklin press conference notebook: Inside the Den: Bauer, BWI
Behind Enemy Lines: Scouting the Auburn Tigers: Wogenrich, SI
Trimmings: A new pick is in for Penn State on the On3 Recruiting Prediction Machine: Fitz, BWI
Nittany Lions Preparing for Heat and Long Commute Ahead of Auburn Game: Jones, Statecollege.com
Penn State will be challenged at Auburn by the Tigers' run game and home field environment, James Franklin says: Pickel, BWI
Nittany Lions in the NFL | Saquon Barkley dominates in big week for ex-Penn State football players: Allen, Daily Collegian
Watch QB Jaxon Smolik highlights vs. Ankeny: Snyder, BWI
Auburn players hyped about 'Orange Out' planned for Penn State game: Oldham, Auburn Live
Penn State redshirt report: Which true freshmen have played so far?: Pickel, BWI
Quote of the day
"This is going to be a challenge. No doubt about it. You make a mistake against this crew and it has a chance to cost you," Franklin said. "They've got guys you watch on tape and guys that can make big, big plays, so we're going to have to be sound. We're going to have to make sure that fundamentally we are prepared and executing the way we're going to need to execute."
—PSU coach James Franklin on preparing for the Auburn rushing attack.