Which Penn State player could go from contributor to possible NFL Draft darling with strong 2022?: Roundtable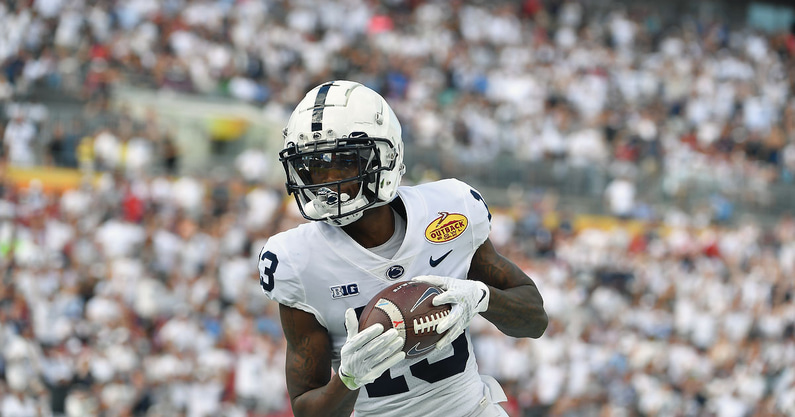 Penn State has lost numerous starters to this year's NFL Draft.
Some of the players who left for the pros were expected to do so when the 2021 season concluded. Others used big performances during the fall to raise their stock and make the choice to leave easier.
The latest Blue-White Illustrated roundtable focuses on the latter group. Thanks to a question posted by a subscriber inside The Lions Den forum (sign up today for just $1!), we're making our picks as to who could make a similar rise for Penn State by the time the 2022 season comes to a close.
BWI roundtable: Which Penn State player could boost his NFL Draft stock the most with a big 2022 season?
Parker Washington should lead the Lions' offense with  Jahan Dotson moving on to the NFL. Transfer pass catcher Mitchell Tinsley is an exciting addition to position coach Taylor Stubblefield's room, as well.
Both things can be true. So can this: Lambert-Smith is poised to have his biggest season yet in blue and white.
The Virginia native totaled 34 catches for 521 yards and three touchdowns in 2021. He progressed as the season went on but had problems with drops at times. That said, the natural ability is clearly there, and if Penn State spreads it around a good bit next fall, Lambert-Smith has every reason to be a showcase part of the offense and see his draft stock soar accordingly.
Eckert: Penn State tight end Theo Johnson
Many Nittany Lion fans were understandably left disappointed by the production of the tight ends in 2020, but this is certainly a group with the talent to bounce back.
Theo Johnson, specifically, is a guy with elite-level athleticism. That much is plain to see. It's why Penn State fans were so excited about him as a recruit and it's why he'll garner the attention of NFL scouts whenever he's ready to make the jump.
He'll have to wriggle more snaps away from Brenton Strange and Tyler Warren in 2022. But, if he can manage that, and build on his sophomore season, in which he caught 19 passes for 213 yards and a score, NFL scouts will be all over him.
He's a guy that will test well. He offers size at 6-foot-6, 256 pounds. The only thing standing in his way is a productive season. There are certainly some variables to consider here — perhaps more than you'll find with the two names presented by Nate and Greg. But I don't mind calling my shot.
Bauer: Penn State defensive end Adisa Isaac
You guys would crush me if I said Sean Clifford, so I won't.
But don't think I didn't consider making the argument, because I did.
Anyway, Isaac, I think, is one of those guys that has the potential to be a difference maker for Penn State on the defensive line. He was already doing some notable things during the 2020 season that primed him for a true breakout in '21 before his summer injury.
Out of sight, out of mind for the totality of the year, though, I don't think there's any question that Isaac has largely been overlooked in the consciousness of Penn State fans and certainly beyond.
He's talented, he's itching to get back, and he was already turning James Franklin's head during bowl practices in Tampa. So while he has another two years of eligibility to go – and really, three if counting the COVID exemption year – this is the fourth year at Penn State and a prime opportunity for Isaac to catapult himself into national relevance with a strong season.