Penn State faces West Virginia in 100 days; here's what it will do between now and then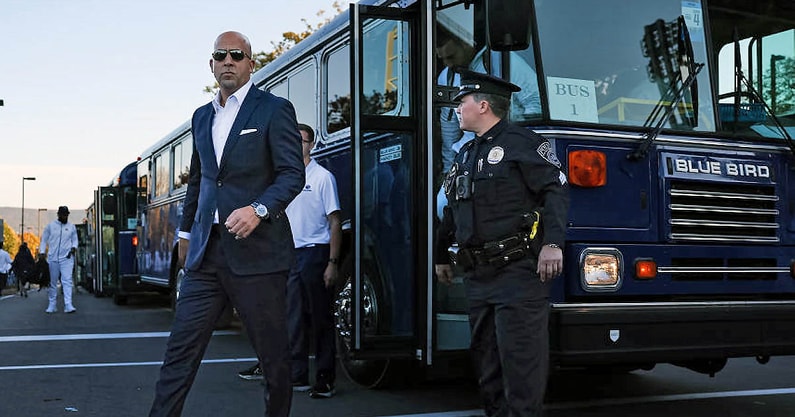 A clock inside of the Lasch Building has been counting down the days until Penn State begins the 2023 season. Today, that screen will show that just 100 more 24-hour cycles remain until the Lions host West Virginia at Beaver Stadium.
Preseason rankings call head coach James Franklin's team a sure-fire top 10 bunch that is knocking on the top five before this season's first contest is played. The program's win total is set at 9.5, suggesting either a 9-3 or 10-2 record is most likely in Franklin's 10th year. Of course, internally and across its wide fan base, Penn State believes it has the pieces to make the College Football Playoff for the first time.
Let's take a closer look at what lies ahead between now and Sept. 2, 2023.
What do the Lions have to accomplish between now and September?
The 100-day mark is a nice, round number for fans, media members, and even those within the program to celebrate. Once the countdown hits double digits tomorrow, we'll be a week out from kickoff in what feels like no time.
Summer academic courses are already underway in the classrooms at University Park. Soon, weight lifting and strength and conditioning work will begin with assistant athletic director for football performance Chuck Losey and his staff. Players will lead the on-field work over the next couple of months, doing everything from 7-on-7 work to individual position drills and, of course, big men work for the offensive and defensive linemen.
While that is taking place, the coaching staff will be busy hosting official visit weekends, recruiting camps, and prospects on unofficial visits throughout June. Players on the current roster will help with those, of course, as will the recruiting and support staffs. That work will set the foundation for future commitments, some of which will come in June or July and others that will take place further down the road.
Once July hits, Penn State and its college football brethren can no longer host prospects until July 25 due to a dead period that actually starts on June 26. The staff will get some downtime. The players will keep working out. And, commitments will come in bulk if the past two years are any indication.
Big Ten Media Days and the Lasch Bash occur at the month's end. Then, August arrives, and preseason camp begins.
At that point, the countdown to kickoff hits its most critical stage. The pads come on, and the on-field work that started in spring begins anew to prepare for kickoff.
Early Penn State-West Virginia lookahead
Penn State is listed as a 16.5-point favorite over the Mountaineers at FanDuel. The two sides announced a home-and-home series in 2013. The Lions take a trip to Morgantown, W.Va., next September.
All-time, PSU holds a 48-9-2 edge. The two sides last met in 1992, when Penn State took a 40-26 road win. The last time the two sides met in State College came in 1991, when the Lions won 51-6.
This year's contest will start at 7:30 p.m. and will be the first 'Big Ten Saturday Night' game on NBC, which is now a Big Ten media rights partner. It will also air on the Penn State Sports Network with Steve Jones and Jack Ham.