Penn State finds home in ESPN's future defense power rankings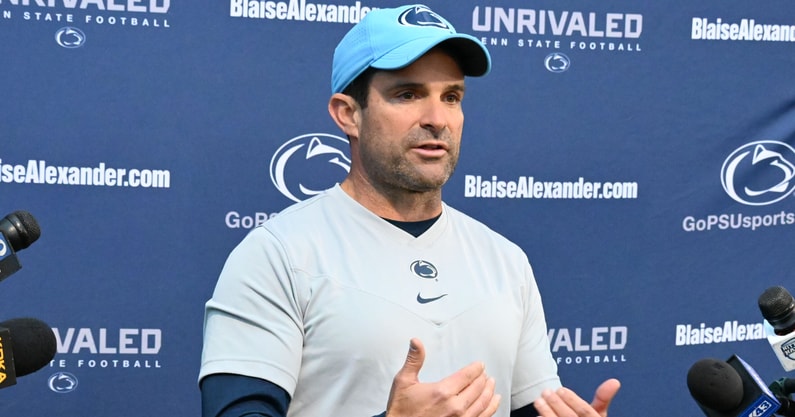 Penn State football is preparing for the 2022 season as the spring semester begins and summer workouts soon start. Meanwhile, many media outlets are starting to take a closer look at how the upcoming season will play out now that spring practice is in the books.
ESPN is one of them. National college football reporter Adam Rittenberg released his future defense power rankings top-25 on Monday. And, the Nittany Lions found a home in the rundown.
What is the future defense power rankings top-25?
Penn State was in the top-25 of this ranking last year, as well. Rittenberg explains his process as follows:
"These rankings assess the 2022, 2023 and 2024 seasons, accounting for current rosters, incoming recruits and transfers, and potential NFL departures. Coaching changes also are a factor, as several prominent coordinators and/or defensive-minded head coaches have changed addresses since the last defense future power rankings appeared in 2021."
Where is Penn State?
The Nittany Lions checked in at No. 17, which is exactly where they were a year ago. That's notable, as the team must replace multiple starters and has a new coordinator, Manny Diaz, overseeing things after former Penn State assistant Brent Pry left for the head job at Virginia Tech.
In explaining what he likes about the Lions' defense over the next three years, Rittenberg points to a strong recruiting Class of 2022. Penn State signed six defenders inside the On300 for that cycle. It also has plenty of key returners, of course. That list is headlined by safety Ji'Ayir Brown, linebacker Curtis Jacobs, and corner Joey Porter Jr.
Penn State had one of the nation's best defenses in 2021. This year, however, it must replace edge rushers Arnold Ebiketie and Jesse Luketa plus corner Tariq Castro-Fields and safety Jaquan Brisker. It won't be easy, but Pry and the rest of the remaining staff stocked the cupboard well for Diaz. Now, he must take the torch and run with it. And, that starts with a unit motto of 'let's get it' according to Brown.
"'Let's get it' means let's go after guys," Brown said. "Let's be on offense, even though we're on defense. We're trying to attack guys, not people attack us, and that's been the motto all spring for the whole defense."
As for the rest of the ESPN future defense power rankings, the top-five, in order, consisted of Clemson, Georgia, Texas A&M, Alabama, and Wisconsin. Iowa (No. 7), Ohio State (10), and Michigan (11) all made the cut, as well.