Penn State football defensive tackle enters transfer portal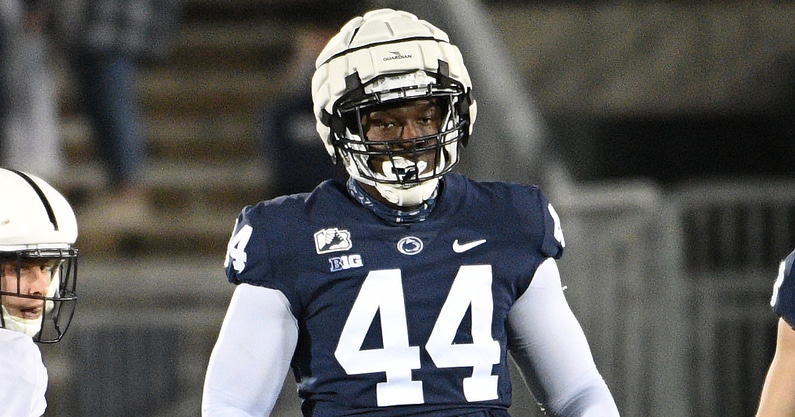 Penn State Nittany Lions defensive tackle Joseph Appiah Darkwa is in the transfer portal, On3 has confirmed.
A redshirt sophomore in 2021, Appiah Darkwa has not registered a snap during his three years on campus.
Listed at 6-foot-5, 295 pounds, he will have three seasons of eligibility at his next institution should he elect to leave Penn State.
Appiah Darkwa was a three-star prospect according to the On3 Consensus in the Class of 2019. He was a unique commitment for the Nittany Lions at the time, having played for Dusseldorf Panther in his hometown of Dusseldorf, Germany.
Weller enters portal
Appiah Darkwa was not the only Nittany Lion to enter the transfer portal on Monday.
Walk-on wideout Justin Weller also announced his intention to enter the transfer portal.
Weller spent five seasons with the Nittany Lions. He has one year remaining of eligibility.
He appeared in nine games for Penn State in 2021, giving him 12 appearances for his career. Weller has one reception for 10 yards on his career ledger.
Penn State strength coach Dwight Galt retires
Penn State Assistant Athletics Director for Performance Enhancement Dwight Galt III is set to retire, the school confirmed last week.
Galt just finished his eighth football season with the Nittany Lions at the tail end of a career that spanned more than three-and-a-half decades.
Galt's replacement is expected to be Chuck Losey III, according to a source. Losey presently serves as Penn State's Associate Director of Performance Enhancement, filling that role since 2014. He also worked under Galt during his time at Vanderbilt.
Galt spent a significant portion of his career working alongside PSU coach James Franklin. Galt spent eight seasons with Franklin at Maryland, before another three at Vanderbilt.
Penn State promoted him to his Assistant Athletics Director role in March of 2015, granting him purview over performance enhancement for all of Penn State's athletic programs.
Galt was often awarded some of the credit for the outstanding numbers Penn Staters posted during NFL Draft combines and at Pro Days.
Torrey Smith, who Galt coached at Maryland, once called him "the secret" to Penn State's testing success in a Tweet.
"Being from Penn State, Coach Galt does such a good job of pushing us to our limits," former Nittany Lion linebacker Jason Cabinda said at the NFL Draft combine back in 2018.
At PSU's Pro Day in 2021, for example, Odafe (Jayson) Oweh posted a 4.36 40-yard dash, boosting his stock as he became a first-round draft pick of the Baltimore Ravens. Micah Parsons followed closely with a 4.39.