Penn State Recruiting: Five things for Nittany Lion fans to be thankful for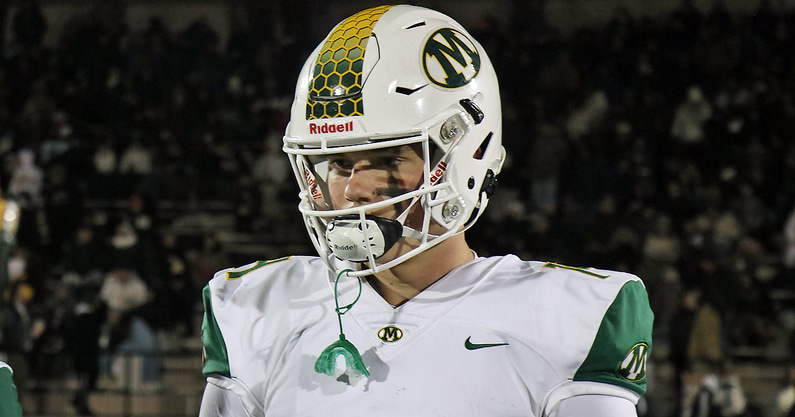 Happy Thanksgiving Penn State fans.
It's been an up-and-down fall for the Nittany Lion football program, but a win on Saturday would secure an eight win season. Coming off a 4-5 record in 2020, many expected 8 or 9 wins to be the ceiling this year. I think that's important to keep in mind after the past six games.
A silly loss to Illinois is what many will remember, but wins over Wisconsin, Auburn and potentially Michigan State this weekend would be a positive sign that this team isn't as far as some claim it is.
Success on the recruiting trail is also a major reason why fans should feel good about Penn State football's future. Let's get into why below.
1. A 10-year contract extension
This overlaps a bit with what Greg wrote, but you can't talk recruiting without acknowledging what happened this week. It's unlikely that Franklin's contract actually lasts all 10 of those years, but it looks great from the outside looking in. For recruiting, that's really all that matters.
But even if the extension is really only about half that length, it assures that Franklin will remain in charge for the foreseeable future. Ask Florida fans how it works when you put someone in charge who hasn't proven he can recruit with the best of schools.
Not every player that Franklin and his staff recruit will turn into three-year starters. Every staff has its fair share of misses, but no one can argue that recruiting at Penn State hasn't improved under his leadership.
Genuinely, if there's one thing I've really learned covering recruiting over the years, it's that State College isn't for everyone. Penn State alums and fans love it, but most of these recruits aren't familiar with the program growing up. If there actually was a change this offseason, that coach would've had major shoes to fill in regards to recruiting. Franklin knows how to sell State College, and that should assure that talent continues to remain strong.
Subscribe to On3 today for just $1 for a yearly subscription to BWI
2. Two exciting quarterback prospects
Whenever you have the nation's No. 1 quarterback committed, it's a big deal. Drew Allar's rise has been well-documented over the past year. He deserves all the credit in the world for what he's accomplished. The young man has everything you're looking for in a top quarterback prospect.
But anyone who has watched Beau Pribula the past two years will tell you this young man cannot be overlooked. He doesn't have all the stars and offers as Allar, and that's just fine with Beau. In a lot of ways, he's always been the underdog. Central York has never been a powerhouse, and what he helped accomplish there the past two seasons should be recognized as one of the better runs since the start of this century in Pennsylvania's competitive District III 6A classification.
What's great for Penn State fans though is that a competition is coming. Christian Veilleux showed everyone this past weekend that he means business, too. Competition at this position has been an issue for Penn State at times, but I don't see that being the case moving forward. Add in Mike Yurcich and there's reason for fans to believe that the overall play at this position is about to be taken up a notch.
3. Three Top 50 prospects in the On3 Consensus
I mentioned Allar already, but as most of you know, he's not the only top-ranked player in this 2022 class. In fact, in the On3 Consensus, he's No. 3 in the class, behind RB Nick Singleton and DE Dani Dennis-Sutton.
The On3 Consensus is an equally weighted ranking that considers all four major recruiting services – On3, 247, Rivals & ESPN. It's different from the 247 Composite, which is tilted towards 247's rankings. This is the one true ranking that considers all four the same.
Learn more about the On3 Consensus Ratings + Rankings
Singleton is the top-ranked player, coming in at No. 39 overall. Dennis-Sutton is just two spots behind him at No. 41, with Allar ranking No. 44. That's more than the past three classes combined, as linebackers Curtis Jacobs and Brandon Smith are the only others who rank in the top 50.
For some perspective, Penn State's only had one other class with three players that high, which took place in 2018. Linebacker Micah Parsons was ranked No. 6, wide receiver Justin Shorter No. 7 and running back Ricky Slade No. 25.
Top talent is incredibly important. You all know that. If all three of these prospects become the players they're expected to be, it'll go a long way.
Discuss the latest Penn State news with fans inside The Lions Den
4. Four early commitments in 2023
Penn State's run of commitments in the Class of 2023 has died down in recent weeks, but September and October were a good to Nittany Lion fans. Of course, the classes' top commitment, Alex Birchmeier (No. 47 overall) decided back in July, but since then, they've added three more players, two of whom hold four-star ratings in tight ends Mathias Barnwell and Joey Schlaffer.
Penn State also holds a commitment from Bridgeville, Pa., resident Lamont Payne. He's currently unranked by On3, but is a four-star on Rivals and a three-star on 247. Running a 4.6-second 40 and a 4.5-second shuttle, there's a lot to work with in regards to Payne. I think there's a real chance he'll make it 4 for 4 in regards to four-star players in this class.
But also, when you look across the region, there are a ton of top prospects that already appear to be favoring the Nittany Lions.
Notable four-star players include LB Ta'Mere Robinson, WR Rodney Gallagher, LB Tony Rojas, TE/DE Neeo Avery, OL Jven Williams, DE Cam Lenhardt, DE David Ojiegbe and LB Phil Picciotti. All of them have been on campus multiple times, and the staff should absolutely land five or six of them, among others.
The 2023 group doesn't currently have those elite prospects at the top like 2022, but they've put themselves in position to sign another dozen or so four-star players next year, at minimum.
5. 16 four-star commitments in 2022
The On3 Consensus doesn't credit Penn State with any five-star players yet. On3's ranking does, but not the consensus. That's mainly because Singleton and Allar rank outside the top 100 at Rivals. If that changes in the months ahead, we should see two five-stars in the Consensus by the end of this cycle.
However, the consensus ranking does credit Franklin and his staff with 16 four-star players at the moment. That's the second-highest total in the country at the currently, only behind Notre Dame who has 20 four-star players in the On3 Consensus. Ohio State has 13 four-star commitments, plus one five-star. The Buckeyes also have just 16 commitments total, so that will climb.
For some more perspective, Michigan has half of Penn State's total with just eight four-star players. Indiana and Michigan State have 10 four-stars combined.
This is what you want to see. Sure, you want to see a few five-star players mixed in there, too, but 16 four-star prospects is an excellent base for any class.
As I mentioned above, not all of them will pan out. That never happens, but Penn State has found themselves some really good players in this class, a few of whom can realistically start contributing the next two seasons.