How Penn State linebacker Curtis Jacobs learned the real meaning of speed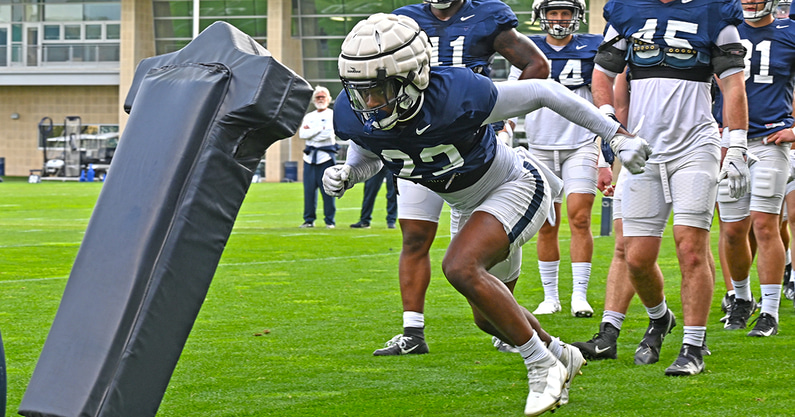 This story appears in this month's issue of the Blue White Illustrated magazine. Penn State fans can order it HERE, and gain access to exclusive interviews, analysis and more.
Don't talk to Curtis Jacobs about his 40-yard dash time. 
Sure, Jacobs is one of the best athletes on Penn State's entire roster — possessing a rare combination of quickness and bruising physicality. When the NFL comes calling and it's his turn to take part in the draft combine, he'll be just fine. 
But as Jacobs meandered around Penn State's football facility in mid-April, preparing for a spring workout, he discussed speed in a different context. 
"It's not like a 40, because I don't really judge that off of speed — like, real speed. In my opinion, the 40 is how fast you're gonna run on the first play of the game," Jacobs said through a chuckle. 
Jacobs feels faster as Penn State transitions out of its spring practice period and into the summer months. But it's only partially to do with being fleet of foot. What Jacobs is really talking about is his ability to process information quickly on the field. 
Your legs won't go anywhere until your mind gives them the green light. And Jacobs is spending far less time at those mental stop lights these days. 
"Offenses, especially offensive linemen, they hate speed," Jacobs said. "You could be the biggest, strongest guy, and they got a 300-pound guy coming to block you. So, I feel like being able to get that guy before he can even put his hands on you is very valuable.
"It's up here," Jacobs continued, pointing to his head. "No false-stepping. Being able to get to certain things, getting your read quick and getting downhill. It really starts up here, and then once you get your legs working it's…natural from a sense of just making the movements." 
Jacobs' path to developing those brain paths, to accessing the instinctual part of the game more quickly, has been complex. 
The third-year linebacker is a natural athlete. His high school athletics highlight reel displayed just about every type of sheer athleticism one could imagine. He out-jumped just about everybody on the basketball court. He exploded as a high-school wide receiver, and he terrorized offenses as an outside linebacker. And he even returned punts. 
Asked if — back then, when everything flowed so naturally and involved almost no consideration — Jacobs thought football would require as much brain power as it does now, Jacobs interrupted the question before it was finished. 
"Not at all," he said. "No. Not at all.
"Up until my senior year of high school, I thought football was all just pattycake. I was just out there trying stuff." 
He'd get his route from his coach. He'd run the route. And, invariably, the route would work. Quickly, Jacobs found out there was more to Big Ten football than that. 
"I didn't even know about watching film throughout my high school years," Jacobs said. "We had film as a team, but we just kind of watched it — not like a joke — but we're watching it and we're laughing about plays and pretty much watching it like it's a movie. 
"I really learned this past season that film is one of the most important things, because that's when you see the tendencies and you'll be able to build that anticipation part. That way, it's pre-snap and you're already ahead of the offense. You already know what they're doing based off certain looks. That's been really important for me, that's helped me out the most." 
With a year of starting experience and the knowledge that comes with it now in the back of his mind, Jacobs is no longer Penn State's exciting young up-and-comer. At linebacker, he's the new talisman. 
Both Brandon Smith and Ellis Brooks moved on to the NFL following the 2021 season. That means Jacobs will line up alongside Jonathan Sutherland — an experienced safety making the move to linebacker — and one of Kobe King or Tyler Elsdon. Neither of those two players has amassed more than 100 career snaps at the college level. 
Even by college football standards, Jacobs' transition from hot prospect to veteran has come quickly. 
He's also making the move to Will linebacker — much as Smith did during his junior season — to open the door for Sutherland to play Sam. With that in mind, Penn State head coach James Franklin didn't ask Jacobs to become an immediate leadership voice this spring. Instead, he emphasized a continuation of the path Jacobs has walked since his arrival. 
Learn the details, and, by extension, unlock an ability to play the game faster. 
"I would say [leadership] is an area that, right now, with him learning his new role and subtle adjustments on the defense, I wouldn't say that's a priority for him or for us at this stage," Franklin said. "It's going to have to be. But right now, I still think he's kind of feeling his way through that. But we're going to need that in the fall." 
Jacobs has downplayed the adjustment involved with the position change at just about every opportunity. He points out that former Penn State defensive coordinator Brent Pry ensured he knew how to play all three linebacker positions. This, Jacobs figures, is just about applying that knowledge.  
The Nittany Lions are optimistic about how that application could go. Manny Diaz, Penn State's first-year defensive coordinator, sees a nearly perfect fit.
"I think he's at home at Will," Diaz said. "I think he's made for the spot, I think it fits his athleticism. He's an intelligent guy, understands what's going on, can cover, can rush, can run. So, to me, when you're looking for what you want a Will linebacker to be, he kind of ticks all those boxes." 
To make proper use of his unlimited toolbox, Jacobs has to unlock it — and that requires confidence.
At the peak of his potential, Jacobs pictures an aggressive, tough disruptor who is fueled by self belief. 
Through his first two seasons on campus, he thinks he's acquired enough of that viral currency to thrive in 2022. 
"A switch kind of flipped to me, I would say last year," Jacobs said. "I started really being confident in my decisions. If I see something, attack it."