Penn State football: How interim DC Anthony Poindexter plans to adjust amid bowl game opt-outs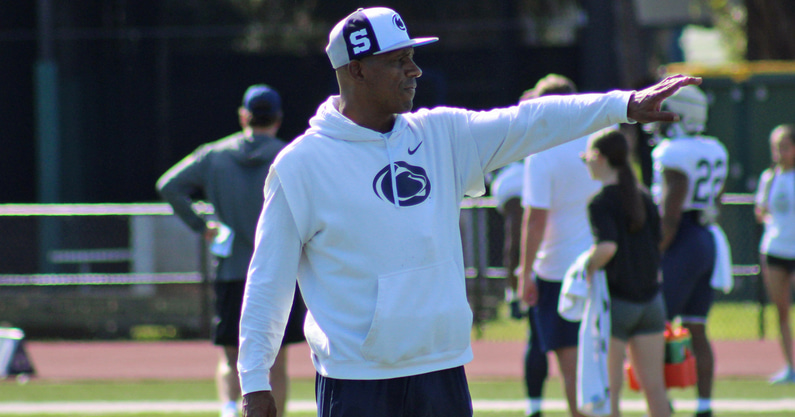 Penn State safeties coach Anthony Poindexter will serve as the primary play-caller on defense for the first time since 2016 when the Nittany Lions take on Arkansas in Saturday's Outback Bowl.
And the new role won't be his only challenge.
As a result of opt-outs, Poindexter will be without at least four starters on the defensive side of the ball as he fills in for the newly appointed Manny Diaz at defensive coordinator.
"Everybody wants to play," Poindexter said. "A lot of guys who probably didn't play as much as they wanted to in the regular season, here's their chance to play. We got a standard for how we play defense here, and we expect them to play the way we're used to playing."
Penn State defensive end Arnold Ebiketie, linebackers Ellis Brooks and Brandon Smith and safety Jaquan Brisker have all elected to skip Saturday's contest.
Starting defensive tackle Derrick Tangelo and cornerback Tariq Castro-Fields have not yet announced their decisions.
Asked about Tangelo's availability specifically, Poindexter declined to comment.
It's clear the Nittany Lions will rely on players with less experience when they encounter the Razorbacks in Tampa.
Arkansas is capable of playing fast on offense, averaging 71.3 plays per game, which ranks 54th out of 130 FBS teams.
With those factors in mind, Poindexter emphasized the importance of communication, especially for those occupying new roles.
"I think we've got enough leadership that we don't have to ask these young guys to be leaders, but they're gonna have to communicate," he said. "Any time you play a team like Arkansas that's running tempo offense, you're going to have to communicate and be on the same page. They've been practicing. They know what to do. Now they're just going to have to go out there and do it."
Poindexter offered few hints as to which young players in particular will be asked to step forward.
Penn State has two holes to fill at linebacker, and true freshmen Kobe King and Jamari Buddin have each appeared in four games this season.
That means appearing in Saturday's game would mean burning their redshirts. Asked if the Nittany Lions will opt to do that, Poindexter was non-committal.
"We'll just have to see, see how the practices go, see how the week ends up going, see who's available, so we really can't answer that question right now," he said.
As for his own role, Poindexter is playing things cool.
He said former Penn State defensive coordinator Brent Pry left a solid foundation for him to work from as it relates to game-planning, and that the other defensive assistants on the Nittany Lion coaching staff have helped him out, too.
"It's been running smooth," he said.
Of course, he can also lean on Diaz. An interested observer for now, Diaz has 13 seasons of experience as a defensive coordinator that Poindexter can tap into.
"It's just been great," Poindexter said. "Obviously, he's called a lot of defenses and he's been a head coach. He is a good sounding board for me, just bouncing ideas off him…He's been great. He's been awesome, just fit in perfectly with our staff."