Penn State cornerback an early 2023 NFL draft favorite, former Nittany Lion generates buzz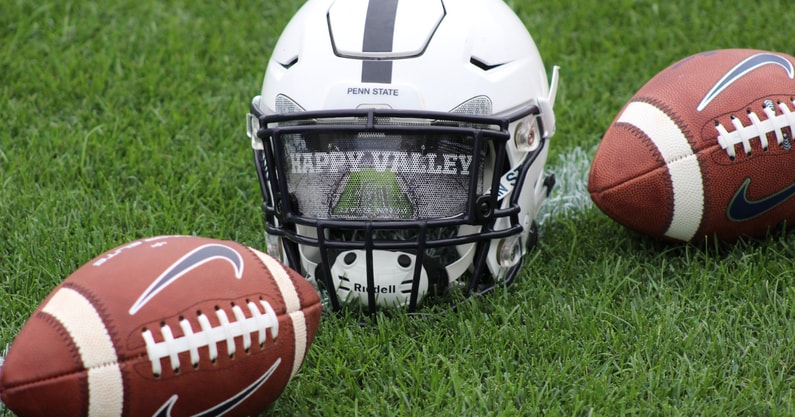 The 2022 NFL Draft reached its conclusion on Saturday, with eight Penn State players hearing their names called.
Now, we look ahead toward 2023. In four early mock drafts sampled by Blue-White Illustrated, one Nittany Lion defensive back is a common fixture.
Penn State corner Joey Porter Jr.
Penn State's top returning cornerback is a clear favorite of the early draft prognosticators.
Joey Porter Jr. eschewed the NFL Draft this offseason, electing to return for a third year as a starter in Happy Valley.
While he often struggled with penalties last season, Porter's status as an effective defender is difficult to question.
Here's where the four experts in our sample are projecting him to land.
Dane Brugler, The Athletic — 20th overall to the Indianapolis Colts
Ryan Wilson, CBS Sports — 26th overall to the Seattle Seahawks
Brent Sobleski, Bleacher Report — 30th overall to the Detroit Lions
Michael Renner, Pro Football Focus — Not selected in the first round
When Porter is mentioned, his arm length and physicality are almost universally touted.
Listed at 6-foot-2, 196 pounds, Porter has the length to make plays on the ball, and the strength to be a factor in the run game.
"Joey Porter Jr., meanwhile, brings a certain level of toughness and skill worthy of his name," Sobleski wrote. "Porter is a 6'2″, 196-pounder defensive back who has been taught the right way to play football by his All-Pro father. The younger Porter will stick his nose into the action and won't concede a single inch."
Opined Brugler: "Joey Porter isn't the most consistent cover man and has his share of missteps on tape, but he is a long, fluid athlete with the potential to be a future first-round pick with continued development."
Another former Nittany Lion generating buzz
Another name plenty of Penn State fans will know is frequently popping up inside the top-10.
That's Kentucky quarterback Will Levis.
Levis left Happy Valley for Kentucky following the conclusion of the 2020 season. He appeared in 14 games for the Nittany Lions, throwing for 644 yards and rushing for 473 more.
Taking over the reins as the starting signal-caller for the Wildcats, Levis completed 233 of his 353 pass attempts for 2,826 yards and 24 touchdowns last season. On the ground, he accumulated 376 yards and nine scores.
The Athletic — 5th overall to the Atlanta Falcons
CBS Sports — 5th overall to the New York Giants
Bleacher Report — 6th overall to the Carolina Panthers
PFF — 8th overall to the Seattle Seahawks
"Kentucky's Will Levis brings arguably the class' best combination of size (6'3″, 232 pounds), arm talent and functional mobility," Sobleski wrote. "The biggest hang-up about his status as a prospect is that he'll turn 24 before his rookie season."