Penn State Football Junior Day reaction, wrestling: BWI Daily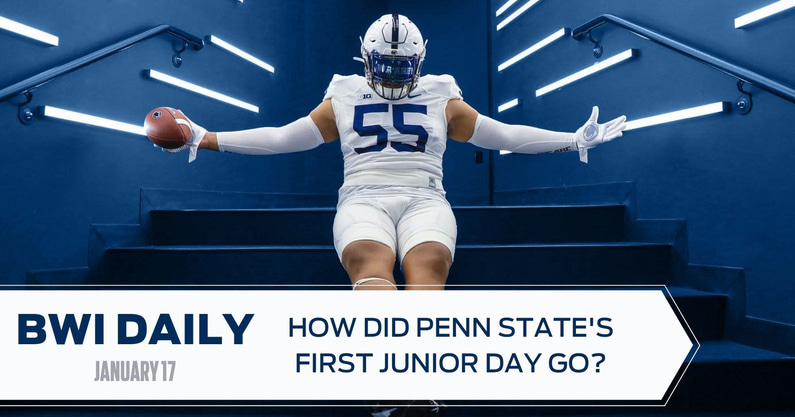 Penn State football's first Junior Day was Saturday in Happy Valley. Hours before the first snowstorm of the season hit the region, head coach James Franklin and his staff hosted dozens of potential commits for The Class of 2023 and beyond. As recruiting insider for Blue White Illustrated Ryan Snyder mentioned last week, the goal is to formally introduce recruits to Penn State and give them the essentials of the program.
Penn State Junior Day
How did that go? What are the biggest takeaways from this past weekend? Reporter Greg Pickel was following the developments this weekend and joined the BWI Daily Edition to give his impressions of Junior Day and give Penn State fans the essentials of what happened over the weekend.
Host of the Daily Edition, Thomas Frank Carr, starts by asking Pickel his most significant takeaways from the weekend and his general impressions of what fans should know. Next, they took a look at two players making their way up from Florida, defensive linemen Derrick LeBalanc and John Walker. LeBlanc and Walker are teammates at Osceola high school and were up this weekend to take in the event.
Name, Image, and Likeness
While both are important recruits, they each represent something interesting. First, they start with LeBlanc, who had an interesting comment from the weekend that T-Frank thinks is revealing. That leads them to a conversation about Franklin's personality as a coach and the potential disconnect between Penn State fans and their head coach despite commonalities. LeBlanc's comments also lead to a conversation about name, image, and likeness and Penn State's current progress in that department.
Next, they discuss what Walker represents as a prospect. He has a different profile than the players Penn State has recruited at the defensive tackle position in recent years. Should the Nittany Lions target more players like Walker? Pickel gives his thoughts, and T-Frank explains what he's seen from the Nittany Lions' recruiting efforts on both sides of the line of scrimmage.
Penn State Wrestling Update
Finally, they wrap up with an update on the Penn State wrestling team. Pickel covered the dual victory over Rutgers for Blue White Illustrated, and he gives his impressions on how head coach Cael Sanderson's new-look lineup fared in their first dual. Is this a championship-level group? Pickel provides his insights into that and more from the weekend.