Where is Penn State in the initial early top-25 rankings for 2022?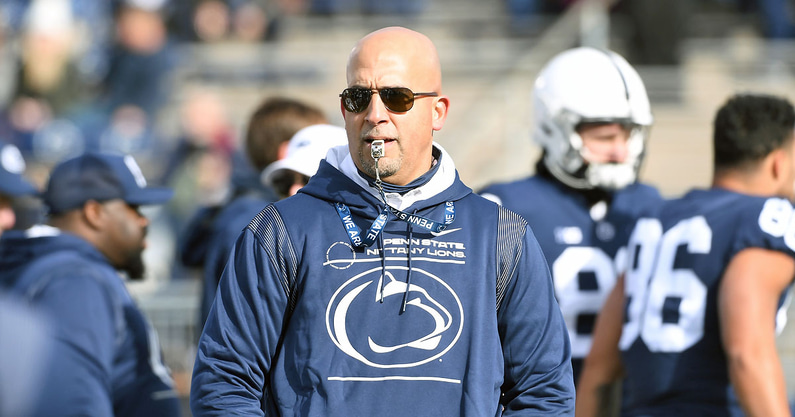 The Penn State football season ended 11 days ago in Tampa.
College football officially closed the book on its latest slate of games, however, when Georgia topped Alabama in Monday night's championship game.
Things are never slow in this sport, which is why it was no surprise to see 'too-early top-25 lists' all over the Internet both late Monday night and throughout Tuesday. It's an annual rite of passage that ushers in the wait until contests begin again.
Here's a roundup of where the Lions landed.
Penn State in the too early top 25 lists
Penn State checked in at its highest spot at No. 14 according to Action Network expert Brett McMurphy. Its lowest one was not making the cut at all in rundowns put together by ESPN, Sporting News, and Sports Illustrated.
Bleacher Report has the Lions at No. 15, while On3 puts Penn State at No. 20.
"Yes, a lot of talent is leaving, but there's still a lot of talent in Happy Valley," On3 writes. "Plus, can the offensive line be that mediocre again?
Athlon Sports, then, has head coach James Franklin's team at No. 21.
"A favorable schedule will help Penn State's hopes of improvement in the win column," Athlon's Steve Lassan writes.
"Games versus Michigan State, Ohio State and Minnesota take place in Happy Valley, with Michigan the toughest road trek next fall."
Finally, CBS Sports slots the Lions at No. 24.
"Sean Clifford is back for a sixth season, which gives the Nittany Lions a chance. Look at it this way: If Clifford had not gone down against Iowa, Penn State might have won enough for James Franklin to be the new coach at USC," Dennis Dodd writes.
"As it is, Franklin signed a 10-year, $75 million deal. Four of the five tacklers on the No. 6 scoring defense have departed. Call it a transition year. A return trip to Auburn in nonconference play won't help."
Sign up for Blue-White Illustrated and On3. It's $1 for one year of access! Details here.
Are the Lions too high, too low, or just right?
Let's get one thing out of the way: Projecting a preseason top-25 on the first day the offseason truly begins is a process that will lead to major changes down the road. But, they are fun to look at and debate.
It's hard to fault anyone for leaving Penn State off their top-25 list after a disappointing 7-6 mark followed a shortened 4-5 season in 2020. The Lions have a lot to prove, and the schedule, which was revised on Tuesday and can be seen below, is brutal.
That said, the Lions have recruited well enough and just signed a highly-touted class of newcomers. When you combine that with some key starters returning, year two of the Mike Yurcich era on offense, and a splashy hire of Manny Diaz on defense, it's not hard to see why a few national pundits think the Lions are one of the 25 best teams in the country. It's equally easy, however, to see why some believe they are not.
An offseason featuring many key questions is underway. Penn State must answer them in the best way possible for the Lions to become the team some are projecting them to be.
Penn State 2022 football schedule
Here is the complete 2022 Penn State football schedule. No time or television assignments have been announced as of Jan. 11.
Sept 3: at Purdue
Sept. 10: vs. Ohio
Sept. 17: At Auburn
Sept 24: vs. Central Michigan
Oct. 1: vs. Northwestern
Oct. 8: BYE
Oct. 15: At Michigan
Oct. 22: vs. Minnesota
Oct. 29: vs. Ohio State
Nov. 5: At Indiana
Nov. 12: vs. Maryland
Nov. 19: At Rutgers
Nov. 26: vs. Michigan State