New Penn State football roster shows freshmen heights and weights plus other changes; who is no longer on the team?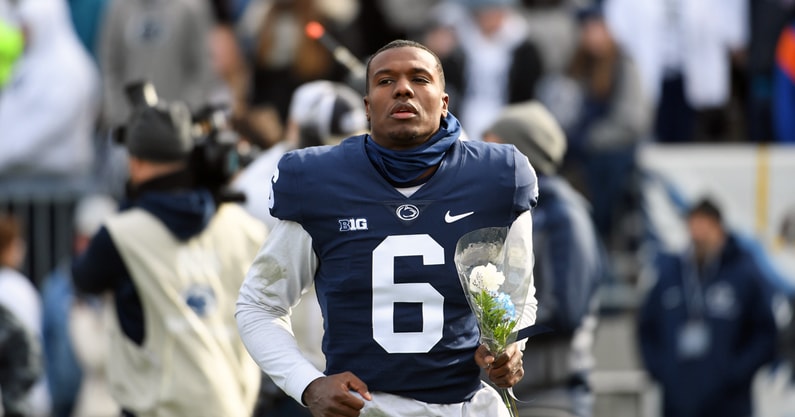 The Penn State football program has released its latest roster.
Updated over the weekend, the online listing of team members is notable for what it does include and also who it doesn't as classes are now underway in State College.
Here's what we learned from the latest listing.
Who isn't on the roster?
Let's start here.
A few Penn State upperclassmen had not declared publically whether or not they'd be using the free COVID eligibility year or not. Per the roster, Penn State will have four players using it: Quarterback Sean Clifford, safety Jonathan Sutherland, long snapper Chris Stoll, and punter Barney Amor.
On the flip side of that, some players who could have come back will not. That list includes center Mike Miranda, guard Anthony Whigan, and receivers Cameron Sullivan-Brown and Daniel George.
Other players who are no longer on the roster include transfer portal losses like back Noah Cain, quarterback Ta'Quan Roberson, offensive lineman Des Holmes, receiver Norval Black, and safeties Enzo Jennings and Tyler Rudolph. Corner AJ Lytton is also no longer listed.
Defensive linemen Aeneas Hawkins, Fred Hansard, and Joseph Darkwa are also not on the roster anymore. Specialists Bradley King and Vlad Hilling aren't, either.
First heights, weights listed for Penn State January enrollees
Penn State's updated roster also included heights and weights for the January enrollees.
Here is the list as of Monday, January 17. None of the newcomers have been assigned a uniform number at this time.
Quarterback Drew Allar: 6-foot-5, 225 pounds
Quarterback Beau Pribula: 6-foot-2, 205 pounds
Running back Kaytron Allen: 5-foot-11, 225 pounds
Running back Nick Singleton: 6-foot, 215 pounds
Tight end Jerry Cross: 6-foot-5, 255 pounds
Receivers Omari Evans: 6-foot, 170 pounds
Receiver Kaden Saunders: 5-foot-10, 170 pounds
Receiver Mitchell Tinsley: 6-foot-1, 205 pounds
Guard JB Nelson: 6-foot-5, 300 pounds
Defensive tackle Zane Durant: 6-foot-1, 260 pounds
Where is the Lions online roster located?
You can view it at GoPSUSports.com or by clicking here.