Penn State football plucks ACC staffer to fill new recruiting role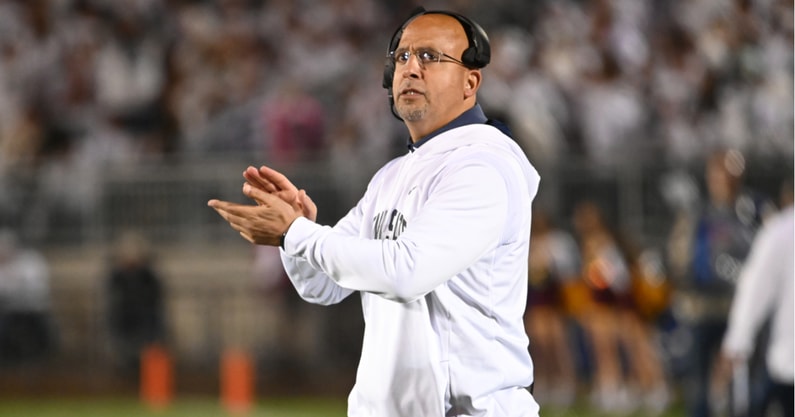 Penn State has made its latest offseason hire. After picking up former Lion Calvin Lowry as an analyst back in January before hiring Marques Hagans as its new receivers coach earlier this month, the program has now added a staff member to its recruiting department.
The Lions have picked now former Syracuse director of high school relations Khalil Ahmad to fill a newly-created assistant recruiting coordinator for personnel position, a source confirmed to Blue-White Illustrated.
Earlier Friday, Ahmad said his goodbyes to Syracuse.
"Orange Nation, it's been an honor to be a part of The Ohana', the bonds I have built in my time in Syracuse will never be forgotten and I want to thank Coach Babers for an amazing opportunity. I'm excited for this next chapter of my life," Ahmad wrote on Twitter.
A Delaware State University alum, Ahmad broke into the coaching ranks at two high schools in New Jersey between 2019 and 2020. He later spent a year at Rutgers as a player development assistant before joining the Orange in 2022.
FootballScoop listed Ahmad on its 2022 minority coaches and support staff rising star watch list. Syracuse.com reports that he was picked to fill in for Syracuse on the road earlier this month while the program looked to fill on-fileld staff vacancies.
What will Penn State have Ahmad focus on?
Penn State now has at least nine full-time recruiting department personnel working under General Manager of Personnel and Recruitment Andy Frank and director of player personnel Kenny Sanders. All have specific but also broad responsibilities.
Ahmad will be no different. But, the job he applied for and ultimately landed had some interesting details in its public posting. To sum it up, the responsibilities include, in part, coordinating all aspects of evaluating, ranking, and recruiting the top offensive/defensive/specialist prospects from the state of Pennsylvania, the northeast region, and across the entire country.
It's the latest sign that head coach James Franklin's new contract, which is entering its second year, continues to provide resources that allow him to add support staff in various roles.
"It's about manpower in recruiting," Franklin said last March.
"It's about manpower in terms of when we're breaking down film and when we're watching tape that we have enough perspectives in the room and enough experience in the room, and then obviously it helps you also — it also helps you obviously in terms of manpower when it comes to game planning and those types of things."
The Lions shuffled some support staff titles around this offseason
In case you missed our previous report on it, here's a summary:
"Andy Frank is the brain behind the plan for recruiting and roster management at Penn State. He has been with Franklin for years. He is now the General Manager of Personnel and Recruitment. It's unlikely his role has changed in any enormous way. But, a pay bump seems like a certainty.
"Ace off-field recruiter Kenny Sanders is now the Director of Player Personnel, which was Frank's old title.
"A few returning recruiting staffers also have new titles.
"Caleb Tyler is now the Director of Recruiting Content. He was the recruiting coordinator for marketing and creative content and plays a big role in the graphics you see recruits post to social media, among many other things.
"Hunter Carson is now the recruiitng coordinator for communication strategy, while Chris Mahon (offense) and Alan Zemaitis (defense) are now recruiting coordinators for personnel. All three carried assistant coordinator titles a year ago."