Medina head coach on Drew Allar: "He is proof that hard work and dedication really pays off"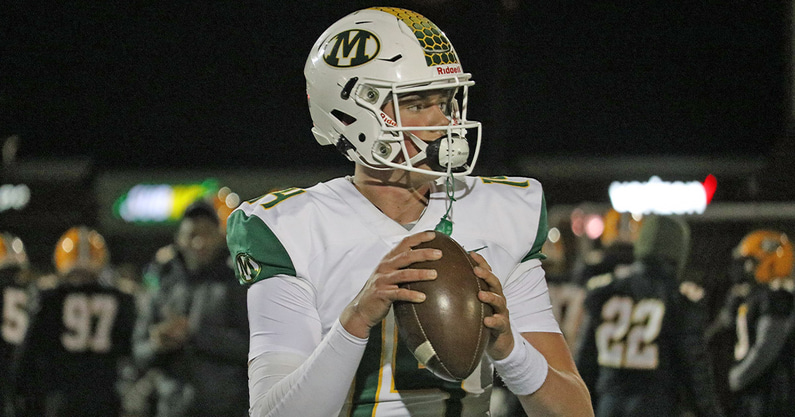 It's been an incredible ride for five-star quarterback and future Nittany Lion Drew Allar.
Just one year ago, Allar didn't even hold a scholarship offer from Penn State. Now, many consider him the most important recruit since Micah Parsons, and even that may be an understatement.
In the beginning of 2021, he was a three-star on every recruiting site. Iowa, Iowa State, Pitt and Wake Forest were arguably the top schools pursuing him. Sure, we see players take off every year, but at quarterback, jumps like this are incredibly rare. This is a position where schools are often behind if they wait until after a player's sophomore season, especially for the very best. For Allar, it wasn't until February when everything took off.
Some of that can be blamed on the pandemic, sure, but a lot of it is because of the work Allar has put in over the past two years. His work with quarterback coach Brad Maendler is well-documented, but Medina head coach Larry Laird and his staff also played a big role in providing Allar the opportunity for such a meteoric rise.
Following Medina's loss to St. Edward in the OHSAA Division I Regional Final this past Friday, I caught up with Laird to look back on Allar's time with the program. You can read that Q&A below.
Ryan Snyder: Going back to his freshman/sophomore seasons, did you ever think that he would become the kind of prospect he is today? Did you ever think he'd end up being the top quarterback in the whole country?
Larry Laird: You could see the arm talent was there very early, to be quite honest, but did he have to work to the point where he is now? Absolutely. Hard work, dedication is why he's made himself into the prospect he is. I always thought he could definitely be a lower Division I prospect just because of his arm talent alone, but for him to blow up the way he did and become the prospect he did, that was through hard work and dedication on his part.
Snyder: When did Drew start playing varsity? Did he play much as a freshman for you? 
Laird: He actually shared time at quarterback as a freshman on the freshman team. So, it's not like he came in from day one for us. He actually shared time with Mike Rodack, one of our wide receivers now, as a freshman. They were my signalers as freshman for the varsity, so that kind of speaks for how much work he's put in, I think.
But he didn't really start playing for us until his sophomore year. Even in the beginning of that season, he wasn't starting and was probably only getting a third of the reps. I didn't start him until the sixth or seventh game of his sophomore year.
Snyder: What did you see from him to go with Drew then that year? You guys had a winning record at the time. Why make the switch? 
Laird: His sophomore year, you could just see him getting better everyday. He worked hard everyday, and it doesn't matter what position you play, especially in high school football, when guys are maturing and getting better. Every position is open at all times if you truly want to be a good program. So, that's what happened with Drew. He was starting to advance to the point where I had to play him more.
Snyder: When I watch Drew play, I see a player who reads the field better than the majority of high school quarterbacks. It's not just about his arm. What's he like in the film room with you?
Laird: I think I would put him up against anybody in the country at his age level when it comes to film. In fact, I'd put him up against guys already playing at the college level when it comes to film work. He and I, honestly, probably watched five to six hours of film a week together just in the offseason. Then, he'd go home and watch probably another five hours by himself or with dad. That's just in the offseason. In the season, he would do it even more sometimes depending on the opponent. That's one area where I think he truly excels and you can see it when you watch him. He really excels in this area.
Snyder: Can you talk about Drew Allar off the field? What will you remember about him off the field?
Laird: If you were just talking to Drew and didn't know him, you would never know he's the prospect that he is. One thing I always admired about Drew through all of this is that he's always put Medina football first. As the head coach, I can't stress how much I appreciate that. You can tell that he's a very genuine young man, and his family deserves so much credit for that. 
Throughout the whole process, even when he started to really take off and become the player he is now, he never once let it go to his head. The best example of that, I think, is when you watch him around the younger kids in our area and even the younger guys in our program. He's always been one of those kids who's incredibly humble and will do whatever you would want him to do if you were his parents. He's a great young man. Everything that people see from him on the outside, he's that humble and respectful on the inside, too. Again, as his coach, I can't thank him enough for that. We were incredibly fortunate with him and almost all of his classmates. They were all like that, and that's why we had the success that we did.
Snyder: Can you share a story from this past season? Just something about Drew that you'll remember, on or off the field.
Laird: So, after our game against Stow, we were all trying to load up on the bus and get out of there. I think pretty much the entire team was ready to go, and I noticed Drew's bag is one of the only ones left in the locker room. So, I'm looking around, trying to figure out if he just forgot it or what.
I walk back out of the locker room, and there he is signing autographs for and taking pictures with these little kids in Penn State gear. There were even a couple adults there trying to get him to take photos with him and sign autographs. They all had Penn State gear on. He stayed out there and talked to them for awhile. Drew's never the person that can tell someone no. He's just so polite. But after that, he started getting people asking for autographs all the time. We actually had to control it at times.
Snyder: Any last thing you want to say about Drew?
Laird: He's just proof that hard work and dedication really pays off. He has made himself into the prospect that he is. Don't get me wrong, you have to have some natural talent, but his hard work, not only on the field, but in the film room and cultivating relationships with his teammates, is why he is where he is today.