Catching up with 2023 Penn State offensive line commit Alex Birchmeier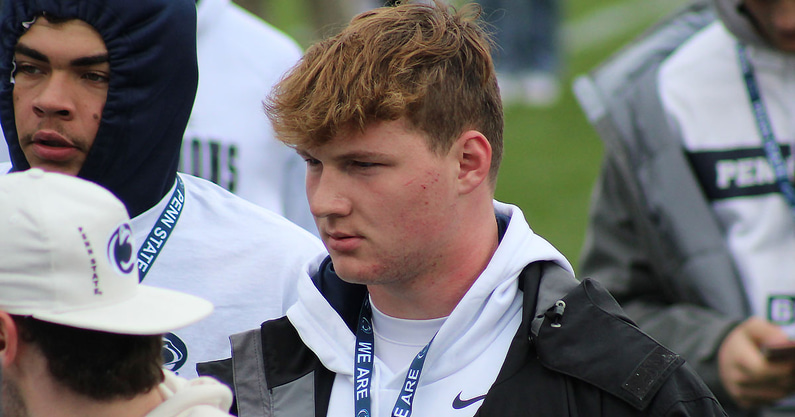 It's not often that James Franklin and Penn State's staff adds a commitment from an elite prospect a year-and-a-half before he can sign a letter of intent, but that's exactly what Alex Birchmeier decided to do back in July.
The nation's second-ranked interior offensive linemen according to the On3 Consensus, there's a very good chance that Penn State's first commitment in the Class of 2023 goes down as their top overall recruit when it's all said and done.
Ranking No. 31 overall nationally, there aren't many players out there who could surpass him. Add in the fact that he'll likely only be moving up in the rankings and not down and there's a good chance that Birchmeier ends up being that guy. A fifth star also shouldn't be ruled out.
But for anyone who knows Birchmeier, rankings and recruiting attention are the last thing he's seeking. If his early commitment didn't make that obvious, then our discussion recently with the Ashburn, Va., native should clear things up. 
Below is our complete Q&A with Birchmeier.
SNYDER: Your team, Broad Run High, came so close to a state championship this year, losing in the state final. How would you look back on your junior season?
ALEX BIRCHMEIER: I think our team really developed well in the offseason. We really took advantage of it, especially after battling with injuries the season before. Everyone committed to getting their bodies right after the last season. I feel like we had a lot of senior leadership on the team, which really helped us. I think that was really an important thing.
SNYDER: Did you personally grow in any certain area? 
BIRCHMEIER: I think I developed from a leadership role a lot this year. It was great being one of the team captains, being able to bring guys over to my house, help them work on their offensive line skills. I'm always big on working on the details, so sharing that with my guys and working with them, I think I took a big step there.
SNYDER: Is there any area from a technique or skill perspective that you think you improved?
BIRCHMEIER: Leading into this season, I felt like my run [blocking] was fine. I can still develop and add more strength, of course, but my pass [protection] could definitely get a lot better. So, I really focused on that. I feel like that's one thing that improved. Also, my overall knowledge of the O-line, recognizing where guys line up, different shifts, things like that. That was another important area for me.
SNYDER: Since you committed to Penn State, this class has really taken off now with six commits. Have you built relationships with the other guys? Is there anybody you've become close with? 
BIRCHMEIER: We talk all the time. Every day, we're talking about what guys we want to recruit. I think I've become really close with Mega Barnwell, Lamont Payne, Joey Schlaffer, Josh Miller. [Josh] is one of the big guys on the O-line who is going to help us a lot, so we're just trying to recruit more to the class and get better.
SNYDER: How much were you in touch with Josh Miller leading into his commitment? 
BIRCHMEIER: I was recruiting Josh hard the whole time. There are other [offensive linemen], too, like Jven Williams from Pennsylvania. He's a really big recruit. I talk to Evan Link every once in a while. I know he's a recruit Coach [Phil] Trautwein likes and he has a good future, so I definitely want him on my team. Chase Bisontis, Luke Montgomery, all of those big recruits.
SNYDER: Penn State had an up-and-down season in 2021. What are your thoughts on it?
BIRCHMEIER: Yeah, Penn State has had back-to-back seasons now with pretty much even records. That doesn't affect me at all, though, when it comes to my relationship with the school or make me question if I want to go there or not. 
Honestly, it's just motivation for me and the other recruits to have big goals in mind. I think like, "OK, if this is the school I'm going to, let's aim for 10-plus wins every season." I want to try and play for a national championship, so it's just motivation for us to work harder and push ourselves.
SNYDER: You've been loyal to Penn State since committing, but I'm sure schools have tried to continue to recruit you. Do you get texts and calls from coaches at other schools still?
BIRCHMEIER: Yeah, when you're a recruit, even if you're committed, schools don't really stop hitting you up. For me, the biggest thing I've done is just kind of ignore most of that stuff, keep my eyes straight on and where they need to be. Because of that, I haven't had to deal with a lot of that. I don't do unnecessary phone calls. It's mainly just been schools reaching out to offer. I don't see any reason to acknowledge that stuff and let the public know. Once you're committed, offers and that stuff just aren't important.
SNYDER: I want to learn more about your wrestling career. You were a state champion wrestler last year in Virginia. How does wrestling help you with football?
BIRCHMEIER: Wrestling goes hand-in-hand with football. It helps you stay low, it helps with leg drive. When you're wrestling, you really feel your opponent's weight shifting, and that's great for offensive line play. It helps you understand where guys are going, where your hands need to be, especially on reach blocks and stuff like that. It's been a big help for me as an offensive lineman.
SNYDER: If you could be the top-ranked interior lineman nationally, which you basically are, or the top-ranked heavyweight wrestler in the country, which would you pick?
BIRCHMEIER: Honestly, when I was little, I hated wrestling. It was kind of one of those sports my dad signed me up for. Over the years, I've grown to love it, but I don't think it beats my love for football. 
Every time I'm working out, I'm not thinking about what's going to make me better at wrestling. Obviously, that's a goal, too, but it's not my primary mindset while I'm working out. Football is what's always on my mind. It's about getting that extra rep in to be the best offensive lineman I can be.
SNYDER: Have any schools recruited you for wrestling? Especially before you committed. I assume most have stopped now since you have a full scholarship already. 
BIRCHMEIER: Before I was committed for football, I had a couple in-state schools – Virginia and Virginia Tech – reach out to me for wrestling stuff. But me and my coach knew I didn't really want to wrestle in college. Football was always my goal for college.
SNYDER: I'm going to finish this with a couple fun questions. I'll start with this: Is there a current or former Penn State player that you're most looking forward to learning from or competing against?
BIRCHMEIER: One of the guys who I followed pretty closely, watched all of his film in high school, all that, and really kind of model myself after is Landon Tengwall. He's been a guy that I've been basing myself off of for a long time. I don't want to be one of those sloppy, big offensive linemen. I want to be in great shape, be strong and be able to move well, and I think Tengwall really fits that kind of mold. 
So, I would say Landon. I'm looking forward to working with him. 
SNYDER: Do you have a favorite sports team? You can't say Penn State. Any other team.
BIRCHMEIER: Oh, man, that's a tough one because I never really had a favorite NFL team growing up. For me, I always just grew up supporting the teams that my family played for, so places like Ohio University, Navy, Vanderbilt, those kinds of schools. My dad played at Ohio University, my brother is at Navy and my cousin played at Vanderbilt. 
SNYDER: Can you share one thing you want your future teammates or coaches to know about you?
BIRCHMEIER: I love competition. If you put anything into a competition format, it'll probably make me work twice as hard. I don't know what it is, but whenever workouts become competitive, it just takes things up a notch for me.
SNYDER: Favorite thing about being a Division I recruit?
BIRCHMEIER: Honestly, I would say having it over with. Having that pressure off of me is great. I enjoyed the visits and getting to know coaches, but I like not having to focus on my recruitment. I like focusing on making myself better. Just not having to travel all over, send film out to coaches, all of that. I've been watching some of my teammates struggle with that. It stresses people out. 
SNYDER: Your least favorite thing about being a Division I recruit? I think you kind of just hit on it.
BIRCHMEIER: Just the unwanted attention sometimes. It's good, and I appreciate it, but it's just not needed sometimes. I'll be getting ready for a wrestling match and people will come up to me. Not saying it's a bad thing, but I just want to compete and not have to deal with all of that sometimes.