Penn State Recruiting Podcast: Kaytron Allen and Michigan visitors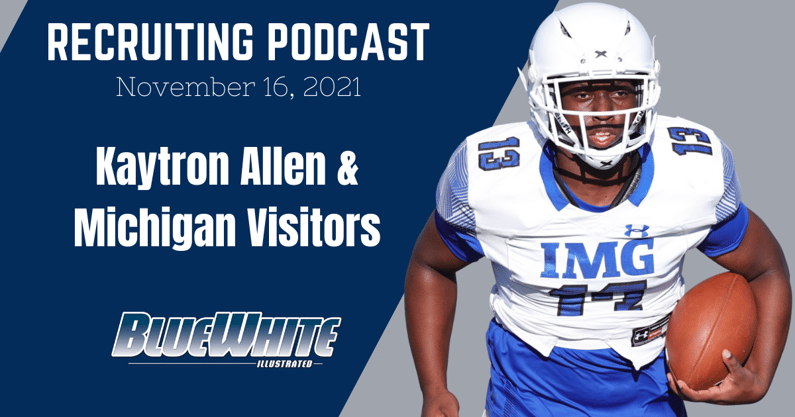 A new episode of the Blue-White Illustrated Penn State recruiting podcast is live!
Last week, news broke that IMG Academy running back Kaytron Allen had decided to take an official visit to Florida State. BWI's Ryan Snyder and Greg Pickel start this week's podcast discussing the latest on his situation after a weekend in Tallahassee.
Of course, he's not the only 2022 Penn State commit to visit elsewhere recently. Defensive tackle Zane Durant also took a visit to Miami last week. His situation is also discussed to open the podcast.
With 18 uncommitted scholarship prospects in attendance for the Michigan game, Ryan and Greg discussed a handful of names that Penn State fans need to know. That list included a few players who made difficult trips to see a noon kickoff. South Florida prospects Mark Fletcher, Daemon Fagan and Damari Brown were among that group. Another notable attendee was the nation's top 2024 quarterback, South Carolina native Jadyn Davis.
With one last home game remaining against Rutgers this upcoming weekend, they finish out the discussion with a handful of players that fans need to keep an eye on for a potential visit this upcoming weekend. That includes potential five-star 2024 athlete Quinton Martin.
Join Blue-White Illustrated and On3 today! Our $1 annual subscription special gets you access to premium Penn State updates, recruiting news, and more.
Be sure to subscribe to the Blue-White Illustrated Penn State recruiting podcast wherever you get your audio. Click one of the following links to find this episode and others you may have missed on your favorite app: Apple, Spotify, Audible, Podbean, and Google.
Blue-White Illustrated podcast schedule:
Monday
– BWI Live
– BWI Daily with Thomas Frank Carr
Tuesday
– Penn State recruiting podcast with Ryan Snyder and Greg Pickel
– BWI Daily with Thomas Frank Carr
Wednesday
– BWI Daily with Thomas Frank Carr
Thursday
– BWI Daily with Thomas Frank Carr
Friday
– BWI Daily with Thomas Frank Carr and Ryan Snyder
Saturday
– BWI Live postgame show