Penn State Recruiting: Blue White Illustrated's Signing Day HQ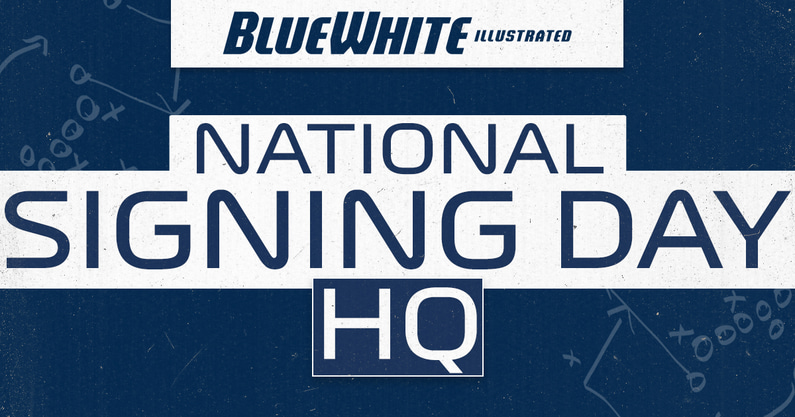 The signings have come and gone, but there's still plenty to discuss at Blue White Illustrated for signing day.
Penn State signed 23 of its 24 committed players this morning, with OL Andre Roye electing to sign with Maryland instead.
Penn State remains No. 7 overall according to the On3 Consensus.
For those unfamiliar with the On3 Consensus Team Rankings, it's the only rating that ranks all three services – On3, Rivals, 247 and ESPN – equally. It also solves the problem of varying class sizes during the recruiting cycle, compiling the highest-rated commits for each team up to a total based on a rolling average of current total commitments among Power 5 schools.
The class is also slated to have 10 early enrollees, eight of whom play on offense. That includes Beau Pribula, Drew Allar, Kaytron Allen, Nick Singleton, Kaden Saunders, Omari Evans, JB Nelson and Jerry Cross. Defensively, Zane Durant and Cam Miller are planning enroll next month. However, we're being told by sources that Miller isn't quite 100 percent set yet. We'll have a better feel for his status come January. He wants to enroll early, but it's not finalized yet.
Blue White Illustrated also plans to do a live YouTube show starting at 6 p.m. eastern time, which will be provided on the site. Hosts Thomas Frank Carr and Tom Hannifan will be joined by Ryan Snyder as the three give their thoughts on the Class of 2022 and so much more.
Not a member of Blue White Illustrated? Don't miss out on your chance to join us for just $1 for an entire year! Our subscription special has been incredibly popular over the past past 45 days, and it's set to end in the near future. Stay on top of all of Penn State's recruiting coverage, as well as so much more for the next year and join On3 today!
Link: Join Blue White Illustrated today for just $1
Update: 6:30 PM
Greg Pickel on what James Franklin had to say about Dani Dennis-Sutton.
Pickel: Penn State must wait for Dani Dennis-Sutton to arrive, but he "can compete from day one," James Franklin says
Update: 6:00 PM
Join us live on YouTube for our BWI wrap up show.
Update: 5:50 PM
Nate Bauer and David Eckert take a closer look at what James Franklin had to say during his signing day press conference.
Bauer: In shifting NIL landscape, bold, aggressive Penn State approach stressed
Eckert: Three takeaways from James Franklin's press conference
Update: 4:50 PM
Watch James Franklin's signing day press conference.
Update: 4:00 PM
Greg Pickel looks back at some of the best moments from today's signing day show. David Eckert discussed the positions that James Franklin stressed are important moving forward.
Pickel: Signing Day show memorable moments: An old connection renewed, Manny Diaz speaks, more
Eckert: James Franklin lays out Penn State football's roster needs moving forward
Update: 1:30 PM
BWI recruiting analyst Ryan Snyder gives his key takeaways regarding this year's recruiting class.
Snyder: Key Takeaways from Penn State's Class of 2022
Update: 1:00 PM
BWI's David Eckert complied stats from Penn State's committed players to recap their senior seasons,
Eckert: Key stats and quotes for Penn State football's Class of 2022
Update: 12:30 PM
New defensive coordinator Manny Diaz spoke with Mitch Gerber during Penn State's live Signing Day show Wednesday. It's the first time we've heard from the defensive coordinator since he was hired on Saturday.
Bauer: New Penn State assistant Manny Diaz to bring 'fast, aggressive' defense
Update: 12:05 PM
Greg Pickel's Signing Day Superlatives for the Class of 2022
Pickel: Penn State Class of 2022 superlatives: A signing day surprise, underrated additions, longest-tenured commit, and more
Update: 12:00 PM
Thomas Frank Carr has complied his film evaluations from the Class of 2022.
T-Frank: Film Room Evaluations for the Class of 2022
Update: 11:45 AM
All of Penn State's expected signees are now official. James Franklin will meet with the media on Zoom at 2:45 pm ET. Assistant coaches Taylor Stubblefield and Terry Smith, along with Director of Player Personnel Andy Frank will also be made available.
We posted a handful of other stories throughout the morning so far.
Bauer: Penn State, James Franklin welcome class with program history in mind
Eckert: Penn State OL commit Andre Roye flips to Maryland
Pickel: Penn State signs Drew Allar; Mike Yurcich's message to the five-star, Allar on working with Sean Clifford, more
Westerville, Ohio
5-10, 160
Saunders was Penn State's first commitment in the Class of 2022. He earned an offer from the Nittany Lions in March 2019 during an unofficial visit, and he and his family made it clear at the time that Penn State set a very high standard for the schools that followed. He would go on to visit at least 10 other schools, but by the end of 2019, he would take four total visits to Penn State, making it clear that the Nittany Lions were the team to beat. 
The Under Armour All-American ultimately decided between Penn State, Notre Dame and West Virginia, and he committed in July 2020. A late push from Alabama this past spring gave him something to think about, but Saunders never ended up visiting and remained loyal throughout. Saunders is a four-star prospect according to the On3 Consensus, coming in at No. 108 nationally and sixth overall in Ohio. He'll enroll at Penn State in January. 
Harrisburg, Pa.
6-0, 185 
Flowers got the Nittany Lions off to a great start in the new year, announcing his commitment to Penn State on January 1, 2021. A four-star recruit, Flowers is the No. 177 overall prospect in this cycle, according to the On3 Consensus, and the No. 5 prospect in the state of Pennsylvania. He caught Penn State's attention at a 7-on-7 camp back in the summer of 2019, and earned an offer from the Nittany Lion coaching staff as a result. 
The idea of staying home proved to be a major factor for the Harrisburg native, who selected the Nittany Lions above the likes of Arizona State, Virginia Tech, West Virginia and others. Flowers played both safety and wide receiver at the high school level. We expect him to start out his career at safety. 
Argyle, Texas
5-11, 185
Driver brings flexibility to the Nittany Lions, as he could play either offense or defense. While some believe that safety is where he projects best at the Division I level, all signs point to Driver playing wide receiver at Penn State to start his career. The son of former Green Bay Packers great Donald Driver, Cristian picked up his offer from Penn State way back in Nov. 2018. He had real intentions of visiting Penn State in 2019 but was never able to make it. Because of the pandemic, he ultimately wasn't able to check out State College until June 2021 when he took his official visit. 
Leading into that trip, Penn State had clearly established the best relationship with him, and that ultimately proved to be the difference. Wisconsin and a few Texas schools also pushed hard at times, but after that visit, it was only a matter of time until he committed to Penn State. Driver ended his recruitment on July 29, 2021. A four-star prospect according to the On3 Consensus, Driver ranks No. 278 nationally. Taylor Stubblefield will go down as his lead recruiter, but Driver is coming to Penn State because of James Franklin, who coached Driver's father with the Packers. That relationship is a major reason why Cristian will play his college ball in Happy Valley.
Virginia Beach, Va.
5-11, 222
James Franklin's evaluation of running backs coach Ja'Juan Seider was comprehensive.
Speaking about the budding room at Penn State, one that had already produced Saquon Barkley but also saw the development of Miles Sanders and Journey Brown in Seider's time on campus, Franklin described an atmosphere extending beyond schtick.
"I think Coach Seider has done a really good job of not only recruiting, but also developing at that position," Franklin said in October 2020. "There's an identity and a mentality at that position."
Consider Kaytron Allen a believer.
Landing with the Nittany Lions in July, Allen became the program's second running back commitment of the Class of 2022, joining five-star Nick Singleton. And in doing so, what the IMG Academy prospect had previously identified as so appealing about Penn State came to the forefront.
"Me and Coach Seider have a great relationship," Allen told BWI. "We've been talking since day one and he's always been consistent with me. Coach Seider is a great person and I like the way he teaches his running backs and the way they use their running backs. That all stands out to me."
In addition to Penn State, Allen took official visits to Florida, Georgia and Michigan State throughout the summer. He then took one final official to Florida State in November, but that was a precautionary visit with the rumors surrounding Franklin. 
A native of Virginia Beach, Va., Allen is a four-star in the On3 Consensus and ranked as the nation's No. 9 running back. He is the No. 134 senior prospect nationally and will enroll at Penn State in January.
New York, N.Y.
6-4, 295
Artis officially visited Auburn, Virginia and Penn State. The Lions seemed to have a lead before the summer contact period and their chance to host the future defensive lineman cemented it.
PSU picked up Artis' verbal commitment on July 4, 2021, which was a big day for the program. Penn State made him a priority from the get-go, and that also helped it land his National Letter of Intent in the end.
"I think I made a great choice," Artis told BWI when he committed. "To be honest, I see such a good [football program] that they have, but it's also a good school as well. It's great for academics, a great football organization and a really nice campus. But I just got a great feel for all the coaches while I was there. Being there in person is super important because we were on Zoom calls for such a long time."
An On3 Consensus three-star, Artis checks in at No. 543 overall, No. 61 at his position and as the third-best senior in New York.
Pittsburgh, Pa.
6-5, 290
Nelson had been on Penn State's radar for months, but with Lackawanna College playing just two games during a shortened 2020 season that was eventually cancelled, Phil Trautwein and the staff waited until June 2021 when he could camp to decide whether they wanted to offer or not. It took just a few hours for them to make the move, as Nelson put up some impressive testing numbers, including a 4.75-second shuttle. 
Once he got the offer, it was just a matter of time, as Nelson would go on to commit just under a month later on July 2. He earned five offers total, with Maryland, Ole Miss, NC State and West Virginia also making a push in the summer. Nelson will enroll at Penn State in January. He's coming off a very strong season in 2021, and because 2020 didn't count, he'll have four years to play three.
Philadelphia, Pa. 
6-4, 235
Carter was a game-changer on defense for a La Salle College side that finished as the Philadelphia Catholic League runner-up in 2021. 
The rangy linebacker had about 20 offers. South Carolina and Ole Miss were finalists, and both schools got him on campus in the summer. He saw no program as often as he saw Penn State, however. That, plus their coaching staff and the depth chart all helped Franklin and his staff seal the deal. Carter stayed committed, as well, through the defensive coordinator and linebackers coach transition from Brent Pry to Manny Diaz.
"One of the only things they were missing was another linebacker," Carter told BWI when he committed.
"So, I just like the fit. I think it works well for me on a couple different levels, and when you add in this class they built, there's something special building. I think with me joining them now, the class is pretty much complete."
As a senior, Carter made 80 tackles (57 solo, 23 assisted), 10 tackles for loss, two sacks and also recorded two forced fumbles. He is an On3 Consensus four-star who is considered a top-230 recruit nationally and is No. 22 at his position.
6-5, 255 
Millsboro, Del.
McDonogh School defensive end Dani Dennis-Sutton is Penn State's highest ranked defensive prospect in the Class of 2022, coming in No. 44 in the On3 Consensus as the top prospect in the state of Maryland. Dennis-Sutton touted a trust factor with the Nittany Lion coaching staff as one of the major factors in his decision. He took official visits to his top three schools — Penn State, Alabama and Georgia — in June, and ultimately chose the Nittany Lions. His recruitment was truly a team effort on the part of the Penn State coaching staff. 
Head coach James Franklin was heavily involved, as was former defensive coordinator Brent Pry. Defensive line coach John Scott Jr. led the recruitment, and Anthony Poindexter played a role as well, along with National Recruiting Director Kenny Sanders — a McDonogh grad — and Deion Barnes. 
Dennis-Sutton broke his elbow in the leadup to McDonogh's season but still managed to collect seven sacks in seven games as he closed out the season. His quickness and dynamic initial burst should make him a handful for offensive linemen at the collegiate level. He is the nation's No. 7 defensive end. 
Philadelphia, Pa.
6-2, 210
Keon Wylie began his football career as a defensive end before moving to linebacker. In the process, his persistent presence in the backfield of opponents led his coaches to create an outside linebacker/defensive end hybrid role.
The move stuck.
A do-it-all defender for Imhotep Charter, Wylie helped lead the program to the PIAA Class 5A state title game this season, falling 17-14 to Penn-Trafford this past weekend. Among Wylie's contributions, he was credited with producing nearly half of his 27 tackles as being for a loss, nine of which went for sacks.
"He's just a natural athlete," Imhotep Charter associate head coach Cyril Woodland told BWI following Wylie's commitment. "He's a great kid, natural athlete and competitor.His football IQ is very high. He knows what everybody is supposed to be doing."
Rated as an On3 consensus three-star prospect in the Class of 2022, Wylie is also considered the No. 14-ranked player in Pennsylvania this cycle.
Philadelphia, Pa.
6-2, 243
When Penn State landed Ken Talley in September 2020, it added both a highly-coveted prospect and someone who could help build a class around him. The energetic and personable On3 Consensus four-star defensive end from Philadelphia is routinely picked by future teammates as the most fun player in the 25-member class. He's also pretty good on the field, too. Talley totaled north of 80 tackles and roughly 20 tackles for loss as a senior. It earned him U.S. Army first-team All-American honors. At 6-2, 240-plus pound, he's expected to be a defensive end for the Lions.
Penn State graduate assistant Deion Barnes played a significant role in landing Talley's commitment. He is a Northeast alum and coached at the school before joining Franklin's staff in State College. Current corners coach Terry Smith helped lead the efforts, too, as did now-former defensive coordinator Brent Pry. At one of the Lions' camps, he turned in a 4.64-second 40-yard dash and a 4.41-second shuttle. That mix of size and speed makes him a versatile and intriguing option at the next level. 
Besides the Lions, Michigan, Rutgers, Texas A&M and West Virginia were in play, as were Pitt, Virginia, Rutgers and Tennessee. He is one of eight high school Pennsylvania players who are expected to sign with the Lions today. Talley ranks No. 11 in the state and No. 355 overall.
Killeen, Texas
6-0, 170
Evans popped up on campus for an unofficial visit on the final day that visits were allowed in June 2021. It was mainly for a private workout with the coaching staff, and it proved to be a wise decision, as Evans ran a 4.3-second 40-yard dash that day and a 4.2-second shuttle. Those numbers grabbed the staff's attention immediately, as they would offer before he left campus. 
He then returned to State College for the game against Auburn in September and that's when the Nittany Lions firmly became the team to beat. His decision came down to Penn State and Rutgers, and Evans went on to commit to Penn State on Oct. 2. A three-star prospect, he ranks No. 98 at his position and No. 650 overall according to the On3 Consensus, Evans totaled 853 yards passing playing quarterback for Shoemaker this season. He also rushed for 818 yards, totaling 16 touchdowns total. He'll enroll at Penn State in January.
Ridgeway, Va.
6-0, 175
Penn State extended an offer to Tyler Johnson in May 2021. He followed that up by camping with the coaches in June, and that proved to be a good decision, as Johnson put up some very impressive numbers, including a 4.47-second 40 and a 4.2-second shuttle. In fact, he was so impressive that Penn State welcomed him back for an official visit just two days later. 
Although he didn't technically commit during the visit, he did wrap up his recruitment on the drive home, calling the staff to inform them that he wanted to be a Nittany Lion. During a shortened junior season, Johnson totaled 925 yards receiving on just 25 receptions. He also scored 13 touchdowns. He then totaled 1,556 yards receiving on 37 receptions and 13 touchdowns in 2021. Johnson is a three-star prospect in the On3 Consensus, coming in at No. 531 nationally. On3's scouts rate him as a four-star player and ninth overall in Virginia.
Jacksonville, Fla.
6-0, 180
Cam Miller's stock continues to climb.
Joining the Nittany Lions as a verbal commitment in late July, Miller chose to play for Penn State over Virginia Tech during a July 26 announcement. Making his pledge, then a three-star prospect who has since risen to become an On3 consensus prospect ranked No. 211 nationally and No. 26 at cornerback, Miller became an instant source of potential for the Nittany Lions moving forward.
"Cam is the special kind of player FBS schools look for because he has intangibles that can't be taught," Cavonte Campbell, Miller's trainer at 9Figure Sports Academy, said. "Everything from a willingness to be coached, a professionalism about perfecting his craft, and a humble attitude towards life in general."
That spirit has carried Miller through in the time since, ultimately garnering offers from the likes of South Carolina, UCF, Notre Dame, Florida, Miami, and more than a dozen others through his recruitment cycle.
"No matter how many offers he received, it only made him work more as if he had none," Campbell said. "There are a lot of kids who want the opportunities Cam has earned himself, but not many want to put in half the work he dedicates towards his craft."
Downingtown, Pa.
6-5, 275
Shelton earned an offer from Penn State in May 2020. He took a self-guided tour of campus a few months later in August, which was the first time he ever visited State College. Shelton said he fell in love with the campus right away while also liking the fact that he wouldn't be far from home. That gave him the confidence to commit to Penn State on Sept. 4, 2020. 
However, his recruitment wasn't completely over. Shelton ended up enrolling at IMG Academy in Florida in the beginning of 2021 and that sparked the interest of multiple southern programs, most notably Florida. He would go on to take an official visit to Gainesville back in June and followed that up with his official visit to Penn State a week later. Shelton would return to State College again a week after that for an unofficial to spend time with many of his 2022 classmates. That's when his recruitment officially came to an end. Shelton is considered a four-star prospect according to the On3 Consensus. He's No. 127 nationally and is the seventh-ranked offensive tackle. He's an Under Armour All-American.
Milwaukee, Wisc.
6-5, 255
Cross was the second player to commit to Penn State's Class of 2022. He earned an offer from Tyler Bowen in April 2020 and right away had the Nittany Lions on top. The in-state school, Wisconsin, seemed to be in the mix, too, but Penn State would go on to add Cross to its class at the end of July 2020. Cross wouldn't end up visiting State College for the first time until June 2021. That remains the only time he's actually been to Penn State. 
Cross ended up only playing a handful of games his senior season due to an ankle injury. He's a four-star prospect according to the On3 Consensus, ranking No. 250 nationally and fifth overall in Wisconsin. Cross will enroll at Penn State in January.
Cortlandt Manor, N.Y.
6-7, 340
McNeil earned an offer from Penn State back in Feb. 2021. During the pandemic, he posted multiple workout videos of him testing in different drills, and that played a major part in the Lions offering McNeil, who at the time played at Williston Northampton School in Massachusetts. Leading up to his decision, he totaled eight verbal offers, with Rutgers and Boston College being the other schools who made up his top three. McNeil ended up committing on May 1, 2021. 
Even after committing, McNeil camped with the coaching staff and put up some very good numbers at his size, including an eye-catching 5.1-second shuttle. McNeil is a three-star prospect according to the On3 Consensus. He moved back home to play at Walter Panas in New York his senior season, ranking seventh overall in the state.
Hyattsville, Md.
6-1, 191
Penn State has recruited DeMatha Catholic well over the years. KJ Winston is just the latest star it has landed from there.
The On3 Consensus four-star safety committed to the Nittany Lions back in July and never hinted that he'd be doing anything else but signing with Penn State ever since. Winston saw Michigan State on an official visit but the Spartans never seemed to threaten Maryland for the clear runner-up spot. The Terps also hosted him but could not overcome a sizable lead that the Lions had built up leading up to his July 31 announcement.
"There's a real brotherhood there," Winston told BWI when he committed. "I know you probably hear that all the time, but it's the truth. I feel like I really see that at Penn State and I come from a school in DeMatha that stresses that.
"So, I just felt like that was home for me. Everyone up there is always real welcoming. [The players] always know who I am. When you go to places a lot the second time, they don't always remember you, but everyone up there really treated me and my family well and you can just tell that they want me to be part of their brotherhood."
The Lions (and Winston) had to briefly sweat the possibility of losing safeties coach Anthony Poindexter to Virginia. But, that isn't happening, and Winston's commitment is now official. He is No. 328 overall in the On3 Consensus, 31st at his position, and No. 4 in Maryland.
York, Pa.
6-2, 205
Beau Pribula picked up an offer from the Nittany Lions back in March 2020. Admittedly a Penn State fan growing up, he made it clear right from the start that this meant more, but he also made sure to take his time with the process. The one problem, however, is that the COVID-19 pandemic didn't allow him to really take visits. He had visited Penn State twice in 2019, while Rutgers and Wake Forest got him on campus right before the NCAA shut in-person recruiting down. 
It likely wouldn't have mattered in the end, but that did help the Nittany Lions, as Pribula knew by Aug. 2020 that he wanted to wrap this up before his junior season. With recruiting behind him, the York, Pa., native went on to lead Central York to its best season in school history, reaching the PIAA 6A state championship after a 10-0 regular season. Throughout his career, Pribula threw for 5,826 yards and 73 touchdowns. He was named the Class 6A Player of the Year for Pennsylvania in 2020, and led the Panthers to a 30-4 record as the starting quarterback. Pribula is a four-star prospect according to the On3 Consensus. He's ranked 13th overall in Pennsylvania and No. 448 nationally. 
Reading, Pa.
6-0, 210
Singleton burst onto the scene as a freshman at Governor Mifflin in 2018, rushing for 1,224 yards and 16 touchdowns as a 14-year-old. After he camped at Penn State the following June, the Nittany Lions offered within days. Instantly, it was clear that he was going to be an incredibly important prospect. Singleton went on to earn nearly 40 scholarship offers and actually visited 16 different schools dating back to the start of his recruitment. 
After a 16-month break due to the pandemic, he ended up taking five official visits to Penn State, Alabama, Notre Dame, Texas A&M and Wisconsin. In the end though, this was a battle between the Nittany Lions and Fighting Irish. Notre Dame almost stole him from Penn State, as he started leaning in that direction following a June 18 official visit, but Franklin and Seider were able to keep him from getting away after a few really important weeks in the summer. Singleton would go on to commit July 6. 
A five-star prospect who is No. 30 nationally and No.1 at running back according to the On3 Consensus, Singleton finished his career with more than 6,400 yards rushing and 115 touchdowns, both of which rank among the best in Pennsylvania history. He was also just named the Gatorade Player of the Year nationally on Tuesday. He'll participate in the All-American Bowl on Jan. 8 and move into his dorm at Penn State the next day.
Orlando, Fla.
6-1, 255
Durant is a physical defensive lineman who had offers from all over. The Sunshine State star announced a top-three but this one really came down to Penn State and Miami. He picked the Nittany Lions on July 4, 2021, but the Hurricanes had the last chance to host him when he visited in November.
As the coaching carousel works, Durant will now play for the man who tried to recruit him to Coral Gables in Manny Diaz. He, of course, is now Penn State's new defensive coordinator after being let go as Miami's head coach earlier this year.
"I committed to Penn State because of the family atmosphere," Durant said. "I love the vibe up there. Why not Penn State? Their whole staff really bonded with me and my family while I was up there, so I felt like it was only right to commit to Penn State."
With 28 tackles for loss and 15 sacks this season, Durant set a Lake Nona school record. He also has the school record for a career, with 57 tackles for loss and 24.5 sacks. The On3 Consensus calls him a four-star who is No. 309 nationally and No. 39 at defensive tackle.
Lancaster, Pa.
5-11, 175
Penn State was the second Power Five program to extend an offer to Ivey. After a handful of early visits in 2019, Franklin and his staff watched a handful of games at the start his sophomore season, offering at the end of September.
Virginia Tech and West Virginia both earned visits before the dead period shut recruiting down the following spring, and by the summer of 2020, he narrowed his list to Penn State, West Virginia and Arizona State. Auburn also made a late offer, but this was always Penn State's recruitment to lose, as Ivey would end up committing in October 2020.
Ivey finished his career with over 2,000 yards receiving and 21 touchdowns. He's a four-star player according to the On3 Consensus, sitting at No. 214 nationally. Ivey is also ranked sixth in Pennsylvania.
The former Penn State commit has signed with Maryland.
Atlanta, Ga.
6-2, 205
Did you know that Penn State landed the nation's top 2022 punter according to one of the most respective evaluators of specialists on the planet? If not, consider this your introduction.
Bacchetta is a do-it-all specialist according to Kohl's Kicking.
"The ball jumps off his foot," Kohls Kicking says in an evaluation. "He had an impressive showing in both kicking and punting. Bacchetta's punting should only get better as he continues to master his drop and rhythm. Bacchetta is currently more mature athletically and just stronger than others his age in both kicking and punting."
Arkansas and Virginia also offered, and he committed to the Penn State in May 2021. Bacchetta played at Westminster School in Georgia, the same school as former Nittany Lion and current NFL punter Blake Gillikin.
The On3 Consensus ranks Bacchetta as the second best punter in this cycle. 
Medina, Ohio
6-5, 230
Drew Allar's rise through the ranks has been unlike many we've seen over the years, especially at quarterback. In the beginning of 2021, he held just over a dozen offers and was considered a mid-tier three-star quarterback. Iowa State was considered the team to beat. Once he picked up an offer from Penn State at the end of January, however, everything took off very quickly. 
Michigan, Texas A&M, Ole Miss and Notre Dame were among the schools to come calling in the weeks ahead, but by that time, Mike Yurcich had established a relationship that couldn't be matched. A late push from the Irish gave him something to think about, but he would commit to Penn State on March 8. That's only half the story, however. 
In the months ahead, his rise through the rankings was unmatched. After a few regional camps, he went on to shine at the Elite 11 Finals in Los Angeles, which helped Allar jump into the discussion of being the top quarterback in the country. 
On3, which started in August, immediately named him its No. 1 quarterback for 2022, and his performance this past season only strengthened that belief, as Allar threw for 4,443 yards and 48 touchdowns. Named Mr. Football in Ohio, Allar also led Medina to its first outright Greater Cleveland Conference championship in school history. He's currently ranked No. 23 nationally according to the On3 Consensus, which makes him a five-star player. He'll participate in the All-American Bowl next month and then immediately enroll at Penn State to begin classes on Jan. 10.
7:00 AM – Morning Update
Penn State tweeted out a photo this morning of its recruiting board, which they'll fill in throughout the morning, and it only includes 23 spots. That indicates to us that OL Andre Roye is most likely not going to sign with Penn State today. Roye took an official visit to USC this past weekend. Maryland is also considered a serious player.