Penn State has 10 Class of 2022 commits in updated On300 list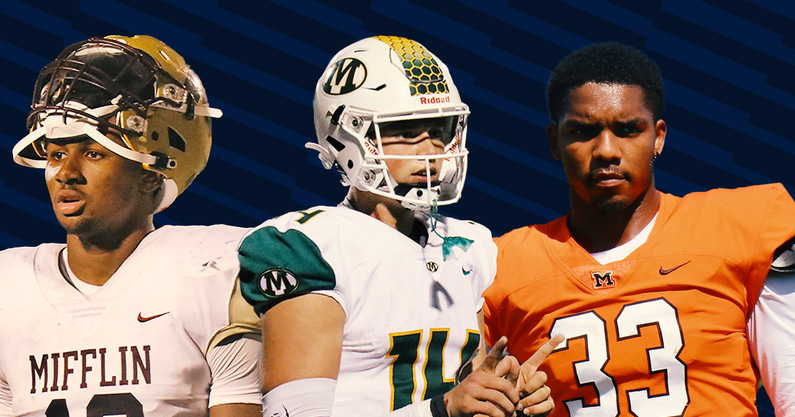 Penn State is well-represented in the updated On300 for the Class of 2022, which was announced Monday. 
Nittany Lion fans got a taste of what was to come back on Friday, when it was announced that quarterback Drew Allar and running back Nick Singleton were now considered five-star prospects at On3. Both players moved into the top 20 nationally. 
Allar just finished his high school career this past weekend in a loss to Cleveland powerhouse St. Edward. Not only did the future Penn State quarterback throw for nearly 4,500 yards this season, he had a touchdown to interception ratio of 48 to 6. On top of that, Allar also rushed for 415 yards and nine touchdowns, while also leading Medina to its first outright Greater Cleveland Conference championship in school history.
"We all knew about Drew Allar's arm talent coming into the season – he's been our top-ranked quarterback since the first rankings release in August," said On3 Director of Scouting and Rankings Charles Power. "He adds the fifth star due to the continued progression on Friday nights. The game tangibly slowed down for Allar this fall.
"He played with supreme confidence and was making creative plays and high-level throws on a consistent basis. He sees the field as good if not better than any of the other top quarterback. Being such a high usage quarterback in his high school's scheme has given Allar a ton of game reps to hone those skills. Every time I watched him play, I didn't have to squint to see a top quarterback. He regularly looked the part this fall."
Subscribe to On3 today for just $1 for a yearly subscription to BWI
As for Singleton, he and Governor Mifflin are still in the mix for the PIAA 5A state championship. The Mustangs will face another Penn State commit, 2023 TE Joey Schlaffer, in the District III championship Friday night.
Singleton's play on the field this season has been incredible, surpassing 2,000 yards rushing and scoring 42 touchdowns in just 10 games.
"Similar to Allar, Nick Singleton's senior year just marks continued development," said Power. "He's been absolutely dominant at that level – which is what you want to see from a top back. Singleton's combination of size, burst and physicality paired with his stellar production bodes very well for his long-term projection. His overall profile is that of a future early round draft pick and there are very few if any holes to his game."
Power went on to add, "We like to bet on prospects who ascend as seniors. That's typically a strong indicator for long-term success. Allar and Singleton are two who continue to get better. Given their trajectory, I'd expect that to continue once they arrive at Penn State."
Those two are far from the only Penn State commits who made the list. Defensive lineman Dani Dennis-Sutton, from McDonough in Baltimore, is still considered one of the best rushers in the nation, coming in at No. 37 overall nationally.
After those three, there's a bit of a gap between the rest of the class, as linebacker Abdul Carter is the next future Penn State player on the list at No. 173 overall. The Philadelphia native led La Salle to a 9-2 record, totaling 80 tackles, including 10 tackles for loss, two sacks and two forced fumbles his senior season. 
There are also two new additions to the On300 in IMG Academy running back Kaytron Allen, who comes in at No. 200 overall, and DeMatha safety KJ Winston, who ranks No. 280. Two Penn State wide receivers, Anthony Ivey and Tyler Johnson, both fell out of the On300 but remain four-stars.
Nittany Lion fans can check out the complete list below.
Penn State prospects in On300
11) QB Drew Allar (Previously No. 21)
20) RB Nick Singleton (Previously No. 24)
37) DL Dani Dennis-Sutton (Previously No. 39)
173) LB Abdul Carter (Previously No. 172)
194) CB Cam Miller (Previously No. 163)
200) RB Kaytron Allen (Previously unranked)
224) OL Drew Shelton (Previously No. 190)
231) WR Kaden Saunders (Previously No. 168)
266) TE Jerry Cross (Previously No. 198)
280) Saf. KJ Winston (Previously unranked)