Penn State football strength and conditioning coach Dwight Galt III set to retire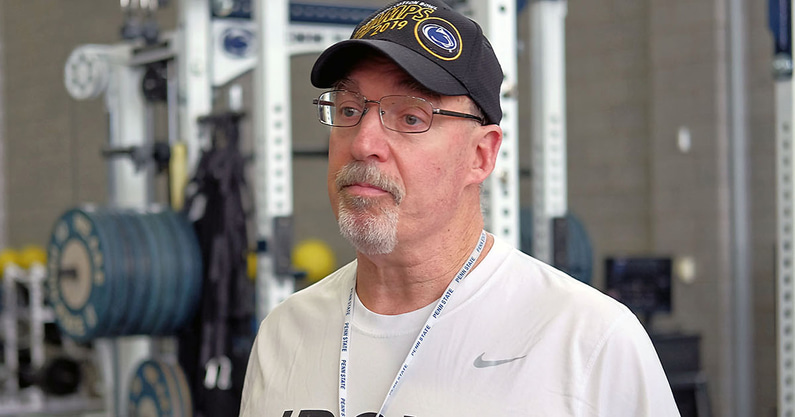 Penn State Assistant Athletics Director for Performance Enhancement Dwight Galt III is set to retire, the school has confirmed.
Galt just finished his eighth football season with the Nittany Lions at the tail end of a career that spanned more than three-and-a-half decades.
Galt's replacement is expected to be Chuck Losey III, according to a source. Losey presently serves as Penn State's Associate Director of Performance Enhancement, filling that role since 2014. He also worked under Galt during his time at Vanderbilt.
Galt spent a significant portion of his career working alongside Penn State coach James Franklin. Galt spent eight seasons with Franklin at Maryland, before another three at Vanderbilt.
Penn State promoted him to his Assistant Athletics Director role in March of 2015, granting him purview over performance enhancement for all of Penn State's athletic programs.
Galt was often awarded some of the credit for the outstanding numbers Penn Staters posted during NFL Draft combines and at Pro Days.
Torrey Smith, who Galt coached at Maryland, once called him "the secret" to Penn State's testing success in a Tweet.
"Being from Penn State, Coach Galt does such a good job of pushing us to our limits," former Nittany Lion linebacker Jason Cabinda said at the NFL Draft combine back in 2018.
At Penn State's Pro Day in 2021, for example, Odafe (Jayson) Oweh posted a 4.36 40-yard dash, boosting his stock as he became a first-round draft pick of the Baltimore Ravens. Micah Parsons followed closely with a 4.39.
Both have gone on to have outstanding rookie seasons.
And, beforehand, Galt knew it would be special.
"It's going to be a really good day for us," he said then. "I've made sure that all the NFL scouts — all 120 of the ones I've talked to this past year — know what's coming. I don't want any surprises."
Thirty-two Nittany Lions have been selected in the NFL Draft since Galt's arrival in 2014. He tutored several other notable NFL prospects as well at Maryland and Vanderbilt, including Smith, Shawne Merriman, Vernon Davis, Jordan Matthews, Casey Hayward and Darrius Heyward Bey.
Penn State names Stacy Collins new ST coordinator
One day after Oregon officially introduced Joe Lorig as its new special teams coordinator, the Nittany Lions welcomed Stacy Collins to fill the vacated position. Collins will also man Penn State's outside linebackers and the nickel position among his coaching duties.
Collins arrives from a one-year stint as special teams coordinator at Boise State, where he helped the Broncos produce a combined seven blocked punts and kicks. The four blocked kicks ranked first in the Mountain West and ninth nationally, while three blocked punts were also good for first in the conference and seventh nationally. Two blocked punts were returned for touchdowns.