Penn State football safety Tyler Rudolph enters transfer portal; what's the portal pain factor?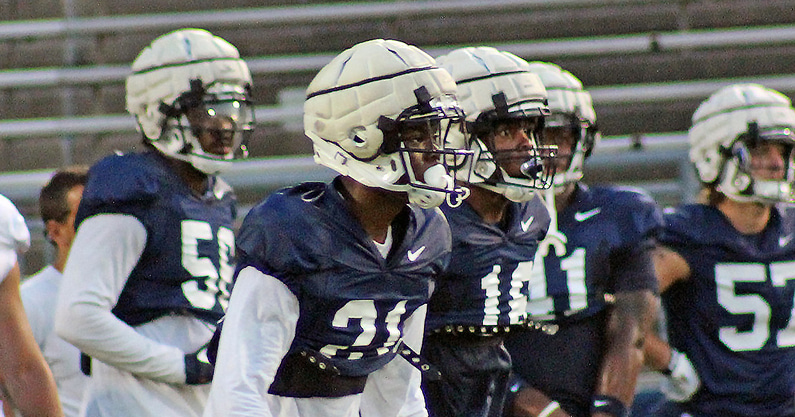 Penn State safety Tyler Rudolph is in the NCAA transfer portal.
On3 national reporter Matt Zenitz reported Wednesday that the Connecticut native has entered his name into the mechanism players can utilize to try and find a different college football home.
The news is hardly a surprise.
Rudolph, who was a four-star prospect in the Class of 2019 out of Waterbury St. Thomas More, has not been seen on the Penn State sideline in recent weeks. He played in four games this season and recorded six tackles but hasn't participated since a win over Villanova at the end of September. It is unclear why but surely played a role in his decision to move on.
Before the season began, Penn State safeties coach Anthony Poindexter called Rudolph one of his biggest surprises.
"Just to see him start to settle in, start to really understand what the defense is asking him to do, you know, understanding what the expectations of him and his ability [are]," Poindexter said.
"For him, the key is just to keep putting days together, good day after good day after good day. Because, he has a wealth of talent. He's starting to let it shine."
Rudolph will now have to do so somewhere other than Penn State. That is if he plans to continue his playing career at this level, of course.
Sign up for Blue-White Illustrated and On3 today for just $1! Learn more by clicking here.
Penn State portal pain rating: 1
It's unfortunate news in one sense. Penn State will be down at least one starting safety, and perhaps two, in 2022. Backup Jonathan Sutherland figures to move on, as well.
Then again, the Lions have had to deal with injuries within its last line of defense all season. They have fared fine without Rudolph throughout all of October and most of November with just one game to go. His absence has allowed freshman Jaylen Reed to play a lot and thrive. The same goes for Keaton Ellis. People within the Penn Statae program seem to feel great about first-year safety Zakee Wheatley's future, too. Ji'Ayir Brown could also return instead of leaving early to anchor the Lions' defense next fall. That said, a final decision hasn't been made.
"I have not talked to Tig about how he wants to handle this," Penn State head coach James Franklin said Tuesday.
"I don't want to make an announcement on here that I think is really for him to do, if that makes sense, I hope you respect that and understand that."
Either way, the Lions should be fine moving forward without Rudolph. This transfer portal entry won't hurt like some others might as the weeks and months ahead unfold.