Penn State football, wrestling breakdown with Greg Pickel: BWI Live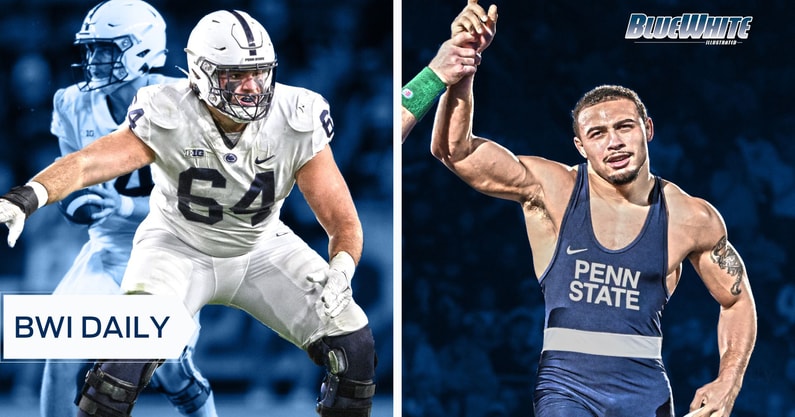 Each week the BWI Daily edition goes live to discuss the important topics of the week with fans of the show live on YouTube. This week, reporter Greg Pickel joins the show to discuss the Penn State football team's march toward spring football, the outlook for the roster, and Penn State wrestling. The Nittany Lion wrestling team has another big-time showdown at the Bryce Jordan Center this Friday when they welcome second-ranked Iowa to Happy Valley. So, Blue White Illustrated's wrestling reporter will dish on what he thinks of the upcoming match and update T-Frank on the team's outlook.
As always, the star of the show is your questions and comments. Got a thought about Penn State football you'd like to share? Join the show live at 7 pm to discuss what's on your mind with T-Frank and Pickell. The best way to never miss an episode is to subscribe to Blue White Illustrated on YouTube.
Also, if you'd like to get your questions on this week's mailbag episode, submit a five-star review on Apple Podcasts with your question.
Examining center transition to Hunter Nourzad
Penn State football is a darling dark horse for the upcoming 2023 season. With a five-star quarterback presumably stepping under center to start his career, to go with a loaded defense and running game, there's plenty of excitement about Penn State locally and nationally. But what about that center Drew Allar will line up behind? One of the key losses for the team this offseason was former starter Juice Scruggs, who moved on to the NFL.
Can Cornell transfer Hunter Nourzad fill in for Scruggs? It's a critical position and one that Pickel spent time examining this week. He and T-Frank will discuss the situation and the internal view of Nourzad. Then the duo will discuss the external view of the second-year Nittany Lion to see how fans view the 6-3 lineman.
Next, they'll preview the spring transfer portal window. Penn State has unfinished business after missing out on a defensive tackle in this past cycle. Can they make something happen in May? They'll discuss that, and review the team's work in the transfer portal this winter.
Penn State wrestling vs. Iowa: Top-ranked showdown preview
Finally, they'll dive into Penn State's top-ranked showdown with Iowa on Friday night. The Nittany Lions steamrolled Michigan and Michigan State this past weekend, setting up a one-versus-two showdown at the BJC. Can the Nittany Lions get the win? What are the key weight classes that will decide the dual? They'll dive into that, head coach Cael Sanderson's handling of the 157-pound spot on his lineup, and much more.