Young defensive back flashing in spring practice for Penn State football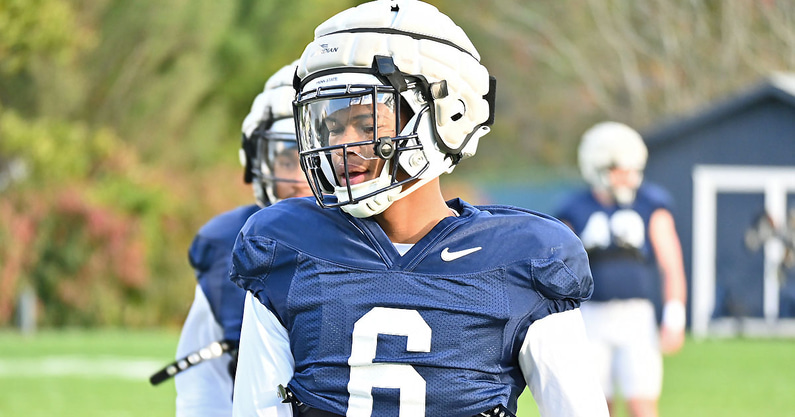 Through five spring practices, Penn State redshirt freshman Zakee Wheatley is among those standing out.
Singled out for praise by head coach James Franklin Wednesday night, Wheatley made the move to safety from corner following his true freshman campaign.
If Franklin's words are any indication, Wheatley's transition is off to a positive start.
"He did some really nice things for us as at corner," Franklin said. "We felt like safety would probably be his best long-term position, but starting him at corner and the confidence that comes from kind of being out there on an island we think is valuable. Right now, he just seems to find the football. The ball likes him. He likes the football, and he's kind of standing out right now."
It's not the first time the Nittany Lions have made that move. Franklin and former defensive coordinator Brent Pry slid corner Keaton Ellis back to safety ahead of last season.
Wheatley played in three games for Penn State last year, totaling 11 snaps. Six of those came in the Outback Bowl loss to Arkansas. He made one tackle in his limited action and was targeted once, allowing a two-yard reception.
He's making plenty of plays thus far in spring practice, though.
Veteran defender Jonathan Sutherland said Wheatley came down with an interception in Wednesday's practice.
"Kind of similar to Keaton, he made the transition to safety from corner," Sutherland said. "He's brought a lot of ball-hawking skills with him…He's been doing his thing."
What does it take to stand out this time of year at Penn State?
To Franklin, it's a combination of physical capability and mental preparation.
He says both Wheatley and true freshman defensive tackle Zane Durant — who has attracted plenty of hype this spring — are meeting that threshold.
"It's the guys that there's a buzz about from the players and the coaches," Franklin said. "They just kind of keep jumping out making plays physically, but they're also able to keep up with it mentally. Because some guys I think physically may be able to help us right now, but they're behind mentally and they're going to need this spring and this summer to give themselves a chance. And then there's some other guys that physically are just behind."