Penn State great makes CFB Hall of Fame; James Franklin named to AFCA board: Newsstand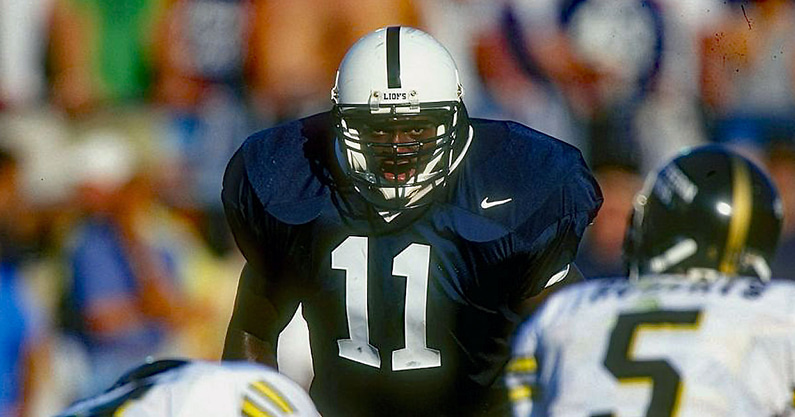 Penn State great LaVar Arrington is officially going into the College Football Hall of Fame.
The former Lions linebacker headlines the newsstand for Jan. 11. It also has updates on James Franklin and much more.
Let's dive into the top tweets and headlines about the Nittany Lions and college football on Tuesday.
Penn State tweets of the day
We start with Arrington. The punishing linebacker was announced as a member of the CFB Hall of Fame's Class of 2022 on Monday.
"I am super proud of my family," Arrington said in a statement released by Penn State. I know being a Hall of Famer has a lot to do with what you do off the field, as much as you do on the field and after your career."
Arrington added: "I certainly want to send a much deserved thank you to Penn State for supporting me [and] I also appreciate the support from all the fans. They have always been the greatest fans in the world. The love I feel even to this day is just unmatched."
Arrington and 20 other inductees will be honored on Dec. 6, 2022 at the 64th National Football Foundation Annual Awards Dinner.
"Congrats @LaVarArrington on your election into the College Football Hall of Fame!" Franklin wrote on Twitter.
"A well-deserved honor for a true leader, role model and representative of Penn State Football."
Penn State's early enrollees have arrived. Hear from some of them in this social media video.
Finally, Franklin is now on the American Football Coaches Association Board of Trustees. Per a news release, he will now be part of the process that "formulates policy and provides direction for the AFCA."
Headlines of the day
Former PSU assistant officially joins Brent Pry at Virginia Tech: Gallen, PennLive
Roster tracker update: A look at the Lions' latest changes as 2022 begins: Pickel, BWI
PSU Deserves a Quarterback Competition This Offseason: Wogenrich, SI
PSU football defensive tackle enters transfer portal: Eckert, BWI
Prized 2021 recruit Kalen King eyeing key role in 2022: Adair, Victory Bell Rings
Penn State all-star game film review, who stood out?: BWI Daily: Frank Carr, BWI
This Penn State assistant is staying put after pursuits by Florida, FSU: McGuire, Yahoo
Picking out Penn State football positives from a wayward 2021 season: Roundtable: Eckert, BWI
Penn State football report card: Scarcella, Reading Eagle
Penn State set to host Sam Pendleton for crucial junior day visit: Snyder, BWI
Quote of the day
"I'd say it's the big picture at Penn State that stands out. When you're in State College, the school and the town all kind of seem one to me. Everyone in the town cares about you if you go to school there. It seems like a really great community. The football team is obviously a really big part there."
–PSU Class of 2023 target Evan Link to BWI ahead of a visit to campus this coming Saturday.