Penn State hockey: Development at the forefront as Lions visit No. 4 Michigan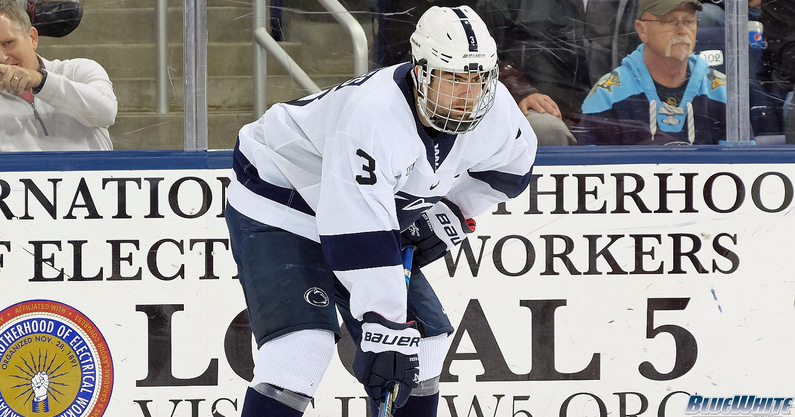 As Penn State hockey endures a second consecutive difficult season, experience has emerged as the primary talking point for head coach Guy Gadowsky.
His roster isn't exceedingly young. The Nittany Lions rolled out a 19-man lineup with 10 upperclassmen in a loss to Notre Dame last Saturday.
It does, however, lack the situational experience Gadowsky values. Defensive zone faceoffs late in games. Special teams situations. Protecting a lead with an extra attacker on the ice.
These are all critical areas in the game that have hurt the Nittany Lions in 2021-22. Gadowsky relied on the same core of players in these spots for years, with many departing two seasons ago, and another handful leaving after last year.
"[Previously] you had a lot of guys that were out in those situations and had experiences like that, freshman year, sophomore year, junior year," Gadowsky said earlier this week.
"No matter how much you talk about it, write on the chalkboard and show video, it's about having that experience when the lights are on and the stadium's packed, and points are on the line against Big Ten opponents."
Certainly, the Nittany Lions face a demanding challenge this weekend as they visit No. 4 Michigan. The Wolverines easily swept a series with Penn State at Pegula Ice Arena this fall. The Nittany Lions will be without Connor MacEachern, their second-leading goalscorer.
College sports, by nature, are cyclical. And, sitting in last place in the Big Ten at the halfway point of conference play — with a roster full of players still trying to get up to speed in these key situations — it seems like Penn State is at an unpleasant point in its cycle.
Is that something that could have been avoided? Can it be avoided in the future?
"Hopefully, we're getting better at it, but I don't think it's possible to avoid it altogether," Gadowsky said. "Hopefully, we can expedite the process. We're getting better at it. But it's not a formula."
The transfer portal has helped some programs manage the experience on their rosters more effectively. The Notre Dame team that swept Penn State last weekend, for example, brought in several key transfers in the offseason.
Penn State Scholarship Chart: How many scholarships do the Nittany Lions have available?
The Nittany Lions went out and got Ben Copeland from Colorado College. The senior forward has been a really nice asset for Gadowsky's crew, with 17 points in 18 games.
Asked if he struck the right balance between bringing in experience and developing the players on his roster, Gadowsky said he isn't sure.
I don't know yet," he said. "It's just not enough time. It's something we're very interested in, we're monitoring and have discussions about quite often. But I don't have an answer with it yet.
"We wanna see how it works around the country and then how it works with us."
Penn State vs Michigan: Scouting the Wolverines
You won't find a more loaded team across college hockey this season — or maybe ever — than the Michigan Wolverines.
Four of the top five picks in last year's NHL Draft wear the maize and blue, including top overall choice Owen Power.
Sophomore forward Kent Johnson is Michigan's leading point-scorer, with 29 in 19 games. Brendan Brisson has 14 goals in 23 contests to lead the Wolverines in that category.
Erik Portillo has proved reliable enough in net for Michigan, with a .920 save percentage and 16-6-1 record.
This is a matchup of two of the better attacks in college hockey. Michigan ranks second nationally with 89 goals in 23 games. Penn State has lit the lamp 76 times in 22 games — good enough for eighth in the country.
The series begins at 7:30 p.m. Friday at Yost Ice Arena.