Penn State hoops set to host Class of 2023 for official visits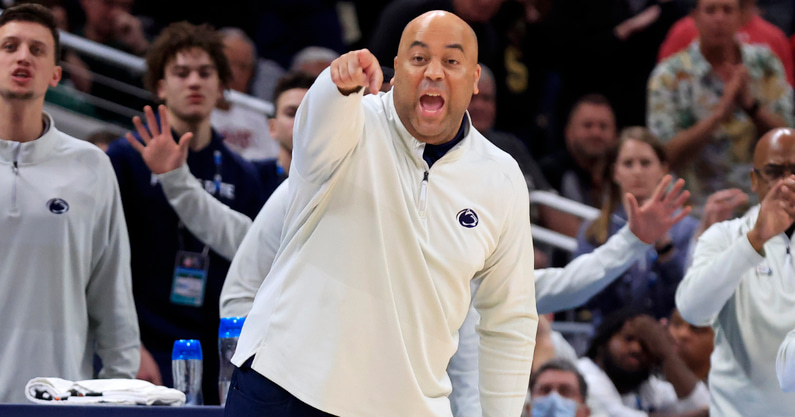 From the start, Braeden Shrewsberry felt an ownership of the success of Penn State's Class of 2023 recruiting effort. With his dad Micah Shrewsberry in his first season as the Nittany Lions' head coach, Shrewsberry became the first to commit when he made his pledge last November.
In the time since then, the 6-foot-2 shooting guard worked diligently to help attract other top talents into the program. 
"It's my class," Shrewsberry told BWI this summer. "I'm trying to get to know the dudes and talk to them a little bit before they get here. I'm trying to help recruit them. I can like go to dinner with them, hang out with the freshmen, go to the dorms, whatever it is just like that."
Nearly a year later, Shrewsberry can enjoy the fruits of his labor this weekend. The Penn State men's basketball program is set for an official visit weekend. Its three committed Class of 2023 prospects will all be on hand for their senior official visits.
The nation's No. 34-ranked recruiting class, the Nittany Lions will play host to Shrewsberry, point guard Logan Imes, and stretch-four Carey Booth. The visits will begin Friday for the three players and run through Sunday morning.
Building the Class of 2023
The second prospect to commit in the class, Imes has long sought the same goals as his teammate. From the Indianapolis area, the appeal of continuing his playing career with Shrewsberry was an immediate draw to the Nittany Lions. 
But, once landing on that decision in March earlier this year, the 6-foot-4, 180-pounder set himself on helping to boost the class. 
"I want this to be the greatest class ever. I want to win Big Ten championships and do a ton of great stuff. To do that, we got to have good guys," Imes told BWI this summer. "The guys that they've identified that they're recruiting hard, we just talked to Carey Booth on a phone call. He's a guy we really want."
Shrewsberry, Imes, and the Nittany Lion coaching staff would need to wait another six weeks. But, eventually, Booth also ended up as a fellow Penn State commitment. 
Making the call for the Nittany Lions on Aug. 24, Booth became the highest-ranked commitment in Shrewsberry's tenure. Rated as an On3 Consensus four-star, the 6-foot-10, 195-pound Booth is the No. 81-ranked prospect in the Class of 2023. Booth is ranked No. 16 among power forwards. 
Booth is also the son of former Penn State great, center Calvin Booth, now the President of Basketball Operations with the NBA's Denver Nuggets. Now, the younger Booth is poised to continue his development with the Nittany Lions. 
"It was more about Coach Shrewsberry's aptitude and his plan for Carey. (It was about) the upside he has as a coach, and the upside the program has because he's running it," Calvin Booth told BWI. "Coach Shrewsbury, whatever school he was at, Carey probably in all likelihood would have followed where he's at. But now that it's Penn State, I think it's big-time. It's a great college, a great place to go to school, and great people around there."
Next steps for Penn State basketball recruiting
Still, expected to bring in a robust Class of 2023, some of Penn State's top targets saw their stocks soar through the latter part of the process. 
As a result, recruitments stretched into August for all of Penn State's primary targets. Four-star power forward Devin Royal landed on Ohio State, Amani Hansberry picked Illinois, DeShawn Harris-Smith selected Maryland. And, Booth's teammate at Brewster Academy, Reid Ducharme, wound up going with Xavier. 
According to the On3 Consensus Basketball Team Recruiting Rankings, Penn State has the seventh-best class in the Big Ten. They trail Michigan State (No. 2), Rutgers (14), Ohio State (16), Maryland (19), Indiana (29), and Illinois (32).