Penn State jumps two spots in On3 Consensus recruiting rankings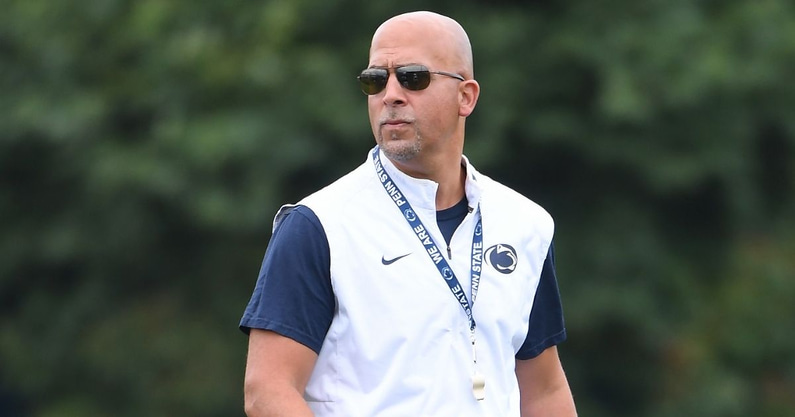 Penn State is moving up in the team recruiting rankings for the Class of 2023. Landing the pledge of edge rusher Tomarrion Parker on Tuesday afternoon, the Nittany Lions now sit at No. 7 in the rankings.
Before the commitment, Penn State was ninth. Only Ohio State, Notre Dame, Southern Cal, Alabama, Georgia, and Clemson currently are ahead of the Nittany Lions in the rankings
Parker is the nation's No. 71 overall player in the Class of 2023 according to On3 and a four-star prospect. Before committing, the Top 100 prospect had multiple offers and had given serious consideration to Tennessee and Florida, as well as Michigan State. Georgia, Michigan, North Carolina, and Texas A&M were also among his final top seven.
Coming off a weekend official visit to Penn State's campus, though, Parker had seen enough. The Phenix City (Ala.) Central product wanted to be a Nittany Lion.
"The coaches at Penn State really showed me love since the day they offered me," Parker told On3's National Recruiting Director Chad Simmons. "They were very transparent to me about everything and I love it."
With Parker's commitment, he becomes the third-highest prospect in Penn State's Class of 2023. With a rating of 92.70 in the On3 Consensus rankings, he sits behind only offensive lineman Alex Birchmeier (95.38, No. 31 nationally), and Jven Williams (93.80, No. 64).
Penn State's Class of 2023 team ranking
Against Penn State's peers, the 14-man class of commitments is the most among any program in the top 10. Only Arkansas matches the number next at No. 12, with Texas Tech's 20 commitments at 16th, Northwestern's 18 at No. 20, and Cincinnati's 20 at No. 21 in the rankings.
The Nittany Lions' average player rating now checks in at 89.34, which is the lowest among any of the other Top 10 programs in the rankings.
Breaking down the class by star-rating, Penn State now has six four-stars and eight three-stars. The six four-stars are tied for fifth behind Notre Dame's nation-leading 12, Ohio State and Clemson with nine apiece, and Georgia with eight.