Penn State junior Carter Starocci wins third NCAA Championship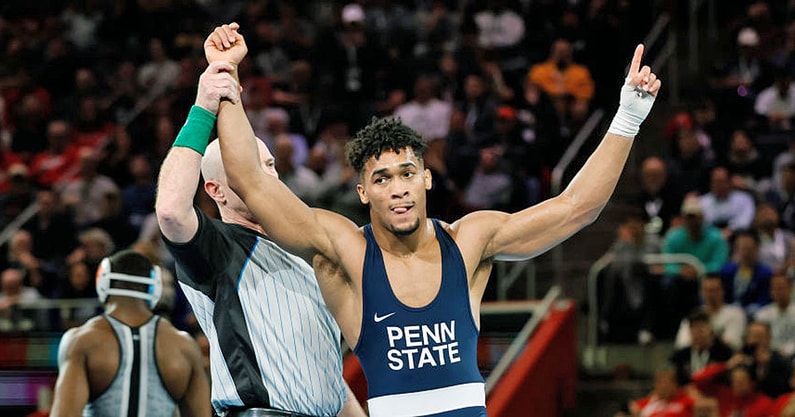 Penn State wrestling has its first champion at the 2023 NCAA Wrestling Championships.
Junior Carter Starocci won his third national title on Saturday night at the BOK Center. He beat Nebraska's Mike Labriola for the fourth time in his career and second time this year by pinning him in 2:46.
Penn State won the team championship earlier on Saturday. It's the second straight crown for the Lions an 11th overall in school history.
Here's how the rest of the Penn State participants have fared so far:
Haines finishes as a runner up
Penn State freshman phenom Levi Haines saw his stellar season end with a loss at the NCAA Championships. He lost the 157-pound title bout by decision, 6-2, to top-seeded Austin O'Connor of North Carolina.
Bartlett finishes first season at 141 pounds strong
Bartlett, who wrestled at 141 pounds, his natural weight, for the first time as a Nittany Lion, won his first three bouts. The six seed in his weight class, that run was highlighted by a 3-1 upset victory over three-seed Cole Matthews of Pittsburgh. However, the Nittany Lion dropped out of the championship bracket in the quarterfinals, as he fell to two-seed Andrew Alirez of Northern Colorado by decision, 6-2. His tournament was not over, however. Bartlett opened action in the consolation bracket by beating Clay Carlson of South Dakota State for the second time in the tournament, this time by a 12-3 major decision, to reach the third place match. Once there, he finished his season strong by beating 10th-seeded Lachlan McNeil of North Carolina decisively, 4-1, to claim the top spot in the consolation bracket.
Van Ness' first Penn State tournament was memorable
Van Ness had one of the more incredible tournaments of any Nittany Lion. The 12th seed at 149 pounds, he first erased an 8-1 deficit and eventually pinned No. 21 Ethen Miller of Maryland in the first round. The Penn State wrestler then upset fifth-seeded Paniro Johnson of Arizona State by decision, 14-8, to reach the quarters. There, he stormed back again, this time beating No. 20 Graham Rooks of Indiana, 10-7. Van Ness' time in the top bracket ended in the semifinals with a hard-fought 8-3 loss to top-seeded Yianni Diakomihalis of Cornell.
Once in the consolation bracket, Van Ness returned to his winning ways with a pair of upset victories. He topped fourth-seeded Caleb Henson of Virginia Tech 5-3 to reach the third-place bout. He'd face another higher-ranked opponent there. But, yet again, it did not matter. Van Ness dominated No. 3 Kyle Parco of Arizona State throughout to win, 7-2, and take third.
Dean finishes career with a victory
Max Dean admitted to the ESPN cameras following his final college match that he did not earn what he sought at his last college tournament. But, that doesn't mean the four-time All-American and one-time national champ didn't fight until the end.
The 197-pound Penn State senior and nine seed beat Levi Hopkins of Campbell in his first match. However, he dropped into the consolation in the second after falling to Nebraska's Silas Allred, who beat him in the Big Ten finals, by a 7-2 decision in round two. It meant that Dean would need to win two consolation bracket matches to again earn All-American honors. He did exactly that.
The Penn State senior first beat Gavin Hoffman of Ohio State by decision, 6-0. From there, he topped Jaxon Smith of Maryland, 3-2, to find his way into the top seven. A 3-2 sudden victory setback opposite No. 2 Bailey Truax of Cal Poly sent Dean into the seventh-place match. He won it, by decision, 4-2 over Jacob Cardenas of Cornell.
"I didn't quite get what I came here for, but I'm proud of my effort and really proud of our team," Dean told ESPN. "I'm sad it's done. [Being at Penn State] meant a lot to me. Cael Sandeson is a leader. I know I needed him in my life. I'm just really grateful for him and everybody. I'm just so lucky.
"I don't know what my plans are. I'm just excited to watch my teammates tonight. I love wrestling. I'm grateful for everything it's done for me. I'm not rushing to get out of it. But, we'll see."
Facundo is the only Penn State wrestler who did not place
Penn State sent nine wrestlers to nationals. Eight of them are All-Americans. Only one did not place.
Redshirt freshman Alex Facundo arrived at the BOK Center in Tulsa, Okla., hoping to outperform his No. 13 seed. That did not happen, however. The 165-pound Nittany Lion dropped his first bout to No. 20 Holden Heller of Pittsburgh, 5-3, and then bowed out of the tournament following a 12-4 major decision setback opposite No. 4 Julian Ramirez of Cornell in the consolation bracket.