Penn State loses Cain, TE discussion, Wrestling: BWI Daily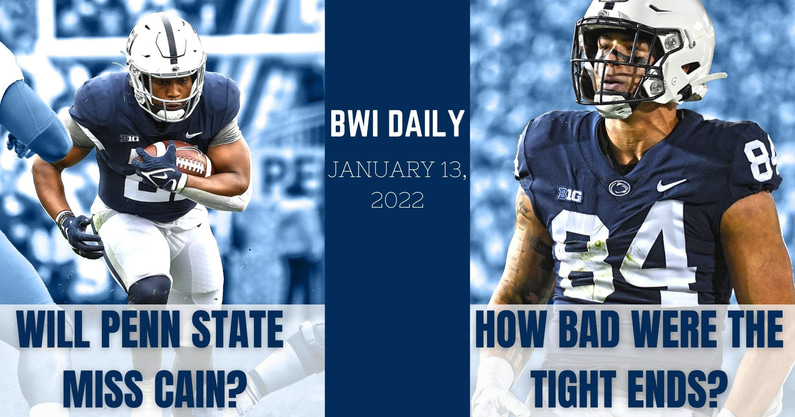 The expectation this offseason was that Penn State football would lose players in the transfer portal. That has become the norm in college football since its inception several years ago. While players come and go, the names of those players can still draw attention. Former starting running back Noah Cain announced his decision to leave Penn State on Wednesday evening in a surprise move. Host of the BWI Daily Edition discusses the action with his guests on the show, Nate Bauer and Greg Pickel.
Penn State's Cain to the Portal
While the move is surprising to some degree, it is not a devastating one for Penn State. Bauer joins the show first to view Cain's career at Penn State and how injury frustrations left him looking for a new home.
Were the tight ends as bad as advertised?
Next, they have a lengthy discussion about the tight end production at Penn State in 2021. This past season, the trio of pass-catchers had lofty expectations after James Franklin effused praise for the group. While it's clear they didn't live up to that standard as a group, did they make progress this past season?
Tomorrow on the BWI Daily: Penn State Junior Day discussion with Ryan Snyder
Were there any signs of life? T-Frank dives into the numbers and breaks things out several ways to inspect the results. First, he looks at a rather decisive shift halfway through the season and then gives context to that information. How did Theo Johnson produce by the end of the season? Then, Bauer follows up with his group observations, including a critical moment in the season that might have caused that shift.
Want more from Blue White Illustrated? Join for just one dollar!
After that, T-Frank inspects the run blocking of each player. Once again, Franklin's comments early in the season shaped a perception about the trio that T-Frank doesn't believe is accurate. Next, he shows a decisive change in tight end Brenton Strange and progression from Tyler Warren. After that, Bauer provides more context from Franklin's comments to support that.
Wrestling update with Greg Pickel
Next, T-Frank speaks to reporter Greg Pickel about Noah Cain's departure from the program. He gets Pickel's perspective on Cain's career and what he thinks is in store for the future of the former four-star commit in 2019.
Then they dive into Penn State wrestling's mid-season transfer moves. Penn State recently picked up a key pair of additions, and Pickel discusses how those additions will impact the lineup. He also gives a brief education to unfamiliar listeners about how the staff chooses wrestlers and how those athletes compete for a spot in the lineup.
Finally, he wraps up the show by explaining Penn State's challenges fielding a healthy roster and what to expect this weekend when they host Rutgers.