Penn State reportedly losing key off-field staffer to Virginia Tech; Lions signee stars in Under Armour game: Newsstand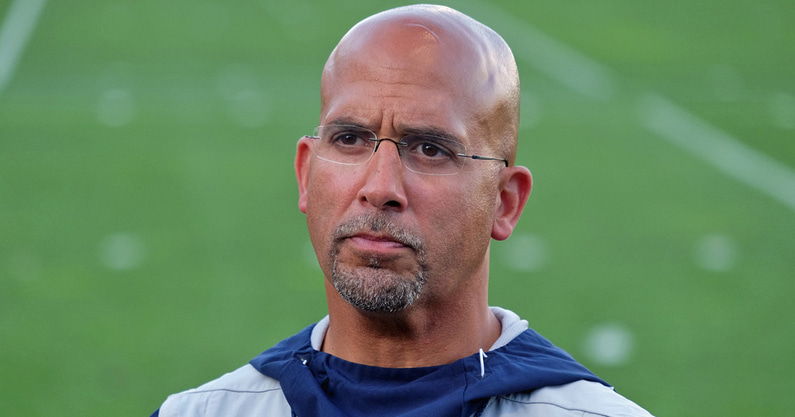 The 2021 Penn State season might be over after Saturday's loss to Arkansas in the Outback Bowl, but the news keeps on coming.
Today's newsstand features a reported staff loss for head coach James Franklin, news on a signee starring in an all-star game, and more.
Let's look at the top tweets and headlines about the Nittany Lions and college football on Jan. 3.
Penn State tweets of the day
We start with overnight news about Penn State's off-field staff.
National college football reporter Bruce Feldman reported Monday morning that the Lions are set to lose their senior director of football operations, Michael Hazel, to Virginia Tech.
Hazel has been alongside both Franklin and new Hokies head coach Brent Pry for 11 seasons, of course.
Per Feldman, Hazel's role in Blacksburg would be chief of staff. It might seem like a lateral move from afar, but it's likely not. For example, at Penn State, chief of staff Kevin Threlkel holds an assistant athletic director title, as well. It's unclear what exactly Hazel's title will be with the ACC school, but something similar wouldn't be surprising.
In other news, four-star Penn State running back signee Kaytron Allen was stellar in the Under Armour All-American Bowl.
The four-star carried a team-high 14 times for 71 yards and a touchdown. He also caught a pass for six yards in Team Icon's 23-17 win over Team Legends.
Finally, for this section, Class of 2023 On3 Consensus four-star tight end Neeo Avery, who committed to the Lions back on Friday, released a slick commitment video on Sunday.
Avery is the nation's No. 10 junior tight end and a top-170 player overall in the next cycle.
Sign up for Blue-White Illustrated and On3 for just $1 for 365 days of access!
Headlines of the day
Sean Clifford's exit, James Franklin on burning redshirts, a Penn State assistant's future and more notes from Outback Bowl: Gallen, PennLive
Penn State Recruiting: Four Nittany Lions set for All-America Bowl: Snyder, BWI
Penn State January checklist: Sort out portal possibilities, figure out any staff changes, and more: Pickel, BWI
Where Did the Offense Go Wrong?: Wogenrich, SI
Every Penn State player on an NFL playoff roster in 2022: McGuire, Nittany Lions Wire
Absent depth, offensive efficiency, Penn State limps into offseason: Notes: Bauer, BWI
7 Offseason Storylines for the Nittany Lions: Jones, Statecollege.com
What they're saying about Penn State football's loss to Arkansas: Eckert, BWI
Former Penn State football player Irvin Charles declares for 2022 NFL Draft: White, The Daily Collegian
Penn State report card: Grading the Lions' Outback Bowl loss to Arkansas: Pickel, BWI
Quote of the day
"It felt good because all of these guys have faith in me," Vilbert told reporters after the game. "At practice and stuff like that, they can see how
consistent I've been. And it felt good that Coach believes in me enough to keep me out there.
"Most of the guys knew it was my first time starting so I just appreciated Coach believing in me and telling me I could start this game. I went out and did the best I could do."
–PSU end Smith Vilbert on his three-sack performance in the Outback Bowl.