Penn State Mailbag: Who are the top prospects at each position for 2023?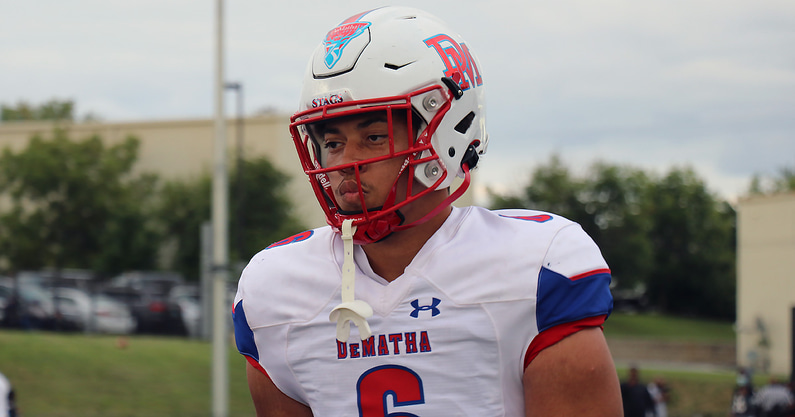 Penn State is set to wrap up the January contact period this weekend with its deepest visitor list yet.
The most notable player is actually an official visitor, as 2022 offensive lineman Vega Ioane will travel all the way from Graham, Wash., which is just south of Tacoma. In addition to him, James Franklin and his assistants will host over 20 scholarship prospects in the 2023 class and beyond.
The list has a handful of Penn State's most coveted prospects, too, including defensive linemen Nyckoles Harbor, a five-star from Washington, D.C., and Jason Moore, a top 40 prospect from DeMatha in Maryland. Moore will actually visit today, while the rest will be on campus Saturday.
Other notables include linebacker Tony Rojas and defensive backs Antonio Cotman Jr. and T.J. Metcalf. Metcalf is traveling all the way from Birmingham, Ala., while Rojas and Cotman both live in Virginia.
As for the mailbag, I once again hit on a variety of topics, including Penn State's top players at each position. Defensive line recruiting is also discussed, as well as how many commitments we could see between now and the Blue-White Game.
With all of the visits and offers lately I'm having difficulty trying to determine which 2023 and 2024 recruits are at the top of our board. Some are obvious. Can you provide a top 2 or 3 review at each position? – WeAre
Quarterback – It's pretty simple right now, as Dante Moore and Jaden Rashada are clearly at the top. I have Moore, who's from Detroit, as their top quarterback target.
Running Back – I think there are four players: Mark Fletcher, Treyaun Webb, Richard Young and Daylan Smothers. Young, Fletcher and Webb are all from Florida, while Smothers is from North Carolina. Young is the only one who hasn't visited so far. Webb played high school ball with Cam Miller this past season, and there seems to be more momentum with him compared to the other three currently.
Wide Receiver – Rodney Gallagher, Noah Rogers, Ejani Shakir. There are certainly some others who are high on their board, but when it comes to skill and their chances of landing the player, I'd go with those three right now, but I expect this board to shuffle as more players visit.
Offensive Line – Samson Okunlola, Chase Bisontis, Luke Montgomery, Evan Link, Jven Williams. Kadyn Proctor is also high on their board, and I think Penn State could make his top list of schools, but it'll be hard to land him. Williams is a swing player, while the rest are all tackles. I'll also note that Anthony Donkoh is moving up the staff's board quickly after his visit two weeks ago.
Defensive End – Nyckoles Harbor, David Ojiegbe, Desmond Umeozulu. Umeozulu is moving up the staff's board quickly. Penn State really likes what they've seen from Joseph Mupoyi, too, although he's still a bit raw. Mason Robinson is starting to take off, while Cam Lenhardt remains in the mix. I don't have those three quite as high as the guys above, however. Dylan Gooden is in the mix, too.
Defensive Tackle – Jason Moore, Derrick LeBlanc, Will Norman, John Walker, Joel Starlings, Justin Benton, Sydir Mitchell. Benton is higher on the staff's board than his ranking would suggest. Penn State has felt good about Norman since he visited in October.
Linebacker – Ta'Mere Robinson, Tony Rojas, Phil Picciotti. There are a few others who they would also take like Grant Tucker from North Carolina, but I've been told multiple times that these three are standing out the most currently.
Cornerback – Amare Snowden, Moussa Kane, Damari Brown, Daemon Fagan. Penn State feels as if they're firmly in the mix with the American Heritage prospects, Brown and Fagan. Time will tell. Snowden has been high on their board for months now and he shined last week at a 7-on-7 tournament in Miami.
Safety – Cameron Seldon, Joenel Aguero, Rahmir Stewart, DaKaari Nelson. Seldon is very high on the staff's board. Talks with Aguero have improved since he moved back north, but I still expect him to end up down south. Nelson drove all the way from Alabama to attend the Rutgers game, and he's steadily been building a good relationship with the staff.
Where is Penn State at with top DL recruiting? I don't see us listed as any preference on any 2023-24 top prospects? – Psu87
Recruiting elite defensive tackles is very difficult. Let's start there. There are only a few guys who truly stand out as interior defensive linemen, and those players often head to the very best programs nationally. You know the list by now. Defensive tackle and offensive tackle are oftentimes the most difficult positions to recruit. I wrote about this in a previous mailbag. There are a lot of solid players nationally, but only a handful of truly elite prospects.
Penn State will land those solid options. They've been doing it regularly for years now, but those elite prospects have eluded them (and 90 percent of Power Five programs) over the years. With that said, for 2023, Penn State is very much in the mix with DeMatha's Jason Moore, and I put him in that elite category.
As I mentioned above, Moore is visiting Penn State today. He and his family are going to Philadelphia Saturday to watch his brother, Justin Moore, play basketball for Villanova. Since they're traveling north, they decided to stop by Penn State Friday for a few hours before heading to Philly.
Out of those potential five-star candidates – he's just outside the top 32, which is when players receive a fifth star – Moore is the one I think Penn State has a real chance with. Notre Dame is likely the stiffest competition at the moment.
Aside from him, there are a lot of good options though. Derrick LeBlanc and John Walker, from Osceola in Florida, just visited two weeks ago. LeBlanc is ranked No. 63 nationally in the On3 Consensus, while Walker is No. 107. IMG Academy prospect Will Norman, who grew up in Camden, N.J., is also likely leaning towards Penn State. He ranks 93rd nationally in the On3 Consensus. There are a handful of others who rank among the top 300, too. Also, keep an eye on Justin Benton out of Georgia. On3 has him as a three-star currently, but I know he ranks very high on Penn State's board. Benton is a four-star in the On3 Consensus.
At defensive end, they're pushing hard for Archbishop Carroll five-star Nykoles Harbor. He won't be easy to land, but his parents are both engineers and his sister went to Penn State, so they think highly of the school. He'll be on campus tomorrow.
I have Penn State as the team to beat with Staten Island, N.Y., native Cam Lenhardt, who plays at IMG Academy. He ranks No. 150 nationally. Dylan Gooden, from Good Counsel, David Ojiegbe, from St. John's College High, also rank among the top 200. I think McDonogh defensive end Mason Robinson is also a really good player. He's unranked currently, but offers have been pouring in lately. Notable schools include Georgia, Michigan, Oklahoma, Oregon and Tennessee.
Ryan do you feel we get any commits before spring practice or will the next commit be the B/W game/weekend? – BigDPSU
Interesting timing for this question. I am expecting a commitment to come today for Penn State. I'll let the player announce his decision as we always do, but I do expect the Nittany Lions to add to their Class of 2023 Friday.
Aside from that, the one player I was originally watching for a commitment in late January or February was tight end Neeo Avery, who of course committed to Penn State back on New Year's Eve. His original timeline was around this time of the year, but that got bumped up a bit when Andrew Rappleyea was seriously considering a commitment to Penn State. Rappleyea went on to commit to Michigan after Avery joined the class.
I'd still be surprised if Penn State doesn't add someone until the Blue-White Game. That's two-and-a-half months away, and they're in a good position with a handful of regional prospects who have visited enough times now to justify a decision.
As of Friday morning, I don't see a commitment coming for this upcoming junior day, but we've seen February commitments following January junior days in the past. In the 2020 class, both linebacker Curtis Jacobs and quarterback Micah Bowens committed then. Both were coming off recent junior day visits, too, so a recent visitor deciding in the coming weeks wouldn't surprise. Who exactly? That's tough to say. No one has really hinted at that behind the scenes.
But even if one doesn't come in February, March and the weeks leading into the Blue-White Game are always very busy, and those visits are oftentimes among the most important visits of the year. Spending a day with the staff and watching spring practice when only a few other recruits are also on campus often leads to good reviews.
So, my bet would be that we see at least one player commit in the weeks and months ahead. I wouldn't be surprised if we saw few. They've laid the groundwork for a very good spring on the recruiting trail.