Penn State makes top transfer target's top-5; offseason shuffling begins for Lions: Newsstand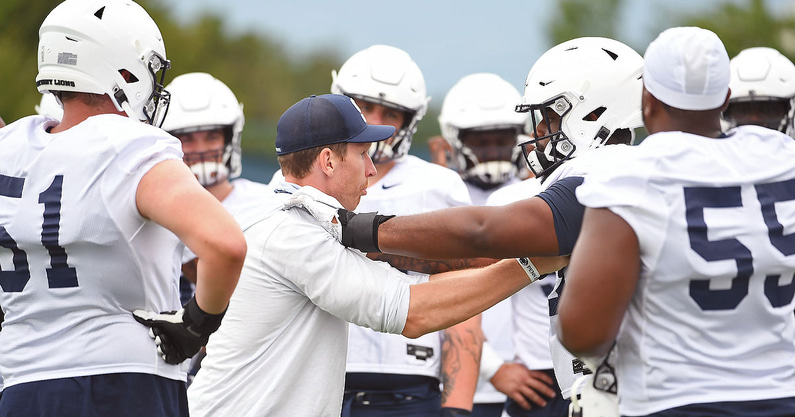 Penn State received good news on the recruiting front to start the week.
The Nittany Lions received bad news on the personnel and coaching staff fronts, however.
Head coach James Franklin's team made the top-five for a key transfer target and the top-eight for a Class of 2023 defensive end. But, it also saw a starter announce he is off to the NFL and a coach leave for a different job in the PAC-12.
Let's get to the top tweets and headlines about Penn State and college football on Jan. 4.
Penn State tweets of the day
We start with Hunter Nourzad. The two-time All-Ivy League lineman from Cornell announced his top five on Monday. Penn State made the cut along with Virginia Tech, Iowa, Auburn, and Illinois.
Nourzad played tackle for the Big Red but projects as an interior lineman at the FBS level. The 6-foot-4, 298-pound graduate transfer has not yet set a decision date. He is the Lions' top portal target.
In other recruiting news, Olney, Md., Good Counsel Class of 2023 four-star end Dylan Gooden has released a top eight. Penn State is in it for the teammate of recent commit Neeo Avery along with Texas A&M, West Virginia, Maryland, Miami, Michigan State, Notre Dame, and Tennessee.
The On3 Recruiting Prediction Machine lists the Vols, Terps, WVU, and Nittany Lions as early favorites at this point.
We close with some personnel news.
Rasheed Walker is off to the 2022 NFL Draft, while Joe Lorig has moved on to Oregon.
Neither move was a total shock.
Walker came back for an extra season last year and was unlikely to not leave following the 2021 slate. Lorig, then, is from the west coast and tied to the Ducks and former colleague Dan Lanning last week.
Headlines of the day
Penn State special teams coordinator: Possibilities to watch: Bauer, BWI
Early Look at the PSU NFL Draft prospects: Wogenrich, SI
Transfer roundup: How Penn State offseason departures performed in 2021: Eckert, BWI
Way-too-early record prediction for PSU in 2022: Giger, DKOnPittsburghSports
With Joe Lorig's exit, Penn State faces test finding trusted replacements: Bauer, BWI
2023 4-star RB Treyaun Webb resets his recruitment, but Ohio State must compete with Penn State, HBCUs: Fenbers, Cleveland.com
Penn State tackle Rasheed Walker is entering the 2022 NFL Draft; how will the Lions replace him?: Pickel, BWI
Quote of the day
"Penn State is a great school, and some great running backs came through there. I just love it up there. I love it as a staff, the fans, it's a family environment up there. I'm pretty sure they would definitely be in my top picks."
–Four-star Class of 2023 Florida running back Treyaun Webb to Cleveland.com about where PSU fits in his recruitment right now.