Penn State-Michigan predictions: How college football experts, data systems are picking Lions-Wolverines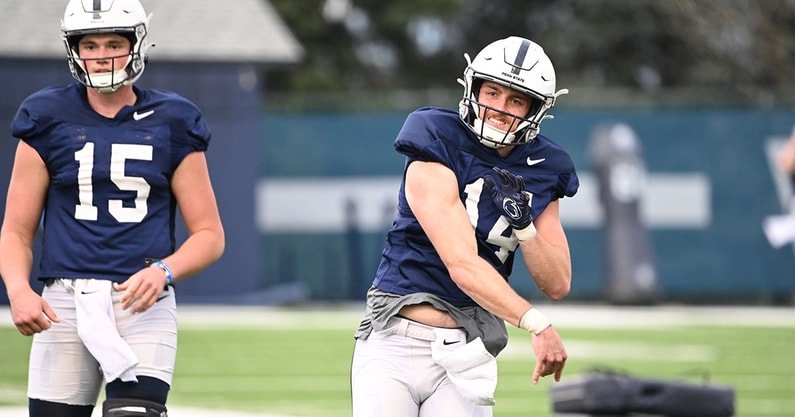 Penn State is all but set for a top-10 clash with Michigan. The Lions and Wolverines meet at Noon ET on FOX. A sellout crowd is expected at 'The Big House' in Ann Arbor.
Oddsmakers initially listed head coach Jim Harbaugh's team as a 10-point favorite. However, that number was quickly bet down, and it now sits at seven points. The over/under total is 51.5.
"This is going to be a physical game," Lions coach James Franklin said. "This is going to be big boy ball on both sides of the ball. We understand what we're getting into.
"Again, we got a ton of respect for these guys. And you know what: We'll find out on Saturday. But, we've practiced that way. And, I think for the most part this year, we played that way. We're going to have to do it on Saturday."
Here's how experts and betting data systems are picking the game.
Computer model picks for Penn State-Michigan
At ESPN, Bill Connelly's SP+ model sees a 32-20 Michigan win over Penn State. It gives the home side a 76-percent chance of winning.
CBS Sportsline also projects a Wolverines win and cover. It has the projected final score as 32-21 in favor of Michigan.
The Athletic's XMOV model from Austin Mock sees something similar: 30-23 Michigan.
Finally, The Dunkle Index sees a 10.5-point Michigan win over Penn State. It projects a total of 44.
Lions-Wolverines predictions from a national perspective
Max Escarpio at Bleacher Report sees a close game. He picks Michigan 28, PSU 24.
"Penn State's biggest strength is its secondary and linebackers under first-year defensive coordinator Manny Diaz, but Michigan has prided itself on having a quality offensive line," Escaprio writes. "Injuries to linemen Ryan Hayes and Karsen Barnhart may hurt the offense, but the Wolverines shouldn't get sidetracked by the Nittany Lions, especially at home."
Sports Illustrated's James Parker is calling for a Lions cover, but a Wolverines win. He writes:
"Both teams can run the ball well, and though Penn State owns the statistical edge when defending against the rush, how trustworthy are those numbers when considering the quality of opponents? Michigan has been holding its own in these close Big Ten games thanks to its consistent ground attack."
College Football News calls for a 26-20 Michigan win. Bill Bender at Sporting News sees it 31-23 for the home side.
National college football writer Stewart Mandel of The Athletic has it 27-19 in favor of the Wolverines.
Blue-White Illustrated staff predictions
Here's how our team sees this game playing out:
Nate Bauer: Michigan 27, Penn State 24
Sean Fitz: Michigan 24, Penn State 17
Thomas Frank Carr: Michigan 28, Penn State 24
Matt Herb: Michigan 28, Penn State 17
Greg Pickel: Penn State 21, Michigan 17
Ryan Snyder: Penn State 28, Michigan 24
Picks from around the Penn State beat
Mark Wogenrich at SI site AllPennState calls for a close Michigan victory by a 21-17 count.
"Penn State hasn't beaten a top-5 team on the road since the 1994 team won at Michigan by a touchdown," he writes.
"These Lions don't have that offense's firepower. So Michigan does just enough to win."
At PennLive, its staff has two picks in favor of the Lions and three in favor of the Wolverines. Guest picker Aaron McCann of MLive has the home team winning, too.
Jon Sauber of The Centre Daily Times calls for a 17-16 PSU upset.
"Diaz's defense is an absolute monster to deal with and can make life miserable for good offenses," Sauber writes.
"One-dimensional ones like Michigan's can be compromised easier than most. Of course, none of this matters if McCarthy is better than I've seen and lights up the Penn State defense. For now, I'll say he isn't able to do enough to earn the win for the Wolverines."