Penn State-Michigan State matchups: What to expect from the Nittany Lions, Spartans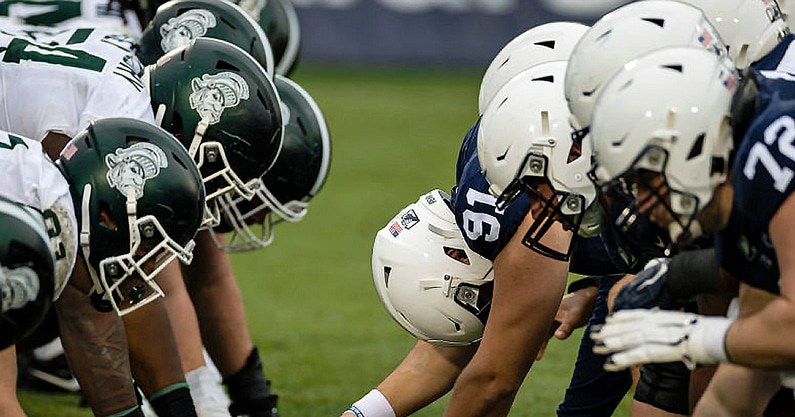 Penn State and Michigan State will both be seeking to secure the best bowl spot possible when the two sides meet Saturday at Spartan Stadium.
Kickoff is set for 3:30 p.m. ET on ABC.
The home side seeks its 10th win of the season, while head coach James Franklin's bunch aims to finish the regular season at 8-4.
How do the two sides match up? It's time to break down the matchups.
When Penn State has the ball
Pass, baby, pass.
Believe it or not, Mel Tucker's 9-2 Spartans side has the worst pass defense in college football. That's right: Michigan State is 130 out of 130 FBS teams with an average of 339.9 passing yards allowed per game. It gives up an average of a first down per completion and over seven yards per attempt. Knowing that, it should be no surprise why Ohio State won for fun. Penn State should dial up a similar game plan.
That should be the case regardless of whether Sean Clifford returns and plays or if Christian Veilleux must lead Mike Yurcich's attack. It does sound like the former will start, however. Penn State has run the ball better of late but it still isn't a strength. That is actually not a bad thing in this matchup.
We will be watching closely to see what the Lions' offensive line makeup is, as well. Will all the starters be back or will it be a mix-and-match group again?
Either way, Penn State should be able to name its number of passing yards as long as its protection holds up. One thing pointing in the home team's favor is this: Michigan State has the second-most sacks in the Big Ten with 33. Still, that's not enough to give it an advantage in this one.
EDGE: PENN STATE
When Penn State is on defense
If you were surprised to learn that the Lions were a small road favorite, you're not alone. This space was stunned on the surface, as well.
A deeper look, however, helps indicate why.
Star Michigan State back Kenneth Walker III is dealing with an ankle injury. He carried just six times for 25 yards against the Buckeyes. His status for Saturday is unclear. The Spartans' top two receivers, Jayden Reed and Jalen Nailor, are also dealing with injuries. Reed started against OSU but didn't finish the game, and Nailor didn't suit up at all. There are issues along the offensive line, too.
The Penn State defense has occasionally bent and only broke a few times this fall. If Michigan State is down all three of the aforementioned players, or even if they play but are limited, it will be an advantage for Penn State. That may end up being the case either way, but without them, there are simply not enough athletes who should scare Brent Pry's unit on the Michigan State offense.
EDGE: PENN STATE
Odds and ends
–Punter Bryce Barringer averages 49.42 and has sent almost half of his punt attempts this year 50-plus yards. It's a Big Ten-leading average, but he is third-worst in terms of punts that are returned. Perhaps Jahan Dotson can pop one in East Lansing for Penn State.
–Matt Coghlin is the field goal kicker. He's 10 of 16 on the year but has made only two of six kicks from 40 yards or more. Forty-one of his 53 kickoffs have gone for touchbacks, so don't expect Penn State to get that part of its return game revved up.
–Speaking of returners, Reed has two punt return touchdowns and he and Nailor are the primary kickoff return guys. It makes their status all the more important for Tucker's team.
Final word
Truth be told, it's unexpected to see that Penn State has an edge on both sides of the ball. But, the Michigan State defense has been exposed now on a couple of occasions and the offense plods along as most do when its best players are unavailable.
Keep that in mind when handicapping this game. The final availability report will play a big role in the ultimate outcome of this Big Ten East matchup for the Land Grant Trophy.