Penn State makes top five with St. Joseph's Prep DB Omillio Agard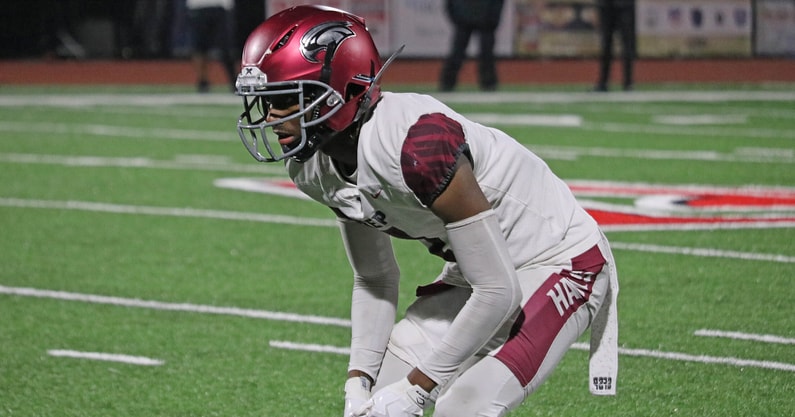 Penn State head coach James Franklin and his staff are putting just about all of their focus on the Class of 2023 and the transfer portal currently. Following an important official visit weekend, Penn State plans to have another this upcoming weekend, one that should see multiple transfer portal prospects make their way to campus.
However, a few prospects in the Class of 2024 have also made news lately. On Monday, St. Joseph's Prep cornerback Omillio Agard announced his top five schools, including Penn State. The Philadelphia native also included Alabama, Clemson, Michigan and Tennessee among his top five schools.
Listed at 5-foot-10, 160 pounds, Agard holds a four-star rating in the On3 Consensus Rankings, coming in at No. 264 nationally. He's the 26th-ranked cornerback and No. 5 overall in Pennsylvania for the Class of 2024.
"PSU is the hometown team," Agard told On3. "I've been on their board as their top priority since my freshman year. Coach Franklin and Coach [Terry] Smith are always either showing up to my school to see me, or coming to my games! I love them, and my former head Coach at my school is a coach on PSU's staff.'
So far, Agard has visited Penn State more than any other school, taking four visits total. Clemson, Michigan and Tennessee have all hosted him twice, while Alabama hosted him once back in June. Notre Dame and Ohio State are two other schools he's seen previously.
Agard's announcement comes just a few days after another 2024 prospect announced his top schools. On Saturday, four-star defensive end Jaylen Harvey cut his list of schools to 11. The Quince Orchard prospect is believed to have Penn State at the top of his list, but he also included Maryland, Tennessee, Ohio State, Oklahoma, Notre Dame, South Carolina, Louisville, Pittsburgh, Michigan and USC.
Just like Agard, Harvey has visited Penn State more than any other school so far, taking four visits total, including two trips for games this season. Duke, Maryland, Virginia Tech and West Virginia have all hosted him once.