Penn State OL commit Jven Williams earns another major honor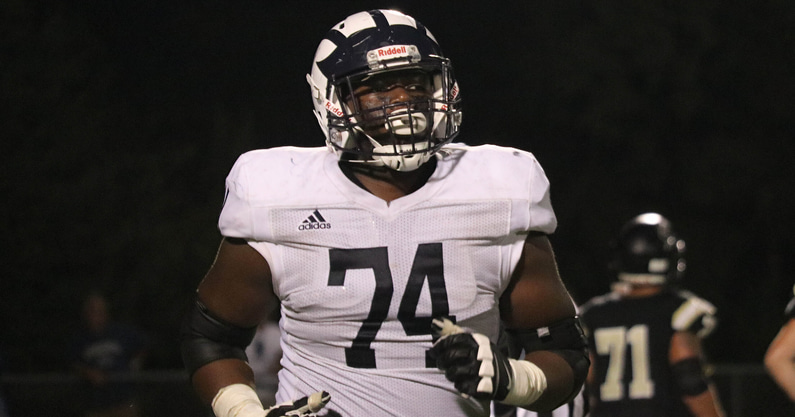 One year after signing the nation's No. 1 ranked running back in Nick Singleton, Penn State is now on the verge of signing another prospect who sits at the top of his position list. That's because on Monday, Penn State offensive line commit Jven Williams moved up from the second-ranked offensive lineman to the top-ranked player at his position, surpassing future Notre Dame offensive lineman Charles Jagusah. The change came following On3's announcement of the updated On300 list for the Class of 2023.
A native of Wyomissing, Pa., Williams was first named a five-star prospect back in February by On3 National Scouting Director Charles Power. It came just a few weeks after he committed to Penn State, which took place on Feb. 5.
Since then, he's steadily climbed up the board, now up to No. 6 overall nationally.
"We basically flipped him and Jagusah," Powers said. "That was really hinged mainly on the senior video we've seen so far. I think we'll really be able to drill down on the offensive line group when we see them at the all-star games, but just based on his senior video, I thought Jven's probably had the most wow moments in terms of the flashes he showed."
Williams is currently committed to play in the All-American Bowl on Jan. 7.
While Williams may be the top-ranked player in Penn State's class, there's no shortage of talent overall. Out of the 19 players currently committed, 13 hold a four-star rating, 12 of whom rank inside the On300.
Penn State Commit Jven Williams' Scouting Summary
Rapidly ascending offensive lineman who oozes long-term upside. Flashes high-end traits as a run blocker. An easy, athletic mover at the second level, where he excels as a puller. Has potentially elite play strength coupled with the athletic ability. Shows budding technical proficiency with his hand placement and understanding of run schemes. Has the length and feet to play tackle but will need to continue honing his pass set technique at the next level after playing in a run-heavy offense in high school. Validates his athleticism and explosive power as a top thrower in both the shot put and discus. Had a personal best shot put toss of over 57 feet as a sophomore in addition to winning the state title in the discus. Much younger than most of his peers in the 2023 cycle and will not turn 18 until late August of his freshman year of college.