Multiple Penn State commits make sizable moves in latest On300 for Class of 2023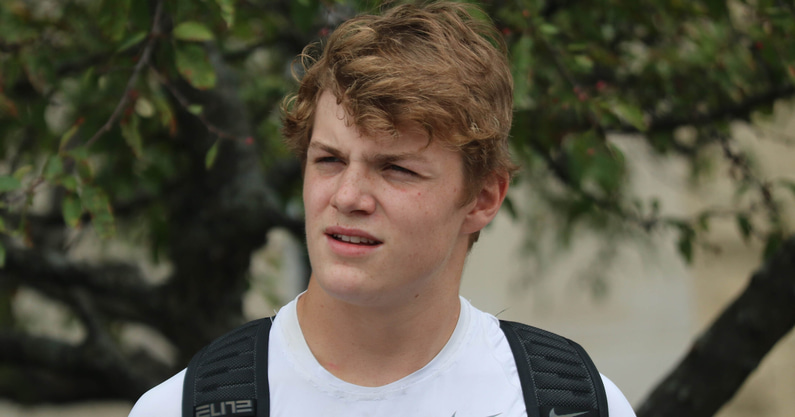 Penn State's Class of 2023 continues to improve following Monday's update for the Class of 2023. Although the class didn't see any new additions to the list, no one dropped out either.
Instead, four players who were already part of the On300 made substantial moves up the list, jumping 40 spots or more. The biggest of movers was tight end Andrew Rappleyea, as the Milton Academy prospect moved up nearly 77 spots to No. 80 overall in the nation. He's now the second-ranked tight end in the nation.
Playing in just eight games this season, Rappleyea totaled 499 yards receiving on 23 receptions, scoring six touchdowns total. He was also a threat rushing the ball, too, adding another 121 yards on the ground to give him 620 all-purpose yards. Defensively, the New York native had 45 solo tackles with 15 assisted. He also had six tackles for loss, three sacks and two interceptions playing linebacker.
Penn State's other tight end commit, Joey Schlaffer, also made a significant move, climbing 48 spots to No. 187 nationally. With Exeter Twp. still undefeated entering the District III championship game this weekend, Schlaffer is up to 39 receptions for 888 yards and 11 touchdowns so far this season.
Penn State's other two commits that made big moves up the board are defensive end Jameial Lyons and cornerback Zion Tracy. Lyons is now the fifth-ranked player in PSU's class, climbing to No. 125 nationally, moving up 45 spots. Roman Catholic's season came to an end this past weekend following a 14-6 loss to Imhotep Charter. Lyons finished the season as Roman's leading tackler with 36 total stops, including 11 tackles for loss and three sacks.
As for Tracy, he's now made major moves in back-to-back updates. Previously a three-star player, the Long Island native joined the On300 in September. Now, the St. Thomas More athlete has made another significant move up the board, climbing 54 spots to No. 200 overall in the nation.
There are also a handful of potential targets among the On300, too, most notably cornerback Daniel Harris. A native of Miami, Harris decommitted from Georgia last week. Penn State has now surged as the team to beat in On3's Recruiting Prediction Machine.
Fans can check out the names to know in the list below.
Penn State Commits & Targets in Latest On300
6) OL Jven Williams (Up four spots from No. 10)
42) CB Daniel Harris (Up one spot from No. 43)
63) OL Alex Birchmeier (Down one spot from No. 62)
73) OL Samson Okunlola (Down two spots from No. 71)
80) TE Andrew Rappleyea (Up 77 spots from No. 157)
99) Saf. King Mack (No change)
108) LB Tony Rojas (Down three spots from No. 105)
125) DE Jameial Lyons (Up 45 spots from No. 170)
144) CB Elliot Washington (Down 12 spots from No. 132)
177) LB Kaveion Keys (Down 8 spots form No. 169)
187) TE Joey Schlaffer (Up 48 spots from No. 235)
200) CB Zion Tracy (Up 54 spots from No. 254)
215) DB Conrad Hussy (Down four spots from No. 211)
267) LB Ta'Mere Robinson (Down 15 spots from No. 252)
269) Ath. Edwin Joseph (Down four spots from No. 265)
273) OL Anthony Donkoh (No change)
274) RB Christopher Johnson (Up 13 spots from No. 287)