Penn State commit London Montgomery set to miss 2022 season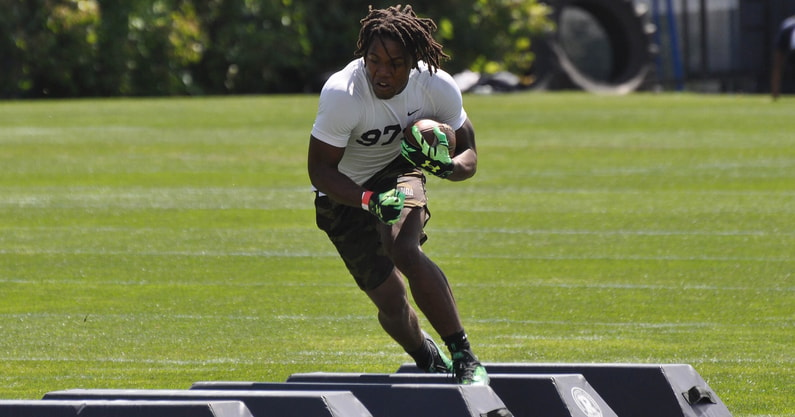 Penn State running back commit London Montgomery has suffered a season-ending injury. According to the Scranton Times-Tribune, Montgomery confirmed that he tore his anterior cruciate ligament following tests. It happened during a three-team scrimmage Saturday between Scranton Prep, East Stroudsburg South and Notre Dame Green Pond. That was Prep's final preseason tune-up before facing Lakeland Friday night in the season opener.
To make it even worse, the injury happened while playing defense, as Montgomery went up to defend a pass, landing awkwardly. He'll now miss the entire season after leading the Cavaliers to a District II Class 3A championship in 2021. Prep made it to the state semifinals but ultimately lose to Jven Williams and Wyomissing, 35-14.
Montgomery holds a four-star rating in both the On3 Consensus and On3 rankings. The Consensus has him at No. 332 nationally and No. 22 overall at the running back position. Our staff at On3 ranks him a bit higher than the industry average, ranking him No. 18 overall at the position.
Dating back to Oct. 2021, Montgomery earned two dozen scholarship offers total. Georgia Tech, Iowa, Maryland, Michigan and Michigan State were a few notable schools to offer, but he ultimately narrowed his list down to Penn State, Boston College and Virginia Tech.
Montgomery earned an offer from Penn State in March. By then, he had already visited twice, but with the Nittany Lions offering a bit later than some other top schools, it wasn't clear where he stood. He then visited back-to-back weekends in April, and that's when it felt like Penn State became the team to beat. He followed that up with an official visit in June and ended up committing on July 11.
"It's definitely a dream come true," Montgomery said. "Watching TV, watching Saquon [Barkley] and all that. I always wanted to play in front of 107,000 fans at Penn State. It's definitely a dream come true."
He went on to add, "I went to other places, but I never had the feeling like I had at Penn State. I came out of there feeling like home. I'm very close with Coach [Ja'Juan] Seider and Coach [James] Franklin, but it's the whole staff really that I'm close with now. I feel like I can tell those guys anything now. But I also think it's a place where I can succeed and compete."