Yazeed Haynes opens up about Penn State official visit & decision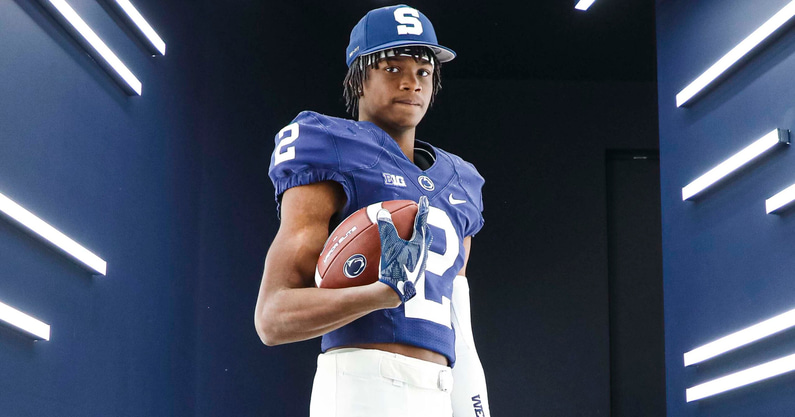 Penn State picked up another commitment in its Class of 2023 Sunday in athlete Yazeed Haynes. Nittany Lion fans should be familiar with the name. Last week, Haynes put on a show at the annual Whiteout Camp, running a 4.39-second 40-yard dash. Add in a 10-foot, 10-inch broad jump and a 4.2-second shuttle and Haynes has everything a big-time Division I football program is looking for, especially at 6-foot-1, 170 pounds.
Because of that, James Franklin and his assistant coaches wasted little time in getting Haynes back on campus, hosting he and his family for an official visit this past weekend. The plan was to see a few more schools and then decide in July. That's no longer the case.
"I came back for my visit, of course, and it just felt like home there," Haynes said. "Everyone was just so family-oriented. I loved the coaches, the players and everything about the school. Even when I was younger, Penn State was always a school I wanted to go to. So, coming up here was just the icing on the cake. I liked everything about it."
Haynes was hosted by rising-sophomore cornerback Kalen King.
"It was fun hanging out with him. He told me a lot about the school, but so did all the guys," Haynes said. "It was me, Kalen, his twin brother of course, Kobe [King]. I was also with [Harrison Wallace] and Zakee [Wheatley]. They all told me about the school and we went bowling. It was fun being around all of them."
Haynes worked out as a wide receiver during the Whiteout Camp, but he told BWI following that camp that Penn State remained open to him playing either side of the ball. Because of that, he set he met with both Taylor Stubblefield and Terry Smith this weekend.
"It surprised me a bit, but they're down to give me the opportunity to play offense or defense," he said. "So, I met with Coach Stubbs, of course. He went over some of my film from camp last week and just talked to me about being a wide receiver and how he can develop me. I met with Coach Terry after that, and it was the same thing. He showed me how good I could be at DB.
"So, they were both kind of trying to convince me to play either position, but they're also both cool with me playing either-or."
So, does Haynes have a preference?
"Obviously, I'm more comfortable playing at wide receiver because I've been playing that and I've never played corner before. But honestly, I really am open to either-or. Whatever helps me succeed and helps the team. There really isn't a preference for me."
Haynes added that he also spent much of his time with future Penn State quarterback Marcus Stokes this weekend. Just like Haynes, Stokes was also at the Whiteout Camp last Saturday. The two met each other then and built on that relationship this weekend.
"Yeah, I hung out with him a lot this weekend," Haynes said. "He's real cool, him and his family. I've enjoyed getting to know him the past two weeks."
Haynes was previously committed to Rutgers before opening up his recruitment this spring. He was planning to camp at both Georgia and Tennessee, while Minnesota had an official visit scheduled for next weekend.
Before updated testing numbers, On3 ranked Haynes as a three-star prospect and No. 26 in Pennsylvania. Expect that to change in the months ahead.