Penn State offensive coordinator Mike Yurcich talks young quarterbacks, areas Sean Clifford can improve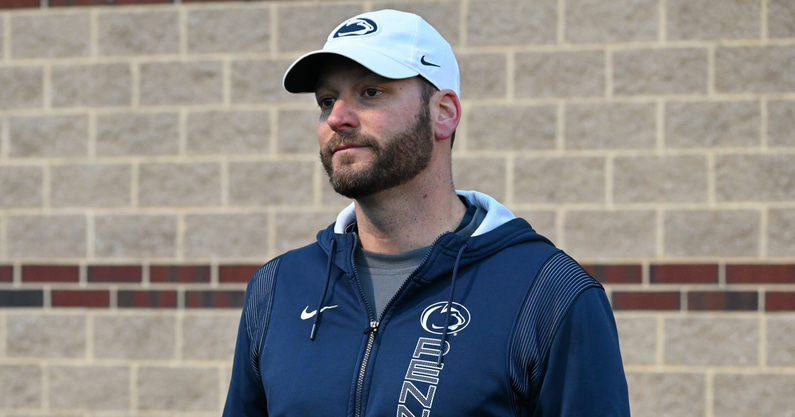 STATE COLLEGE — Quarterbacks were unsurprisingly the top topic of conversation when Penn State offensive coordinator Mike Yurcich met the media here on Wednesday night.
The second-year Nittany Lions play-caller is going through drills with four scholarship quarterbacks. Sean Clifford and Christian Veilleux are both returners. Beau Pribula and Drew Allar, then, enrolled in January. One key question is how the reps will be split up this spring and whether or not Clifford's experience means more work for the younger players behind him.
"Not necessarily," Yurcich said. "We have [a] certain [amount of] meeting time in the offseason that we're allowed to do, so we're a little bit restricted there. We try to maximize with everyone. Sean's one of those guys that is ultra-competitive everywhere, on the field and in the meeting room.
"So I wouldn't say there was extra time, just because of him being very experienced. They all need the meeting time. I need to interact with them and the relationships have to build."
Yurcich outlines areas of improvement for Clifford
Clifford is set to start his third consecutive season in blue and white. Penn State mostly knows what it has in No. 14. But, there is certainly still room for improvement as he works under the same offensive coordinator in back-to-back springs for the first time as a first-teamer.
"I think the biggest thing from year one [to] year two, and so we've been through practice five, is just the fluidity of getting through the progressions and being able to anticipate," Yurcich said.
"If it's RPOs, he's more well versed in the system the second year. You can see that. I think he feels that right now. So, it's not probably one thing. It's everything right now. More of a comfort zone with how I call it, what we're looking for, what we're trying to get done. More familiarity."
How do the first-year Penn State passers look?
Allar and Pribula both came to Penn State as highly-regarded and ultra-successful recruits. But, there is always a learning curve between high school and college.
Yurcich sounded happy about how each looked after a handful of drills at this level. But, there is also certainly a ways to go for each as they get their footing this spring.
"Both Beau and Drew were coached extremely well in high school, in different systems," Yurcich said. "Our system's different than their system's, and just getting the verbiage down, being under center at times, being able to have the direct protections, even run checks at times, all those things are probably the biggest areas of growth right now for us, with regard to the young quarterbacks.
"But, they're doing an excellent job. They're very far along because of how they were groomed in high school. They show a lot of arm talent. They have good feet, good pocket awareness, both of them."
Splitting up the reps
As noted above, Clifford won't be totally dialed back despite being a veteran this spring. But, this time of year offers a chance to disperse practice opportunities in a more shared way as compared to fall camp and the regular season.
"You try to break them up and keep them as even as you possibly can," Yurcich said. "At the same time, you have to start giving a higher ratio to guys that you think you have to get game ready. We don't have to concern ourselves with that right now. But as spring comes to a close, and as you get into fall camp, you have to be mindful of that.
"That's the hard part, right? Giving everybody enough reps to give him a good evaluation, to make sure that your depth charts where it needs to be. And, also the amount of reps it takes to prepare guys."