Penn State positional power rankings: BWI Daily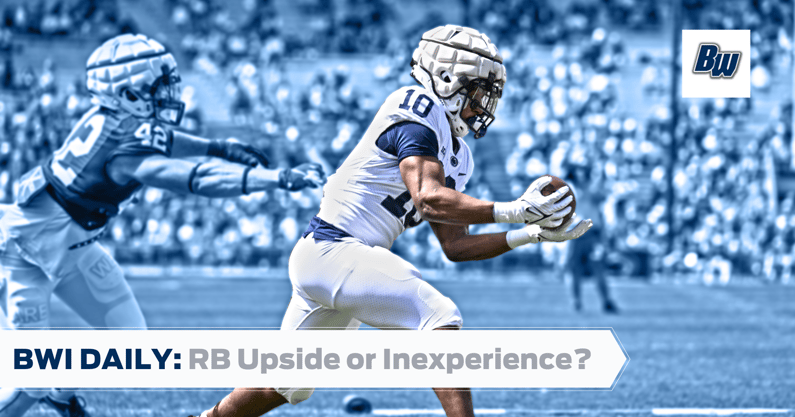 With Penn State spring football in the rearview mirror, we can break down what we saw and heard over the last five weeks. Reporter Dave Eckert did a power ranking of the Nittany Lion positions before spring football, and joins the BWI Daily Edition to update those rankings. He and host Thomas Frank Carr go through positions nine through one, and T-Frank asks Dave to explain his thinking. Meanwhile, T-Frank provides context based on what he's seen from the film of the Blue-White game two weekends ago.
Positional Power Rankings: T-Frank's Take
Today's BWI Daily is based on Dave's list, and guests always go first. But I wanted to give my own thoughts on the matter and do my own rakings based on my observations of spring practice.
9 Linebacker
The issue here is depth. Right now, Penn State doesn't have a scholarship player backing up Striker Jonathan Sutherland. Redshirt freshman Dominic DeLuca was a standout player in the Blue-White game but the lack of experienced depth is a major issue. Fellow freshman Jamari Buddin is the backup Will linebacker based on his usage during the Blue-White scrimmage, meaning all of Penn State's scholarship linebackers are in the tackle box. This obviously can change when oft-injured Charlie Katshir returns from injury. Tyler Elsdon didn't participate, leaving another freshman, Kobe King, as the only middle linebacker available. Talent may not be the issue, but depth is.
Additionally, Sutherland playing close to the box is still an iffy proposition. He didn't struggle to take on blocks as much as he struggled to tackle and be in a position to make plays.
8 Quarterback
Spring football was a fact-finding mission for most media members about Penn State's quarterback room. The results, mostly based on the Blue-White scrimmage, were not encouraging for fans hoping to hear that someone was challenging starting quarterback Sean Clifford for his starting job.
That isn't to say that anything terrible happened, but there was a lack of overwhelming positives. For example, redshirt freshman quarterback Christian Veilleux showed sound mental processing but had some accuracy issues on deep balls that warrant monitoring.
7 Offensive line
Olu Fashanu seems like the real deal at left tackle and Caedan Wallace took a major step forward this offseason. Wallace's improved athleticism looks excellent, but nobody challenged him in pass protection. Juice Scruggs was up-and-down at center during the scrimmage as well. The group may get out to fits and starts, but there's more upside here than in the two previous groups.
6 Defensive line
I'm sorely tempted to split this group into two categories and rank edge rushers separate from tackles. But to keep uniformity, we'll stay the same as Eckert's rankings. The downside of Wallace looking good in pass protection is the reality that there wasn't anyone to challenge him, and the same goes for Fashanu. Starter Adisa Isaac wasn't full-go this spring, but he didn't show much during the Blue-White scrimmage. Until there's evidence he can win through contact, this unit can't rank any higher. On the other hand, the depth at defensive tackle and the high hopes of Hakeem Beamon and Zane Durant buoy this group above the bottom three.
5 Running Back
This group splits down the middle between extreme upside and unspectacular production. Even with his shortcomings, starter Keyvone Lee is a valuable and useful player. He showed improvement throughout the season and can be a more productive player with a better situation in 2022. Combine that with the upside of Penn State's star freshmen and the running backs fall in the middle of this list.
4 Tight End
Production and upside are always a balancing act when trying to rank these groups. Like the offensive line, tight end production in run blocking goes unnoticed unless it's poor. Brenton Strange turned into a run-blocking weapon last season while Theo Johnson and Tyler Warren improved as receivers. Penn State may not have a complete package in one player, but this group can produce if given a chance.
3 Wide receiver
Having depth, talent, and production is a great place to be. Finally, after several lean years, the Penn State receiver room is back to where it was in 2018. Transfer Mitchell Tinsley gives assurance to a room with multiple breakout options on the roster. He'll pair with potential star Parker Washington nicely.
2 Cornerback
The boundary corner position is deep and talented, with starters Joey Porter Jr and Kalen King leading the way. The biggest question coming out of spring ball is the future of slot corner Daequan Hardy. Hardy wasn't on the field very much during the Blue-White Game, whether by design or accident. The point of putting a safety at the field 'backer position is so that you don't have to substitute players. Will Hardy still have a role this fall? It would b absurd to bench one of your best defenders because of schematic issues.
1 Safety
The emergence of freshman Zakee Wheatley transforms this group from a deep but inexperienced room into one that fans should be excited about this fall. The whole group show the versatility to play multiple roles within the defense and should help Penn State keep a lid on the passing game.
Subscribe to Blue White Illustrated on YouTube and wherever you get your podcasts.