Key takeaways from last weekend's Penn State official visitors, looking ahead to this week in recruiting: BWI Daily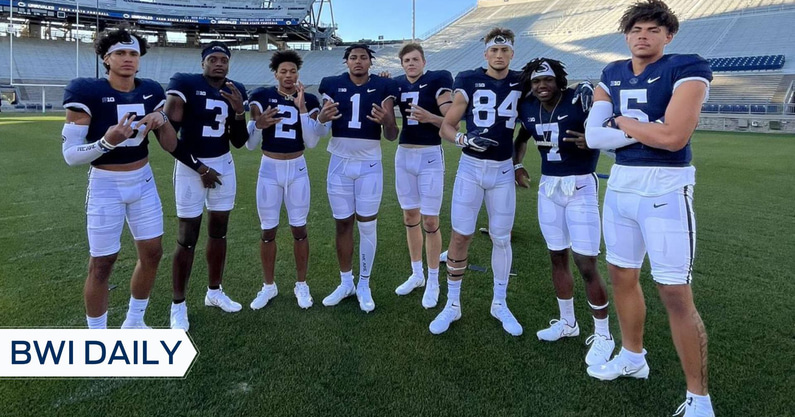 Time for our weekly recruiting update presented by our friend Andy Luedecke at MyPerfectFranchise. Andy is a huge college sports fan and franchise veteran, having owned multiple franchises and businesses. Using his expertise, he helps others find their American Dream through a very thorough consultation and evaluation process.
---
Update: Penn State has picked up a pledge from Tomarrion Parker. Read more here.
Original story including podcast/video links below:
While it was quiet on a commitment from Penn State football recruiting Sunday and Monday, that doesn't mean that their official visit weekend wasn't a success. Recruiting insider Ryan Snyder has been hard at work digging up information on the uncommitted players that took official visits to Penn State Friday and Saturday. He joins host Greg Pickel on the BWI Daily recruiting show to share what he's learned. 
Penn State close to landing Tomarrion Parker
Pickel and Snyder start the show by previewing news they expect to drop Tuesday afternoon. Reports are that the four-star defensive end from Alabama, Tomarrion Parker, will commit to the Nittany Lions on Tuesday afternoon. Snyder shares what he knows about the visit, how things went, and what led to this abrupt turn in Parker's recruitment. 
Official Visit weekend recap, good news on Tony Rojas and Ta'Mere Robinson?
Next, they discuss the committed players who also took official visits this weekend and Ryan's conversations with them, which you can read here. After that, they shift to possibly the most critical players visiting Happy Valley; linebackers Ta'Mere Robinson and Tony Rojas. Both players set commitment dates for the first half of July, and Snyder details where Penn State stands in both recruitments. 
Did they do enough to stave off Georgia for Rojas? Will Robinson's relationship with Virginia Tech head coach Brent Pry swing his commitment away from Penn State? BWI's insider has the scoop for you. 
The linebacker duo weren't the only vital players visiting the Nittany Lions, though. Snyder gives the latest update on four-star defensive tackle Derrick LeBlanc and his teammate cornerback Ja'Keem Jackson. Finally, he and Pickel wrap up by discussing Scranton Prep running back London Montgomery. There's a limited number of slots at running back this year, and it may be a race between Montgomery and Florida runner Treyaun Webb. He outlines how things could shake out and the timeline for Montgomery to potentially commit. 
Daily Bites: The guys discuss official visit weekend
Finally, Snyder previews the upcoming week for the staff. Two offensive linemen in, Stanton Ramil out of Alabama and Connecticut tackle Miles Walker will take official visits to campus mid-week. What does this mean for the offensive line class and the remaining players Penn State is pursuing? Ryan Shares his thoughts. 
Get the full scoop: Penn State sets two midweek official visits before dead period
---
Learn more about Andy Luedecke and franchise ownership through these resources:
Andy's Story
Why a Franchise
Service Based vs Brick and Mortar
Semi Absentee Ownership
The Process and How It works
Book time with Andy:  Andy's Calendar