Penn State preparing for wild December: BWI Daily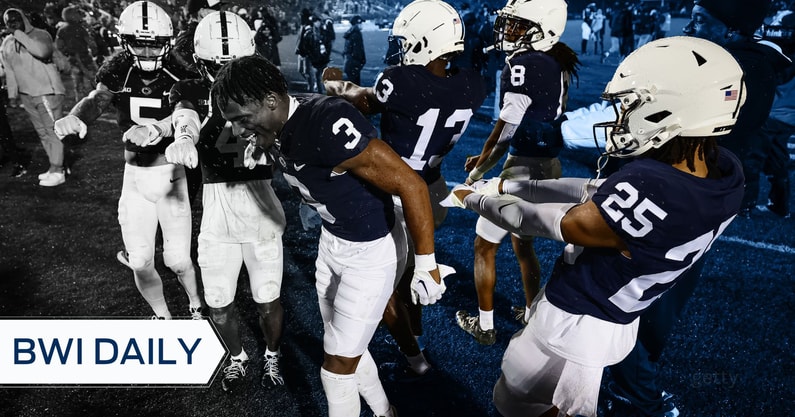 The college football championship games kick off on Friday before the weekend sets the playoff picture; get the latest buzz on Penn State's chances of heading to the Rose Bowl in January with the BWI Daily Edition. On today's wide-ranging show, host Nate Bauer and Blue Wihte Illustrated Publisher Sean Fitz discuss that, All-Big Ten selections, and the latest roster news from this week. Subscribe to the BWI Daily Edition on YouTube, so you don't miss the show! 
Penn State destined for Rose Bowl?
Fitz and Bauer start with Nate's favorite topic, bowl selection. What's the latest news on Penn State's bowl destination? This weekend's game may not matter at all, based on new reports. Find out how the Nittany Lions could skip the line and head to Pasadena in January. 
After finishing up the discussion on bowls, the team turns its attention to the players who will or maybe won't play in the game. Redshirt junior cornerback Joey Porter Jr. opted out of whichever bowl Penn State will play in and head to the NFL. The All-Big Ten corner missed several games to end the season thanks to an appendectomy at the beginning of the month but returned to play on senior day. He finished the game against Michigan State with 11 total defensive snaps and two targets. 
So, who else might opt out of the game aside from Porter? Fitz and Bauer discuss the most likely names. 
Next, they turn to the All-Big Ten selections that Penn State earned alongside Porter Jr. Both were shocked at where fellow corner Kalen King and safety Ji'Ayir Brown landed and bandied about other names in the discussion about which players landed with what team. 
The transfer portal and NIL about to change college football
Finally, they dig into the most crucial topic of the show, the transfer portal. Penn State redshirt freshman quarterback Christian Veilleux put his name into the portal this week, marking the first soon-to-be departure when the portal opens on December 5th. There are other likely names, but it's the unlikely names that Bauer and Fitz discuss. 
That's because Name Image and Likeness is going to dramatically shape college football because teams will begin the attempt to poach players from other schools with lucrative or enticing deals. How will they go about that? Bauer explains how he hears the conversation framed. Meanwhile, Fitz discusses how NIL will affect the incoming recruits set to sign in December.