Penn State quarterback Christian Veilleux to enter the NCAA transfer portal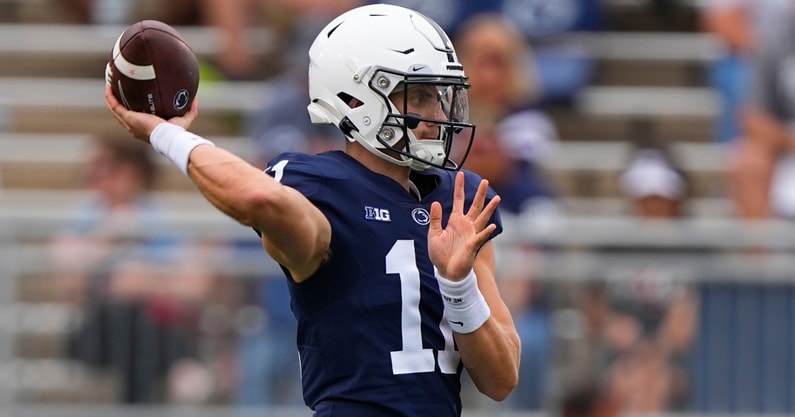 Penn State will be without at least two of its current scholarship quarterbacks in 2023. Third-string passer Christian Veilleux announced on Tuesday that he will enter the NCAA transfer portal when it opens on Dec. 5.
The news was expected after the Canadien was beat out by freshman five-star Drew Allar for the backup job to Sean Clifford, who is out of eligibility following the 2022 season.
"Being at Penn State has been nothing but a blessing," Veilleux wrote on Twitter.
"I want to thank my teammates, coaches, and staff for memories that I'll cherish forever. I will be entering my name in the transfer portal with 3 years of eligibility."
Penn State coach James Franklin praised the passer for how he handled what was undoubtedly a difficult situation after he was the second-team quarterback in 2021.
"Yeah, he's been phenomenal," Franklin said in November. "He really has. I think that whole quarterback room has been great. I think Sean has kind of set the tone for that whole room. But Christian has been phenomenal.
"But I think Veilleux has been phenomenal. His attitude has been great. He's been great in meetings. He's totally engaged. We've been rotating those guys down to the scout team. They've been awesome down there. He's been great. His body language, his demeanor, his leadership, his attention to detail, the way he's preparing as if he's the starter, has been really good. So, those types of things specifically at those positions, I think are really important. So, you know, we'll see how this all plays out, but I hope he stays at Penn State and continues to chase his dream and gets his degree and see how it all plays out because, again, there's a lot of twists and turns along these journeys."
Penn State quarterback situation entering 2023 is clear
Penn State will move Allar into the first-team role following the team's to-be-determined bowl game. He is the future of the program. The Lions will have three scholarship quarterbacks next season: Allar, classmate Beau Pribula, and Class of 2023 recruit Jaxon Smolik, who will sign with the Lions next month.
As for Veilleux, he figures to have plenty of suitors. At Penn State, he completed 23 of 35 passes for 282 yards and three touchdowns. The highlight of his career came when he replaced a sick Clifford against Rutgers last season at Beaver Stadium. Veilleux was 15 of 24 for 235 yards and three touchdowns on that day to earn his first career victory as a Lion. It turns out that it will be his last.